Advertisement Feature
With komoot, adventure is what you make it
Komoot copywriter Catherine Sempill takes on the famous West Highland Way long-distance trail and discovers that true adventure is a mindset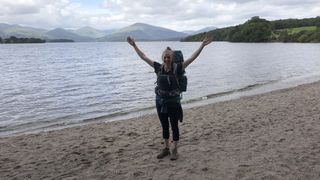 (Image credit: Catherine Sempill)
The great thing about adventure is that you can find it anytime, anywhere – it's just a case of mindset. No two days spent outdoors are the same and it doesn't matter whether you're setting off on an epic challenge or just heading to the local park during your lunch break, you can always add a little bit more adventure into your life.
No matter how remote or well-known your trail, regardless of how big or small the objective, if you approach an adventure with an open mind you can often find unforgettable experiences. That's exactly what komoot copywriter Catherine Sempill discovered recently on the West Highland Way, one of Britain's greatest and most popular long-distance hiking routes.
Born in South Africa, Catherine was raised on sunshine, wide-open spaces, and mountain hikes with ocean views. These days she's based in the UK where she pootles round the countryside by bike or by foot, with the odd multi-day bikepacking trip or hike thrown in for good measure. She uses komoot to maximise her access to, and enjoyment of, the great outdoors.
The West Highland Way
"The West Highland Way is a well trodden (and equally well-documented) trail that every hiker in the UK has heard about," says Catherine. "So before I set foot on the 'hikers' highway' in Milngavie, north west of Glasgow, I already had a pretty clear image of what to expect landscape-wise (also midge-wise, rain-wise, and wild camping-wise). You'd think that, with such a well-touristed trail, all sense of adventure would be lost. In fact, it turned out to be the opposite.
"I think that adventure is a mindset… and komoot does too. That means going into any outdoor experience with an open mind and a willingness to embrace both the knowns and the unknowns – whether you're scaling the heights of Kilimanjaro, finding a new footpath near your house, or stepping onto a well-known and much-loved trail like the West Highland Way.
"As it turned out, the West Highland Way was a lovely adventure. Seeing photos of it in guidebooks, Instagram and on komoot is one thing. Feeling the weight of your own pack on your back as Loch Lomond comes into view is something else. And there were, in fact, surprises aplenty! Sunshine, for a start, which brought with it unimagined skinny dips in lochs and rivers, and ice-cream breaks to cool down where I'd anticipated coffee and cake stops to warm my damp spirits.
"And so, stuffed with ice-cream and slightly sunburned against all odds, I arrived in Fort William, the terminus of the West Highland Way. There I was reminded once again that adventure really is a mindset. I could easily have written this walk off as too touristy or over-crowded, but with hindsight I know I would have missed out on a great experience – a special one for the memory bank!"
Komoot embraces adventure as a mindset
Komoot helps millions of hikers, runners, road cyclists, gravel riders and mountain bikers across the world access and enjoy adventures. Hikers can find and plan itineraries of all shapes and sizes, from epic treks across mountain ranges to afternoon strolls in your local area.
Here are just some of the ways you can use the app to find inspiration and discover your own adventures:
Use komoot to find new routes on your doorstep
Head to the Discover Feed to find established routes where you are, from official multi-day hikes to popular routes aggregated from komoot's user activity.
If there's a long-distance trail in your region, the odds are, you'll be able to find a hiking Collection that features the route, as Catherine did with the West Highland Way. Komoot's editorial Collections are full of useful information, community tips and inspirational user photos to help you plan your trek. You can even download the entire route as a .gpx file, or download the individual stages and edit them to personalise your adventure.
Komoot is a platform that is built by its community and it's likely that users have already been busy completing hiking routes – or 'Tours' – in your region. When a Tour is uploaded, it is added to the treasure trove of routes already in the system. When you're after a new route in your local area, you can use the Discover Feed to find and follow Tours that people have previously enjoyed.
Tap into komoot's community Highlights to discover unexpected pockets of wonder
As well as adding Tours, komoot's users can also create Highlights. Komoot Highlights, which appear as little red dots on the map, are recommendations from the community – the places they say are worth noting, from a worthwhile village bakery or cosy cafe to a wild swimming spot or a mountain summit. When creating your own hiking routes on komoot, you can search for and add Highlights to your itinerary.
Examples of Highlights that Catherine met on her West Highland Way hike included Rannoch Moor and a Community Woodland, to name just two. Click below to open up more detail on these Highlights.
Get lost in the moment (but not in the wild) with navigation that keeps you on track
Once you've planned a route on komoot, hit start and the moment you veer off the trail, komoot's voice navigation will tell you how to get back on track.
Of course, voice navigation is something we're used to in a car or when we're cycling but you may not want a voice giving you instructions when hiking, preferring instead to use the map screen to navigate. Without voice navigation activated, your current location is pinpointed on the komoot map, making it easy to navigate onwards.
To access voice navigation or use komoot maps while offline, you can purchase regions individually, or the World Pack for a one-off payment of just £29.99.
Alternatively, see the bottom of this feature for a free region bundle voucher code.
Adjust your route on the fly
An adventurous mindset is one where you hope for the best but come prepared for less favourable eventualities. Komoot lets you replan your route on the fly, so if the weather takes a turn for the worse or your old sports injury starts playing up, you can cut the whole thing short. On the flipside, if you get a great recommendation from someone en route, you can easily update it to include a detour to the good stuff.
Find your next adventure
If you love exploring and go into every adventure with a willingness to let things unfold, komoot is a great adventure partner for finding, planning, and sharing your adventures.
Want to try komoot for yourself? Follow this link or login to your account and use the voucher code ADVNTURE22 to unlock maps of your choice for free.
(Valid for new komoot users only and redeemable until 31 December 2024.)
All the latest inspiration, tips and guides to help you plan your next Advnture!
Launched in July 2020, Advnture is the ideal destination for anyone who loves the great outdoors. Whether you're into epic hikes through the wilderness, camping trips with the family, climbing with your friends, or looking for a trail running personal best, our team of experts will point you in the right direction, with top buying advice and in-depth guides to help you get the most of your time in the backcountry.