How to choose the right float for stillwater fishing
Here's a look at which type of float to use on a stillwater in different situations.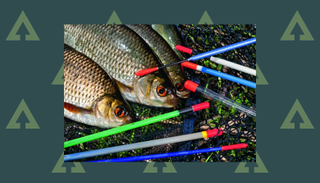 (Image credit: Angler's Mail)
Welcome to Advnture, the new home of AnglersMail.co.uk
Lake fishing floats differ from river patterns in that most of them are attached bottom end only.
Two thirds of the shotting capacity is often used to lock the float on the line, leaving a slight gap so it folds neatly on the strike.
Straight wagglers made from ultra buoyant materials are perhaps the most versatile of lake float patterns.
These are really good for both fishing at distance and flicking out to fish holding features.
A decent-sized straight waggler should hold its position over a baited area in wind, surface drift and undertow, provided you sink the line.
Wagglers with slender insert tips are better in calmer conditions as they register even the most subtle of bites and are a good choice in the winter months for shy-biters.
Bigger floats for bigger jobs
For float fishing at distance or in very deep water, a large bodied waggler is the better option.
Bodied wagglers tend to be larger than other patterns, requiring plenty of shot, so they cast surprisingly long distances and offer a stable presentation.
Lock them at the correct depth, as with standard wagglers. Or use a sliding stop knot if the swim you intend to fish in has depths which exceed the length of your rod.
Large floats requiring plenty of split shot aren't always necessary for close in work or lowering baits along margin hotspots.
Lake fishing floats for more finesse
For rigs that don't require much in the way of casting, opt for a pole float. They are great for stalking and offer superior bite indication.
Slender, delicate insert wagglers do the same job too and are well worth using for those shy biters.
It's great that traditional stillwater float fishing for species other than carp is making a well deserved comeback.
You'll need a variety of stillwater patterns to deal with all situations, be it weather conditions, depth or reaching distant catching zones.
Now have a closer look at the floats…
These straight wagglers are the most versatile stillwater pattern. They are usually made from peacock quill, reed and hollow plastic with crystal varieties being the most discreet for clear water conditions. Attached bottom end only, they offer far greater stability than top and bottom floats – and cast better too.
Bodied wagglers require plenty of weight to cock them and are the preferred choice for thumping out baits at distance. They're also suited for fishing at depth and offer enhanced stability, especially when wind, surface and undertow are a problem.
Use an insert waggler on calm days. They are more sensitive than straight patterns and indicate the really shy bites. They can be shotted down to a mere pimple on the surface for those ultra shy feeders, such as large roach and canny perch.
Little darts and canal insert wagglers are tops for close-in work, using ultra fine gear and small baits. These delicate stillwater floats are only suitable for calm conditions as any surface chop is enough to drag the float under.
Pole floats don't have to be used exclusively with poles – they work very well on a running line too. Attached top and bottom, these floats are excellent for gently lowering rigs in the margins to intercept kerb crawling carp and tench.
Some insert wagglers are provided with interchangeable tips for differing light levels, but carrying a pot of correction fluid and a black permanent pen allows you to quickly change the colour as soon as the conditions change.
All the latest inspiration, tips and guides to help you plan your next Advnture!
Running from 1964 until 2020, Angler's Mail was the UK's leading weekly magazine devoted to coarse fishing, telling readers everything they needed to know about which fish to catch, where to catch them, and what kit they needed to do it. Now, loads of the magazine's expert advice can be found on Advnture.com, as a helpful resource for angling newcomers and experts alike.