How to plan a fishing trip: all you need to know before you go
Understanding how to plan a fishing trip is just as important as using proper techniques, explains pro guide Nick Heid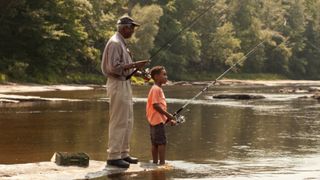 (Image credit: Getty)
Knowing how to plan a fishing trip is as important as your technique.
Whether you're thinking about how to catch mackerel, how to catch flounder or anything else, you need to think about checking conditions, selecting a location, and getting your gear together so you have the right rod, reel, bait, hooks, lures, sinkers and so on.
Organising your gear is the simplest task of the three but checking conditions and peak fishing times will play a vital role in selecting your location.
There's a lot to think about when you're thinking about how to plan a fishing trip, so here we outline some of the most important factors you need to consider.
Check the conditions and best times
We're a big believer in fishing to the conditions, which means we like to let factors such as weather and season dictate where to fish rather than just picking a spot regardless. Most people don't have the luxury of selecting the best days or even times to fish, so it's best to fish to the conditions as per your available dates and times to fish.
Things to consider when planning a fishing trip with the conditions in mind are: general weather conditions (past/present/forecast), wind and rain forecasts, any tides, surf height if surf fishing, water temperatures and the given season.
If you're lake or river fishing, take a look at the forecast for air temperature and sky conditions. On brighter days with clear water, brightly-colored baits tend to do better. On cloudier days, go with a more neutral-colored bait or lure, or a smellier bait if you're targeting catfish, carp and similar species. Pack your tackle accordingly.
If it's rained in the last couple of days, that will affect the fishing as well. For rivers and lakes, the water will be murkier and species like catfish and carp can feed well in colored water, but it might not be the best conditions for lure fishing for bass.
A cold wind will also generally lead to slower sport, whereas a warmer wind will improve water temperatures and oxygen levels in some cases – both positive things for any fishing trip (apart from ice fishing!)
Note that the water quality on the beach when surf fishing might be poor as run-off contaminates the water from sewage overspills and storm drains. Depending on how stormy it may have been, the bite might slow in the days following, whereas it might pick up before a storm or a few days after when things mellow out and the water returns to normal.
Weather and barometric pressure play a large role in planning a fishing trip and there are a lot of tiny details that factor in, such as incoming weather fronts. Bottom line: before a storm is better than immediately after a storm. Obviously, fishing during the storm isn't advisable either!
The weather plays directly into the seasons and it's important to know which species are biting by doing your research, and using local tackle stores, online forums and knowledgeable friends.
Plan your wardrobe according to the current weather and forecast as you don't want to be uncomfortably chilly or burning without a hat and sunscreen.
Always bring polarized sunglasses, too, as the polarization of the lenses will help you see what's under the water more clearly and identify likely fishing spots and fish. A peaked hat will help this process.
Find out about local tides if relevant
Tides are exclusive to saltwater fishing (estuaries, beaches, piers, jetties, boats and similar) and are very important, especially when it comes to surf fishing on a beach.
While some theories say that fishing the incoming is best, the truth is not that simple and the best answer varies depending on location and season. In short, tides are a bigger indicator of which beach to fish rather than when to fish. Remember: it's all about fishing to the conditions because most people don't have the freedom to select the best days and times to fish.
With tides, there are two important things to look for: which beaches will be fishable or accessible at the state of the tide occurring during your fishing trip; and which beaches will have known structure (such as hole, gully or reef) that might be attractive to fish at this time.
Some beaches will be inaccessible or unsafe to fish if the tide is too high depending on how much sand is available. Other beaches will have known structure like rocks, reefs, or jetties that will provide feeding grounds, some at low tide or some at high tide.
For example, if you've fished a spot beforehand, and you spotted some really good structure that you know to be permanent (rather than formed-sand like troughs), note which tidal heights allow for optimal water coverage and come back and fish when it's submerged.
Fish love structure and finding spots that provide unique structure like this is like discovering gold. Mark that spot and fish that spot when conditions are right, like a high tide or low wind conditions.
The same is true for freshwater; fish love feeding and living around features such as weed beds, old buildings, jetties, old riverbeds, fallen trees, root systems and so on.
Surf height is also a major factor that is specifically relevant to surf fishing. You'll want to fish the lowest surf possible. Ideal surf height is 1-2 foot surf – 2-3 is just fine but anything higher can lead to increased currents, turbulence and overall, a more difficult session.
Anything lower, consider it a gift and fish it. If you see that one beach is predicted to have 1-2 foot surf while another has 3-4 foot surf, choose the beach with 1-2 foot surf.
Water temperature is a huge factor in all styles of fishing and will be directly correlated to the seasons, but occasionally you get a big drop or increase. If these scenarios last longer than a week or so, fish for the species that is known to like that temperature, but if it's just a quick dip, stick with the species of the season.
Lastly, dawn and dusk are always good go-to times to fish as many species love feeding and hunting as the light changes. So factor in this too – if you can make your trip coincide with some great conditions and dawn or dusk, then you're going to have a busy day.
Select your spot and choose your fishing tackle
Once you've taken all that into account, you're ready to complete the final key aspect of knowing how to plan a fishing trip; choosing your spot. If you're fishing lakes and rivers, choose the one that has the best conditions that apply.
A warm wind and sunshine, for example, might encourage you to target an area of the lake or river that the fish are known to frequent when water temperatures rise. Maybe you can see some features the fish will be living and feeding around that'll also be near this warmer water... it's like putting together the pieces of a puzzle sometimes.
One really helpful tip we have for gathering the correct equipment is to create a list on your phone that you can review prior to each session and check each item off.
The essentials include:
Fishing license with any additional stamps you might need depending on location
Rods and reels with all necessary tackle and bait in suitable containers
Suitable clothing and spare items
A seat and cooler with drinks and food if needed
Something to rest your rod on, or hold it in place
Polarized sunglasses and a peaked hat
Any medical supplies such as a small first-aid kit for cuts and insect bites etc
Always bring a knife and some pliers
Make sure you either have artificial or frozen bait ready to go, or have a plan to catch your own bait
As a fishing guide, my list is very long and only grows as time goes on, but that's all personal perspective and you'll develop your own routine around what works as you gain a better understanding of how to plan a fishing session.
All the latest inspiration, tips and guides to help you plan your next Advnture!
Fishing guide and writer for Surf Fishing In So Cal, Nick Heid fishes at least 60 days out of the year, making him a great source of knowledge when it comes to all sorts of tactics and techniques. Fishing has been a passion of his ever since he can remember and his writing conveys that love of the sport to his readers, along with a good dose of in-depth knowledge. Look out for him on a San Diego beach expertly targeting surf sharks in the summer and all sorts of other interesting species over the rest of the year.