Predator fishing tips: catch more pike, perch and zander
As predator fishing season approaches, Adam Firth shares his five top tips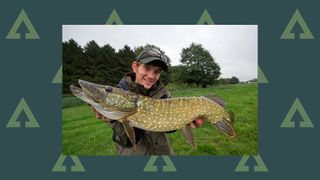 (Image credit: Angler's Mail)
Welcome to Advnture, the new home of AnglersMail.co.uk
Predator fishing season is almost upon us. The perch, pike and zander are getting ready for winter and getting bigger by the day. Team Korum have had a great start to their winter predator fishing, having caught some stunning specimens already.
We've managed to squeeze out their secrets and delve into their tackle boxes to bring you some top tips for a winter predator…
Tip 1 – Double Hard does the damage!
Hard lures are a fantastic way to target predators. Pike, perch and zander all find large lures hard to ignore. Ed Matthews has been using the Korum Double Hard lures with great success having recently caught pike to over 15lb.
Ed carries a selection of these lures with him, and depending on the depth of the lake, swaps and changes until he finds the successful pattern. This long 15lb pike (above) couldn't resist grabbing Ed's Mid-Water Shad in the Fire Tiger colour.
Tip 2 – Bobbing along
Float fishing for pike can be extremely exciting, watching the float dip, and then sail away can really get the adrenaline pumping. Float fishing with deadbaits is extremely simple. Korum's Adam Firth uses the Snapper Dura Bung Kits for all of his Pike float fishing.
'These kits contain everything you need to set up an effective pike rig. The floats are extremely tough and won't break like other brittle versions can. They also contain all the right parts, and even include a step-by-step guide on how to set the rig up. That makes perfect sense to me!'
Tip 3 – Helpful hooking
If you've never been pike fishing before, you probably won't know how to hook a deadbait. Well it's really simple and you'll only need to do it once to get it right. Korum's Dai Gribble (pictured below) runs us through how he hooks his smelt deadbait.
Dai explains: 'Hooking a deadbait only takes a few seconds, but how you hook it can be the difference between a dropped run and a fish on the bank.
'I take the top treble hook on the Snap Tackle Trace, find the hook with the barb on and place this in the root of the tail. This part of the fish is tough and with a good push into the flesh it will hold it on during the cast.
'The bottom treble needs to be placed into the flank of the fish, the top half of the fish will allow the hooks to hold more, rather than the soft underside.
'Attaching your deadbaits while still part-frozen will make them tougher still for longer casts.'
Tip 4 – Send in the Drones
'I'll start by fishing with the Drones low down in the water, just off the bottom,' advises Gary. 'This can often catch the fish that are lying in wait, ready to strike.
'By counting the lure down I can start reeling sooner each time, not allowing the lure to hit the bottom and fishing further up in the water.
'I can search out lots of water and hopefully catch lots of pike!
'If you are catching lots of debris on the bottom hook simply take it off the split ring and you won't catch as much debris to affect the lure's action.'
Tip 5 – Pop predator baits up
Popped up worms can be an extremely good tactic when targeting perch. Two wriggling lobworms popped up off the bottom by a few inches is virtually irresistible to a perch. These inquisitive fish love grabbing things that move.
Korum's Phil Spinks (pictured below) pops his worms up on a 6lb Korum Xpert Mono hooklink and hooks his worms using a large, size 6 Korum Specialist hook.
By anchoring the worms 3 inches off the bottom the perch are able to easily see the worms as they wriggle in the water column. It won't be long before you're holding a great big perch up to the camera like this…
All the latest inspiration, tips and guides to help you plan your next Advnture!
Running from 1964 until 2020, Angler's Mail was the UK's leading weekly magazine devoted to coarse fishing, telling readers everything they needed to know about which fish to catch, where to catch them, and what kit they needed to do it. Now, loads of the magazine's expert advice can be found on Advnture.com, as a helpful resource for angling newcomers and experts alike.