Fishing rod licences revealed for 2019 and 2020
Here are the new rod licences for 2019 with cracking designs from top angling artist David Miller.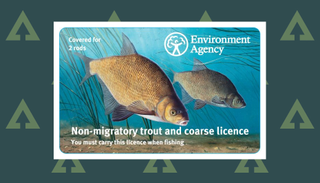 (Image credit: Angler's Mail)
Welcome to Advnture, the new home of AnglersMail.co.uk
The two-rod coarse fishing rod licences are graced by an image of two bream (pictured above).
The three-rod specimen licence, now in its second year as an option in England and Wales, shows a fully-scaled mirror carp.
And a sea trout will be on the salmon and migratory trout licence.
Around a million fishing rod licences were sold in the last full year, 2017/2018, raising £23 million.
This funded 350,000 fish being restocked into rivers, responding to 797 fisheries incidents and installing 37 fish passes, amongst other things.
Kevin Austin, EA Fisheries boss, said: "Annual fishing licences are available from only £30 (adults) with fishing licence income used to fund work to maintain, improve and develop fisheries, fish stocks, fish habitats and angling.
"We're delighted to reveal these new images as part of our continued drive to encourage people to give fishing a go.
"They celebrate three of our much-loved fish species and we know that many anglers enjoy collecting these wonderful images," added Kevin.
Brilliant art for fishing rod licenses
Keen angler David Miller is being widely applauded again for the high quality of the artwork on the new fishing rod licences.
David, who is a wildlife artist, said: "Firstly, I was delighted to be asked to provide the licence artwork again.
"With regards to the fish that feature, like most of my work the reference is my own photography, from a lightroom catalogue of over 140,000 images built up over the years.
"It's never a case of copying a single photograph to make a painting – it's combining different aspects of many photographs to come up with the final image.
"The photography is a mixture of underwater pictures taken at various locations all over the UK, fish that either myself or friends have caught, useful for details such as eyes/fins/scales, and some aquarium shots.
"I'm not too good at keeping tabs on how long images take to paint, as I have a lot of paintings on the go at the same time, and often leave work to one side for a while to allow for drying of layers," concluded Pembrokeshire-based David.
Prices of 2019 fishing rod licences
Licences have stayed the same price for 2019 and into the first quarter of 2020.
That means a two-rod annual coarse fishing licence costs £30, a three-rod licence £45, concessionary £20/£30 respectively.
All juniors are free, but 13-16-year-old have to register online.
A one-day coarse licence is £6 but there is better short-term value £12 for eight days.
The salmon licence is £82 a year, £12 a day or £27 for eight days.
NEVER buy your rod licence online to rogue website who will add a surcharge, so always use the official Government site at: www.gov.uk/get-a-fishing-licence
All the latest inspiration, tips and guides to help you plan your next Advnture!
Running from 1964 until 2020, Angler's Mail was the UK's leading weekly magazine devoted to coarse fishing, telling readers everything they needed to know about which fish to catch, where to catch them, and what kit they needed to do it. Now, loads of the magazine's expert advice can be found on Advnture.com, as a helpful resource for angling newcomers and experts alike.