Best fishing spots: how to find the perfect place to go fishing
When looking at how to find the best fishing spots there are many factors to consider...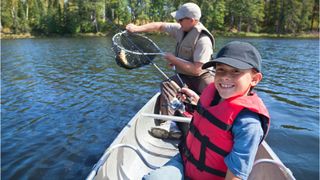 (Image credit: Getty)
With over two thirds of the planet covered in water, knowing how to find the best fishing spots among all the lakes, rivers, ponds, creeks, oceans, beaches, harbours and seas might seem tricky.
Follow this how-to guide, however, and the next time you're planning a fishing trip, you'll easily be able to spot the prime fishing holes.
Finding the best fishing spots: where to start
So, you've got the basics down, you know what you're doing, and you've got the gear and tackle you need. What's next? You need to know how to find the best fishing spot, right? Getting started in your search for the fishing hole of your dreams is easy with a few pieces of information and a couple of strategies.
To make starting your search a doddle, the three main steps that go into finding a great spot to go fishing are:
Tapping into local knowledge – asking the locals and finding local resources
Making use of tech – apps, fish-finders and sounders
Researching maps and charts – websites like Google Earth
We'll run through a few typical scenarios fishing-wise and when to use the above tools in each situation to find the best fishing spots, wherever you're heading and whatever you're fishing for.
How to find the best fishing spots in saltwater
Let's start with saltwater. The three main styles for saltwater will be boat fishing (inshore or open ocean), surf or jetty fishing, and bay fishing. The first step any angler should take when looking for a spot to go fishing is the same across the board: check in with the locals!
Look into forums online, social media pages and groups, research and check-in to see what local guides are catching and where. The internet – social media in particular – is a huge resource here and that's going to be the quickest way to connect with local anglers who have been fishing the area you're interested in for years. A polite enquiry will often yield a general location but don't expect anyone to give up their exact spots unless you pay a guide!
A good tip is to search for hashtags or tagged locations you're interested in on social media; #RedFish or catch pictures posted from a particular beach you're looking at fishing, for example. This will give you an overview of what areas hold what species.
How to find the best fishing spots on a boat
If you're able to take your vessel in the open ocean, check what local charters are catching – most will post detailed catch reports on social media to attract customers for their next trip. Read those reports in detail to find out what's biting, what's working and what port they're running out of. You can use these resources to get a general idea of where to fish on your boat.
From there, research your target species and their desired habitat. Figure out what type of structure you're looking for and when you're on the water, find that structure using charts and electronics. For example, if your target is yellowtail, tuna, dorado or bonito or any other surface-feeding fish, you need to look for two main things: weed patties and birds / baitfish. If your target prefers bottom structure, like rockfish, grouper or snapper, use your fish-finder and find the structure like a reef, wreck, hump or other anomaly.
In a bay or harbor, online forums, apps and resources should be even more valuable as they are likely to be both commonly-fished areas identifiable from social media photos, and there will be obvious areas identifiable using maps and charts. Finding a spot to fish in the bay is slightly easier in terms of structure; there will be plenty of obvious man-made structure like boats, barges, buoys and plenty of natural bottom structure easily located using a fish-finder.
Still, you should keep your eyes peeled for baitfish, whether it's by following birds or using your fish finder. Finding all or some of these elements will certainly help find the best fishing spots in any sort of bay, harbour or marina.
How to find the best fishing spots surf fishing, pier fishing and bay fishing
Step one is still going to be utilizing online resources like local fishing forums on social media and speaking with the locals in places like a fishing tackle shop or pier. Step two for land-based fishing, especially in the surf and even the bay, is going to be using Google Earth or similar app and map-based resources. By using a tool like Google Earth you can get a pretty accurate idea of the structure and nature of a spot before you even show up.
Do your research on the preference in habitat and behaviour of your target species and find the rocky area, sandy flat or offshore reef that you know matches the target species' preferred habitat. Bingo. You'll know this will likely be a good spot to fish for that species.
Fishing from land in a bay can be very productive too. If you haven't recognized the pattern by now, you should start your search online. A simple Google search like, "best fishing spots around mission bay" will yield you loads of information and many times, you'll find fishing spots that are proven without even having to scope them out.
How to find the best fishing spots in freshwater
With lakes and ponds, local knowledge is your number one resource, yet again. For this style of fishing, there's usually a lot more natural, surface-level and deeper structure that together play a huge role. For example; fallen-down trees, reeds, drop-offs, rocky outcrops, deep holes, channels, creek mouths, old riverbeds and other similar structure are exactly what fish are looking for as feeding grounds when it comes to species like bass, catfish, trout, walleye, crappie and perch.
If you have a fish-finder and you're boat fishing, look for ledges, bars, channels and tree stumps on the bottom while still keeping an emphasis on top-vegetation. Bass, perch and catfish love areas containing the aforementioned. You can still utilize Google Earth for a lot of this research, but with vegetation, it's very seasonal so make sure to do your research on seasons and the fishing as it correlates.
Rivers and streams are very unique. For this style, finding a spot to go fishing is a little different than the rest. Tapping into local knowledge is great and should be step one. Next, Google Earth can give you a feel for which spots of the river or stream might hold the best structure, which are usually deeper areas where fish hold up to ambush food or stay out of the main current.
Mark up some general spots on a map; for rivers search for eddies, calm areas, fallen logs and other vegetation. Try similar searches for lakes but check out dam walls, deep holes, old river beds and so on. Those will be your best bets. Now get on the ground and scout those likely spots from your map - streams will likely require constant movement to find these areas. Locate three to five good pockets (any area that holds slightly calmer or deeper water) that are slightly wider than the rest of the river, stream or creek and rotate through those spots.
With freshwater, be conscious of the seasons as different spots will hold fish at different times of the year. Also be aware when high water events like floods might occur on a river and note when lakes or ponds ice up. Often, states or counties will run websites containing information on what species are biting when, and when events like trout stockings occur. They want you to go fishing so they can sell you a licence, so make use of this mutually-beneficial information!
Remember; when you're on the water, two of your best resources are your eyes. Be observant and look for clues. Wear polarized sunglasses to cut surface glare and spot structure or signs of life underwater. Then cover lots of water until you find fish – don't settle in one spot if there's no action.
Finding the best fishing spots can take some time, but the more you go fishing and more effort you put into it, the easier it gets. Get familiar with these tactics, strategies and resources and you'll see rod-bending results before you know it!
All the latest inspiration, tips and guides to help you plan your next Advnture!
Fishing guide and writer for Surf Fishing In So Cal, Nick Heid fishes at least 60 days out of the year, making him a great source of knowledge when it comes to all sorts of tactics and techniques. Fishing has been a passion of his ever since he can remember and his writing conveys that love of the sport to his readers, along with a good dose of in-depth knowledge. Look out for him on a San Diego beach expertly targeting surf sharks in the summer and all sorts of other interesting species over the rest of the year.