Fishing weights warning from One-Eyed Carper
AN angler now known as the 'One-Eyed Carper' has revealed how he suffered a horrific head injury, in the hope that others will avoid the same accident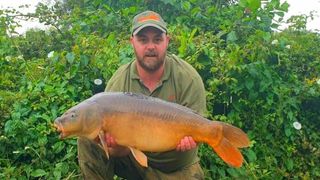 (Image credit: Angler's Mail)
Surgeons have carried out two operations to successfully give Wayne Roberts some sight in his right eye.
Weston-super-Mare, Somerset-based Wayne said: "I was fishing for carp using a bomb and pellet at Ridgeway Lakes, near South Cerney, when I got snagged in a tree on the far bank.
"I was clipped up and had been making the same cast for a while. I changed the hook link but didn't account for the extra two inches, and the next cast I hit an overhanging branch and was caught up."
He added: "I gave the rod a tug and before I even knew it, bang, a quarter-ounce bomb flew back hitting me in my right eye.
"It detached my iris, split the front of my eye, destroyed my lens, damaged my optic disc and made an exit wound on the back of my eyeball.
"I was wearing my sunglasses on top of my head, as I was in the shade. It is hard to say whether they would have helped or maybe even made the injury worse, as potentially the glass could have ended up in my eye.
"The first of the two operations was to remove the destroyed lens and to try to reattach my iris and stitch the split in the front of my eye.
"The second operation was to insert the artificial lens, giving me back around 60 per cent vision, which is now as good as it will get. No more operations have been planned.
"I've seen a number of angling accidents online and would like to share mine, hopefully so that other anglers take extra care.
"I am now known as the One-Eyed Carper, and I've changed my Facebook intro to that," added the 38-year-old quality inspector for an engineering firm.
Wayne's eye injury is one of several similar reported cases, including the 2013 case when carper Steve Redhead nearly died after a 3 oz lead flew back at him at Wally's Lake, in Dorset, and embedded in his cheek.
And in 2017, matchman Guy Manton told how he lost total sight in one eye after he pulled for a break and his loaded waggler shot back at Todber Manor, also in Dorset.
A spokesperson for the Royal Society for the Prevention of Accidents said: "Angling can be dangerous, and we always urge people to take care.
"If pulling the hook back when stuck, anglers should always aim the rod away from the body and face."
All the latest inspiration, tips and guides to help you plan your next Advnture!
Running from 1964 until 2020, Angler's Mail was the UK's leading weekly magazine devoted to coarse fishing, telling readers everything they needed to know about which fish to catch, where to catch them, and what kit they needed to do it. Now, loads of the magazine's expert advice can be found on Advnture.com, as a helpful resource for angling newcomers and experts alike.