Best hiking backpack: for day walks, overnighters and longer trips
With our pick of the best hiking backpacks you can carry your kit in comfort, whatever the size of your adventure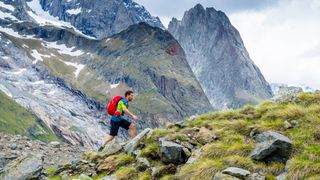 (Image credit: Osprey)
When you're looking for the best hiking backpack, comfort is crucial. With a first-class harness system, a generously padded hip belt, and cushioned straps, a great backpack should be so comfortable that, ideally, you should forget it's even there.
You should always consider practicality too. A great rucksack should have different pockets and openings to help you store and organise your gear. There's nothing worse on a hike than searching desperately for an item that's buried deep in your backpack and having to pull everything out mid-trail in order to find it. The air has been turned blue by many a hiker turning a chaotic and disorganised backpack inside out – to help you avoid mishaps like these, we've put together a guide to how to plan a backpacking adventure.
We've concentrated on the best hiking backpacks offered by tried-and-trusted brands here. The best rucksacks offer a wide range of adjustability so you can personalise the fit to your body shape – including designs specifically for women.
All of the best hiking backpacks featured below are included because they offer durability, comfort and practicality – the Gregory Baltoro has been widely commended for the quality of its harness, while the Salomon Out Week is great for fastpacking. The Deuter Trail Pro is a fantastic all-rounder, and the Jack Wolfskin Kingston boasts some top-tier safety innovations.
The best hiking backpacks you can buy today
Gregory Baltoro 65
This richly featured rucksack is ideal for weekend getaways and even longer hikes with careful packing
RRP: $299.95 (US)/£270 (UK) | Volume: 65 litres | Sizes: S, M, L | Weight: 2.2kg/4lb 13oz | Colours : Onyx black/Ferrous orange/Dusk blue
Excellent pivoting hip belt
Superb storage options
Easy access to main compartment
Rain cover
All these features come at a price
It would take a very long list and a long time to itemise all the smart, useful features of this spacious backpack from US manufacturer Gregory. The Baltoro and Deva come in three back sizes for weight-saving comfort, although it's the harness combination of shoulder straps and hip belt that steal the show. Both pivot independently, helping to keep the pack stable however bumpy the terrain – it's hard to describe but very noticeable on the trail. Add into the mix really handy, good size waterproof pockets on the hip belt; a main compartment accessible via both the top and a U-zip that runs around the front of the pack for easy access to the heart of the pack, plus a lid with three separate pockets, and the storage solutions are brilliant. The hydration sleeve for a bladder even converts into a minimalist daypack in case you want to dump the Baltoro in the tent and nip out for an evening stroll.
Berghaus Trailhead 65
A great value, entry-level rucksack for backpacking expeditions
RRP: £110 (UK)/€180 (Europe) | Volume: 65 litres | Sizes: One size | Weight: 1.7kg/3lb 12oz | Colours : Deep water/Black
Great value for its size
Customisable back length
Excellent access
Rain cover
Not as lavishly padded as some rivals
The Trailhead provides everything you need from a hiking backpack at an extremely competitive price. The adjustable BIOFIT back system slides from S to XL to position the harness according to your height, and there's a good space between the shoulder and upper back pads to create a through-flow of air. A 'diaphragm' gives the option to create one open main compartment or to split it into two – one for clean kit, perhaps, and one for wet or dirty gear. This compartment is accessible from both the top and from a zip that runs down the front of the pack. Side pockets swallow a map and bottles, while the lid has a pocket large enough to fit a waterproof jacket. There are also external loops to attach walking poles, a channel for a hydration bladder hose, and a rain cover, so pretty much all bases are covered.
A comprehensively featured, premium backpack for long day walks
RRP: $140 (US)/£120 (UK) | Volume: 33 litres | Sizes: S/M, M/L | Weight: 0.9kg/1lb 16oz | Colours: Yerba green/Black/Martian red/Ultramarine blue
Perfect selection of pockets
Comfortable, breathable back panel
Seamless hip belt
No rain cover
The Talon 33 and Tempest 30 are something of a Swiss army knife of hiking backpacks, packing a host of practical features into a compact design, from the stretch pocket on the shoulder harness for a GPS to the zipped pockets on both hip belts for phone, keys, cash and snacks. It's amazing how quickly you get used to their convenience. Plus, there's the stow-on-the-go attachment for trekking poles, a pair of ice axe hooks, and a decent sized lid pocket for hat, gloves or even a lightweight waterproof. Even the chest strap that keeps the shoulder straps in place has an emergency whistle. But it's not all show without substance. The Talon 33/Tempest 30 use Osprey's AirScape, mesh covered foam back panel that finds a sweetspot between keeping the pack close to the spine and breathability. The only disappointment is the lack of a rain cover at this price – it's an optional extra (£22/$37).
Salomon Out Week 38 + 6 hiking backpack
A close-fitting backpack for high-energy outdoor activities
RRP: $180 (US)/£125 (UK) | Volume: 44 litres | Sizes: S/M, M/L | Weight : 0.85kg/1lb 14oz | Colours: Ebony/Citronelle/Mediterranea
Very close fit
Light
Hydration-system compatible
No rain cover
Deploying lessons learned from its trail running expertise, Salomon has created a hiking backpack that clings limpet-like to your body. This is evident in the shoulder straps, which anchor both to the underarm area of the pack and the hip-belt zone – most packs simply join shoulder to hip belt. The vented straps are wide and thin to spread the load while maximizing breathability. A mesh pocket on the right shoulder strap can hold a 500ml bottle, while the left shoulder has a zipped pocket, as does the hip belt. The +6 refers to the removable 6-litre lid; adventure racers might want to take it off to save weight and access gear more quickly. This would still leave a zipped stretch front pocket, two stretch side pockets and the main compartment for stowing kit, although extra loops provide an additional way to attach kit, such as poles, ice axes or even a red light.
Granite Gear Crown2 60
An ultralight pack that will carry all your gear for thru-hikes and multiday adventures
RRP: $200 (US)/£215 (UK) | Volume: 60 litres/3,660 cu in | Sizes: 15-18in/18-21in/21-24in | Colours : Flint/midnight blue, black/bedrock
Thin webbing and small buckles are functional and light
Adjustable hip belt
Available in unisex and specially tailored women's fit versions
Torso not adjustable
Having less load to carry makes hiking more fun. Inarguable fact. Weighing in at 2.2lb/1kg, the Granite Gear Crown2 60L pack is about as light as you can go for a pack that can still comfortably carry 35lb of gear. This top-loading pack shaves weight in all the right places, like buckles and webbing, but it doesn't skip on structure and padding where you need it. The pack uses a compression-molded polypropylene frame sheet with reinforced channels and weight-reducing cutouts. The comfy molded-foam back panel also has channels – these ones for ventilation – which allows airflow around your back and prevents you from getting too sweaty. The whole set up feels very structurally secure, and moves with you when you walk.
The Crown2 60 is also available in a women's fit, which includes a specially designed Re-Fit hip belt and shaped shoulder straps.
Lots of packs have an adjustable torso, but this one comes in two fixed torso lengths, so you need to buy the right one. The hip belt is adjustable, however, so you can get the curve of the belt to sit perfectly on your hips – a feature that makes this pack exceptionally comfortable. Both sides of the belt have big storage pockets for snacks and electronics.
On longer trips you can use the lid – which is made from weather-repelling fabric and has a water-resistant zipper – to hold things you might need to access quickly, such as sunscreen, a multitool or headlamp. When you want to go fast and light, you can detach the lid and leave it at home – dual straps keep the roll-top secure against weather, whether the lid is on or off. The framesheet is also removable, but we found hiking without it placed extra stress on our shoulders. The main compartment is spacious, and its slippery fabric makes it easy to stuff gear inside. External compression straps on the face of the pack are good for reducing volume when it's not needed, and they're handy for drying a pack towel or yesterday's socks, or to strap a jacket you need to reach quickly on the outside.
Jack Wolfskin Denali 65
A big-load backpacking bag with plenty of storage and a plethora of pockets, which makes it easy to arrange and access your gear
RRP: $330 (US)/£200 (UK) | Volume: 65 litres + 8 litres | Weight: 2kg/720g | Sizes: S–XXL | Colours: Phantom
There's a pocket for everything
The convertible lid comes with webbing shoulder straps
All the bells and whistles make this a heavy bag
Developed with mountain guides at the Alpine School Innsbruck, the Jack Wolfskin Denali 65 is a behemoth pack for when you're out for the long haul. It supports heavy weights and keeps gear organized as comfortably and logically as possible during long-distance hikes and thru treks, when you're carting big loads.
The 'X-Transition' back system features an aluminum honeycomb frame, softened with beefy padding, including thickly padded shoulder straps and a hip belt, plus lower back padding positioned to keep the pack away from your back. A wrapping Velcro strap lets you adjust the torso length by simply moving the shoulder straps up and down.
Access to the main compartment is excellent. The pack unzips like a duffel bag with a U-shaped zipper that lets you peel back the entire front panel. You can also get to gear stored in the main chamber from the top, and via the zippered sleeping bag compartment. The front panel is a deep zippered storage pocket with organizing sleeves inside.
The lid has a triple pocket, and there are two spacious hip-belt pockets. One side pocket on the main pack unzips into a sleeve big enough to hold a liter-sized water bottle, and tubular pockets on each side of the main compartment hold a hydration reservoir, and yet more gear.
Once the pack is half empty (when you have consumed most of your supplies), compression straps on the side, base and under the front flap tighten down to reducing pack volume and keep the weight close to your back.
A removable rain cover that stores in the lid protects the pack against the elements, and in the unlikely event that you can't fit everything inside, lash points and bungies let you expand the pack's carry capacity even further, and enable you to strap on tools such as trekking poles.
Although it's heavy, this is a dynamic pack, which you can customize. The hip belt, which adjusts with a standard sliding buckle, is completely removable. For side trips, the lid clips off completely too, and using the included webbing shoulder straps, you can wear it as a little summit pack.
Lowe Alpine Airzone Camino Trek 40:50 men's hiking backpack / Lowe Alpine Airzone Camino Trek ND35:45 women's hiking backpack
Astute packing could turn this generously featured daypack into a trekking pack for overnight hiking trips
RRP: £125 (UK)/€140 (Europe) | Volume: 50 litres | Sizes: M, L | Weight: 1.53kg/3lb 6oz | Colours : Azure/black
Flexible capacity
Breathable back AirZone
Raincover
No adjustability in back length
Any 40- to 50-litre backpack finds itself at risk of falling between stools: too big for a day hike, yet too small for the camping equipment required for a backpacking trip. The Camino, however, puts up a good case for packing carefully for an overnighter, or carrying whatever you want for a day walk. The pack comes in two back lengths, and a huge AirZone in the centre of the mesh padding delivers maximum airflow. On the other side a zipped front panel presents easy access to your kit, with the option to split the main compartment into two zones, while water bottles slide into stretchy side pockets. Up top, the extendable lid delivers the extra 10 litres of capacity, and both hip belts have handy pockets. Compression straps pull everything tight to help avoid snagging on rocks and branches, and a rain cover keeps everything dry should the heavens open.
A lavishly featured rucksack for long days of hiking
RRP: $165 (US)/£130 (UK)/€170 (Europe) | Volume: 36 litres | Sizes: One size | Weight: 1.49kg/3lb 7oz | Colours : Midnight-lava/Graphite-black
Excellent pockets
Useful attachments
Easy access to kit
Rain cover
Heavy
Name a desirable feature on a hiking backpack and the Deuter Trail Pro can almost certainly tick it off the list. From pole, ice axe and helmet attachments to a lid pocket, two side pockets (one zipped, one stretchy) and an internal valuables pocket, to a wet kit compartment and a rain cover – this pack has it all. A front zip even gives alternative easy access to the main compartment to find gear stowed at the bottom. But its smartest feature is arguably the breathability of its porous foam back pads, and the wide ventilation channel up the spine, facilitating airflow without compromising your centre of gravity. The hip-hugging belt fins ensure a close fit, and their generous pockets are ideal for snacks, phone and GPS. All the features come with a slight weight penalty, but it's a small price to pay.
Vaude Asymmetric 42+8 hiking backpack
A perfect pack for hut-to-hut hiking in the Alps or Andes
RRP: $180 (US)/$150 (UK)/€160 (Europe) | Volume: 50 litres | Sizes: One size | Weight : 1.475kg/3lb 7oz | Colours: Baltic sea/Cedar wood/Black
Adjustable back
Easy access main compartment
Good selection of pockets
No rain cover
Multi-day backpacking trips frequently don't involve tents, sleep mats and all the paraphernalia of self-sufficient overnighting. Networks of huts and hostels, especially in the Alps, allow for long, high-altitude walks with the comfort of a mattress under a solid roof for sleep. The Asymmetric 42+8 is ideal for these types of adventures, with enough carrying capacity for mountain kit, without the bulk of an expeditionary pack. The adjustable back system sees the shoulder harness slide up and down to achieve a personalised fit, and the padded shoulder straps and hip belt keep the pack close and comfortable. There's a long, flat zipped pocket on the front for a map or jacket, zipped entry to the main compartment, and separate pockets in the lid and on the hip belt. The bottom internal compartment can stow dirty kit, or even take a tightly compressed sleeping bag.
Jack Wolfskin Kingston 30 Pack Recco hiking backpack
An eco-friendly rucksack with the excellent RECCO safety feature
RRP: $112 (US)/£85 (UK) | Volume : 30 litres | Sizes: One size | Weight: 0.93kg/2lb 1oz | Colours : Lava red/Black
RECCO locator system
Recycled fabric
Rain cover
No women-specific version
No hiker wants to get lost, but it's reassuring to know that should you ever lose your bearings or suffer an injury, this pack is fitted with a RECCO chip that will allow mountain rescue to find you more quickly. The system doesn't need a battery, is always 'on', and is widely used by emergency services in the Alps and Scandinavia, as well as the US and Canada. The pack itself gets a green tick for being made from recycled plastic bottles. There's a decent selection of pockets, including a pouch for a hydration bladder, attachments for trekking poles, and a whistle on the chest strap (in case you ever need to use the RECCO in earnest!). A separate base compartment helps keep dirty kit away from clean, the integrated rain cover keeps everything dry, while a ventilation channel between the back pads helps to avoid a sweaty spine.
Choosing the best backpack for you
1. Back system
How a backsack sits against your spine can make all the difference to your comfort and confidence on tracks and trails. Most back systems have some sort of padding to protect your spine from the pack, while deep grooves create air channels that allow sweat to evaporate. Other designs deploy a mesh trampoline that holds the entire back away from your spine for even greater breathability. This can, however, compromise your balance by holding the weight of your pack further away from your back.
2. Harness
Shoulder straps need to hug your body closely, sharing the weight of a backpack with the hip belt. This is one of the areas where female hikers will find women-specific backpacks with shaped straps more comfortable. Shoulder straps themselves come in different widths and with more or less generous padding – it's a personal choice between comfort and weight. Some straps also feature a small pocket or hooks on which to hang kit.
3. Hip belt
Much of the weight of a pack is supported by the hip belt, which hugs the core of your body. A bit of cushioning here can make a big difference to comfort, and a hip belt pocket for phone, keys or credit card can prove to be very handy. Some hip belts on larger backpacking rucksacks are designed to swivel with your body movement as you walk, boosting your balance.
4. Pockets and storage
The fundamental purpose of a hiking pack is to carry kit, so how it distributes this gear is vitally important. Some walkers (and especially climbers) prefer a tall slender pack, with few external pockets and kit carefully stowed in different coloured stuffsacks inside. Other walkers appreciate a host of lid and side pockets for frequently accessed items, such as drinks, snacks, camera and credit card, while keeping extra layers of clothing and a stove in the main compartment. It's entirely a question of personal choice, but make sure you choose a backpack with a volume large enough to accommodate all your hiking paraphernalia. (Be aware, however, that just because you have space for extra kit doesn't mean you should take it – lugging unnecessary gear up and down mountains is a thankless task.)
5. Access
Fumbling with frozen fingers to open a backpack is a huge frustration, so check you're happy with the access points. Do they open widely enough? Are the drawcord or zips easy to use, even with gloved hands? Does a top opening work for you or would you prefer a full-length zip along the pack to give instant access into the depths of your bag?
6. Fit
The shoulder straps and hip belt should be adjustable to fine-tune the fit and keep the load stable, but bigger packs also come in different sizes for short, medium and tall people. Their carrying capacity is the same, but the length of the back systems is different to create a more personalised fit.
7. Extra features
Additional features typically add weight and cost to a hiking backpack, but can prove to be hugely useful. A rain cover is vital in UK hills and mountains, for example, while a pocket for a hydration reservoir and hole for a hose makes drinking on the fly much easier. Other features include compression straps to maintain a neater profile and keep kit closer to your spine, plus clips and straps for helmets, walking poles and ice axes.
All the latest inspiration, tips and guides to help you plan your next Advnture!
Thank you for signing up to Advnture. You will receive a verification email shortly.
There was a problem. Please refresh the page and try again.