Best hiking backpacks 2023: from summer daypacks winter rucksacks
Contributions from
last updated
Our selection of the best hiking backpacks for your trekking, mountaineering and wild camping exploits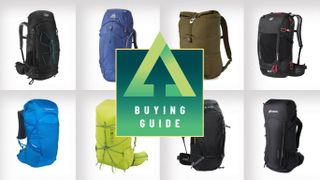 (Image credit: Future)
The best hiking backpacks come in many shapes and sizes. After all, the word 'hike' is something of a catch-all and could refer to everything from an easy stroll in the backcountry to a mountaineering expedition. Some backpacks are great all-rounders, designed for a variety of adventure styles, while others are more specialized.
The seasons play their part. The best backpacks for summer hiking are typically small daypacks, whereas winter packs tend to be larger and are equipped with features for carrying ice tools, skis and the like.
Capacity can be key, depending on your chosen adventure. If you're going wild camping, you'll need a pack with enough capacity to carry your camping tent, sleeping bag and other expedition gear, as well as all your hiking kit.
In this guide, we've rounded up the best hiking backpacks for various kinds of adventures. We've split them into the finest packs for day hikes, winter, general hiking and expeditions. Our roundup of daypacks also contains more options if you're looking for something a little smaller, while female hikers may also want to check out our guide to the best women's hiking backpacks.
Backpacks for day hikes
Drawing on Montane's mountain running heritage, this is a backpack for quick-paced adventures
Specifications
Dimensions (HxWxD):
55 x 35 x 20cm / 21.6 x 13.8 x 7.9in
Sizes:
One size (adjustable back length)
Fabric:
RAPTOR Cross Lite 70 Denier fabric, RAPTOR Resistance 210 Denier base panels
Reasons to buy
+
Great value
+
Lightweight
+
Practical harness and hipbelt pockets
Reasons to avoid
-
No lid
-
Relatively simple back system
-
Mesh front and side pockets liable to snag
The Trailblazer 44 is an impressively lightweight and functional pack, with a streamlined design that strips away unnecessary weight. However, it doesn't skimp on features, with plenty of practical pockets offering ample on-the-go storage. The price point is also attractive, and we think this is a great value choice if you're looking to go 'fast and light' on your next adventure.
The simple but effective back system feels stable and comfortable enough with loads of up to about 10kg, and while it perhaps isn't the most supportive or best ventilated design, it finds a good balance between maintaining a low trail weight and delivering overall carrying comfort. The main compartment is roomy enough to carry a full set of lightweight camping gear, while also being easy to pack and hydration compatible. The roll-top design means there is no lid, which may or may not be a plus, depending on your preferences, but handy front and shove-it pockets plus four harness pockets still gives you plenty of places to tuck away your trail essentials.
Read our full Montane Trailblazer 44 review
Ultralight framed trekking pack that shaves grams without sacrificing carrying comfort
Specifications
Volume:
45L / 2,746 cu in
Dimensions (HxWxD):
68 x 40 x 30cm / 27 x 16 x 12in
Sizes:
S/M/L back lengths
Fabric:
Nanofly UHMWPE ripstop x 100D HT nylon/30D ripstop nylon-Cordura
Reasons to buy
+
Suspended mesh back panel
+
Great build quality
+
Hydration-compatible
+
Comfortable harness and hip belt
Reasons to avoid
-
No stretch pockets
-
No raincover
-
Translucent fabric
-
Reaches its limit with loads of 10kg+
Osprey's first ultralight backpacking rucksack employs the brand's highly-regarded ExoForm harness and AirSpeed trampoline-style back system, and is available in three back lengths. The suspended mesh back panel is particularly well suited to hot, sweaty hikes, since it delivers excellent airflow. The Levity is stable and comfortable with loads of up to about 10kg. Weight has been saved by streamlining the feature set and utilising a new, superlight-yet-tough ripstop nylon called Nanofly. But you still get a roomy main compartment with a hydration sleeve and top drawcord, a fixed lid with an outer zipped pocket, two dual-access side pockets and a bellows front pocket.
Daisy chain webbing, top and bottom gear loops and removable side compression cords allow a certain degree of customisation if you want to carry additional kit too. The Nanofly fabric is also tougher than it looks. All in all, the Levity is a capable and comfortable performer for lightweight backpackers unwilling to compromise too much on carrying comfort and load stability. This is the medium-sized version of the pack – the Levity is also available in Small (42L / 2,563 cu in) and Large (48L / 2,929 cu in) sizes.
Read our full Osprey Levity 45 review
3. Jack Wolfskin Kingston 30 Pack Recco
An eco-friendly rucksack with the excellent RECCO safety feature
Reasons to buy
+
RECCO locator system
+
Recycled fabric
+
Rain cover
Reasons to avoid
-
No women-specific version
No hiker wants to get lost, but it's reassuring to know that should you ever lose your bearings or suffer an injury, this pack is fitted with a RECCO chip that will allow mountain rescue to find you more quickly. The system doesn't need a battery, is always 'on', and is widely used by emergency services in the Alps and Scandinavia, as well as the US and Canada.
The pack itself gets a green tick for being made from recycled plastic bottles. There's a decent selection of pockets, including a pouch for a hydration bladder, attachments for trekking poles, and a whistle on the chest strap (in case you ever need to use the RECCO in earnest!). A separate base compartment helps keep dirty kit away from clean, the integrated rain cover keeps everything dry, while a ventilation channel between the back pads helps to avoid a sweaty spine.
Lightweight and with a deceptively simple design, the Exped Lightning is a class act
Specifications
Dimensions (HxWxD):
72 x 32 x 25cm/ 28.3 × 12.6 × 9.8in
Sizes:
One size (adjustable back length)
Fabric:
210D ripstop nylon, PU coated (1,500mm HH), Oeko-Tex 100 certified with DWR
Reasons to buy
+
Lightweight
+
Stable and comfortable
+
Well-padded harness and hip belt
Reasons to avoid
-
No lid
-
No front pocket
-
Fiddly compression straps
The latest version of this tried-and-tested pack retains the ethos of functional minimalism that made it so popular with lightweight backpackers in the first place, while beefing up the pack's overall durability, load-hauling ability and carrying comfort. With an adjustable torso length and various customisable and removable options too, it is a versatile beast for trips ranging from a few days to a few weeks. The top-loading, roll-top design saves weight, and while it makes access to the roomy main compartment slightly fiddly, that is largely offset by the useful deep outside top pocket, twin stretch side pockets and zipped hip belt pockets. For a minimalist pack, it is very stable when fully loaded and comfortable to carry too, with ample shoulder and hip padding as well as plush lumbar support.
Read our full Exped Lightning 45 review
A trendy, functional, go-anywhere kind of pack that can be used in the hills AND on the commute
Specifications
Volume:
20L / 1220.5 cu in
Fabric:
Main: 100% polyester with PU coating / Strap webbing: 100% polyamide
Colors:
Blue Navy/ Woodland Green/ Dark Butterscotch
Reasons to buy
+
Eco conscious design
+
Roll top
+
Water resistant material
+
Good pockets
+
Sneaky zips
Reasons to avoid
-
Not suitable for more technical terrain
-
No equipment attachment
-
No technical back panel
The Craghoppers Classic Roll top 20L is a popular choice for those who want a daypack that works for everyday use, and can also be take for an occasional hike. The roll-top strap closure is a handy and well-considered piece of design, with the accent buckle forming part of the pack's main structure. As well as looking good it's a functional feature, as its workable even when you are wearing gloves, and doubles as an effective way of compressing items into the pack.
An expandable side pouch allows for a number of items – such as walking poles or a small water bottle – to be securely stowed inside, whilst a zipped compartment located just below the front helps organize and separate items for separate access; handy for when you want your compass and head lamp to be easy to locate. An additional zip accessible from the padded back panel allows for stowage of important items that require an additional safety protection, such as a 15-inch laptop. An inner pouch allows for items to also be separated, such as a laptop or tablet, which is ideal for those who want their pack to be suitable for commuting/ civilian life.
The rucksack also has impressive recycling credentials, having been constructed from 11 recycled plastic bottles. As the backpack has a relatively small capacity, it's light and can be used as a cabin bag when travelling. The addition of Smart dry eco treatment means the bag will keep items dry during a shower. Finally, for smart commuters the debit cards can be zipped in a RFID pocket, which also has a key attachment.
Read our full Craghoppers Classic Rolltop backpack 20L review
Best backpack for winter adventures
Ain't no mountain high enough for this classy alpine pack that's full of useful features
Specifications
Volume:
S/M 50L / M/L: 52L
Dimensions (HxWxD):
76 x 35 x 30cm / 30 x 14 x 12in
Fabric:
Bluesign approved 210D recycled high tenacity nylon, PFC/PFAS-free DWR
Reasons to buy
+
Clever storage solutions
+
Ideal capacity for winter adventures
+
Tailored to use with gloved hands
+
Narrow profile aids stability
+
Customizable gear attachments
Reasons to avoid
-
No pockets on hip belt
-
Gear only accessible through the top
Developed in collaboration some of the world's greatest climbers and mountaineers, Osprey's Mutant 52 is pack designed to meet the demanding needs of alpinists. Blending the long-distance carry capabilities of a mountaineering pack with the fast and light ethos of the Mutant series, it's a versatile pack that can be used for a range of adventure styles through the year.
Safety, stability and comfort were three of the main design goals. The Mutant has a noticeably slim profile to aid stability and a close-to-body fit. It's designed to be compact and feel like a part of you once you're out in the wild, while having all the attachments you need for items like ice-axes, skis, ropes and helmets.
The main fabric is a robust 210 Denier recycled high tenacity nylon, which is impressively durable, as well as being lightweight. The back panel is crafted with snowy conditions in mind. EVA Foam provides the cushioning while the 'snowshed' fabric keeps things dry.
Where winter mountaineering and alpine exploits are concerned, the Mutant hits the sweet spot. It's got enough capacity for all you'll need – as well as clever storage solutions for the pre-requisite kit – while retaining the lightweight, streamlined and durable qualities of the smaller Mutant packs.
Read our full Osprey Mutant 52 review
Backpacks for general hiking
Built to carry heavy loads in comfort, the Katmai 55 is a serious gear-hauler, but it's also been made with sustainability in mind
Specifications
Volume:
55L / 3,356 cu in
Weight:
2.12kg / 4lb 10.9oz
Dimensions (HxWxD):
77 x 42 x 32cm / 30 x 17 x 13 in
Sizes:
: S/M and M/L torso lengths
Fabric:
210D nylon With PFC-free DWR (40% recycled content) & 420D nylon with PFC-free DWR (45% recycled content)
Reasons to buy
+
Stable and comfortable
+
Fully-featured
+
Can handle heavy loads
+
Sustainable fabrics
Reasons to avoid
-
Not the lightest
-
Slightly fussy design
A fully-featured trekking and backpacking rucksack with Gregory's trademark carrying comfort, the Katmai 55 has pivoting shoulder straps and a flexible, wraparound hipbelt to keep hips and shoulders happy, even with a heavy load. The suspended mesh back panel delivers good airflow, and has a Polygiene treatment to inhibit odours after long hours hiking on hot, sweaty trails.
The brand has also employed partly recycled fabrics in the pack's construction and calculated the overall carbon cost of the product (the equivalent of hiking 89 miles rather than taking a car journey apparently), which means you can offset the environmental impact of your purchase via your next long-distance walk or thru-hike. Boasting a profusion of pockets and different compartments, the Katmai is a deluxe gear-hauler for those who like to stay organised on their adventures.
Read our full Gregory Katmai 55 review
A lavishly featured rucksack for long days of hiking
Specifications
Colors :
Midnight-lava/Graphite-black
Reasons to buy
+
Excellent pockets
+
Useful attachments
+
Easy access to kit
+
Rain cover
Name a desirable feature on the best hiking backpacks and the Deuter Trail Pro can almost certainly tick it off the list. From pole, ice axe and helmet attachments to a lid pocket, two side pockets (one zipped, one stretchy) and an internal valuables pocket, to a wet kit compartment and a rain cover – this pack has it all. A front zip even gives alternative easy access to the main compartment to find gear stowed at the bottom.
But its smartest feature is arguably the breathability of its porous foam back pads, and the wide ventilation channel up the spine, facilitating airflow without compromising your centre of gravity. The hip-hugging belt fins ensure a close fit, and their generous pockets are ideal for snacks, phone and GPS. All the features come with a slight weight penalty, but it's a small price to pay.
Read our full Deuter Trail Pro 36 backpack review
9. Lowe Alpine Airzone Camino Trek 40:50
Astute packing could turn this generously featured daypack into a trekking pack for overnight hiking trips
Reasons to buy
+
Flexible capacity
+
Breathable back AirZone
+
Raincover
Reasons to avoid
-
No adjustability in back length
Any 40- to 50-litre backpack finds itself at risk of falling between stools: too big for a day hike, yet too small for the camping equipment required for a backpacking trip. The Camino, however, puts up a good case for packing carefully for an overnighter, or carrying whatever you want for a day walk. The pack comes in two back lengths, and a huge AirZone in the centre of the mesh padding delivers maximum airflow.
On the other side a zipped front panel presents easy access to your kit, with the option to split the main compartment into two zones, while water bottles slide into stretchy side pockets. Up top, the extendable lid delivers the extra 10 litres of capacity, and both hip belts have handy pockets. Compression straps pull everything tight to help avoid snagging on rocks and branches, and a rain cover keeps everything dry should the heavens open.
10. Vaude Asymmetric 42+8
A perfect pack for hut-to-hut hiking in the Alps or Andes
Specifications
Colors:
Baltic sea/Cedar wood/Black
Reasons to buy
+
Adjustable back
+
Easy access main compartment
+
Good selection of pockets
Multi-day backpacking trips frequently don't involve tents, sleep mats and all the paraphernalia of self-sufficient overnighting. Networks of huts and hostels, especially in the Alps, allow for long, high-altitude walks with the comfort of a mattress under a solid roof for sleep.
The Asymmetric 42+8 is ideal for these types of adventures, with enough carrying capacity for mountain kit, without the bulk of an expeditionary pack. The adjustable back system sees the shoulder harness slide up and down to achieve a personalised fit, and the padded shoulder straps and hip belt keep the pack close and comfortable. There's a long, flat zipped pocket on the front for a map or jacket, zipped entry to the main compartment, and separate pockets in the lid and on the hip belt. The bottom internal compartment can stow dirty kit, or even take a tightly compressed sleeping bag.
Backpacks for expeditions
11. Berghaus Trailhead 65
This great value, entry-level rucksack is one of the best hiking backpacks for expeditions
Specifications
Colors :
Deep water/Black
Reasons to buy
+
Great value for its size
+
Customisable back length
+
Excellent access
+
Rain cover
Reasons to avoid
-
Not as lavishly padded as some rivals
The Trailhead provides everything you need from a hiking backpack at an extremely competitive price. The adjustable BIOFIT back system slides from S to XL to position the harness according to your height, and there's a good space between the shoulder and upper back pads to create a through-flow of air.
A 'diaphragm' gives the option to create one open main compartment or to split it into two – one for clean kit, perhaps, and one for wet or dirty gear. This compartment is accessible from both the top and from a zip that runs down the front of the pack. Side pockets swallow a map and bottles, while the lid has a pocket large enough to fit a waterproof jacket. There are also external loops to attach walking poles, a channel for a hydration bladder hose, and a rain cover, so pretty much all bases are covered.
Swipe to scroll horizontally
Best hiking backpacks comparison table

| | | | | |
| --- | --- | --- | --- | --- |
| Hiking backpack | Price | Weight | Style | Best use |
| Montane Trailblazer 44 | £110 (UK) | 980g / 2lb 2.6oz | Day pack | Speed hiking, fastpacking, hut-to-hut trekking |
| Osprey Levity 45 | $250 (US) / £180 (UK) | 800g/ 1 lb 12oz | Day pack | Speed hiking, fastpacking, hut-to-hut trekking |
| Jack Wolfskin Kingston 30 Pack Recco | $112 (US) / £85 (UK) | 930g / 2lb 1oz | Small day pack | Speed hiking, fastpacking, hut-to-hut trekking |
| Exped Lightning 45 | $100 (US) / £170 (UK) | 1164g / 2lb 9oz | Day pack | Speed hiking, fastpacking, hut-to-hut trekking |
| Craghoppers Classic Rolltop Backpack 20L | $73 (US) / £55 (UK) | 645g/ 1.42lb | Small day pack | Speed hiking, urban uses |
| Osprey Mutant 52 | $225.00 (US) / £180.00 (UK) / €200.00 (EU) | 1.5kg / 13 oz | Mountaineering pack | Alpine and winter mountaineering, winter walking, ski touring, wild camping |
| Gregory Katmai 55 | $260 (US) / £210 (UK) | 2.12kg / 4lb 10.9oz | Standard hiking backpack | Hiking, light backpacking, mountaineering, hut-to-hut trekking |
| Deuter Trail Pro 36 | $165 (US) / £130 (UK) / €170 (EU) | 1.49kg / 3lb 7oz | Day pack | Hiking, hut-to-hut trekking, mountaineering |
| Lowe Alpine Airzone Camino Trek 40:50 | £125 (UK) / €140 (EU) | 1.53kg / 3lb 6oz | Standard hiking backpack | Hiking, light backpacking, mountaineering, hut-to-hut trekking |
| Vaude Asymmetric 42+8 | $180 (US) / £150 (UK) / €160 (EU) | 1.475kg / 3lb 7oz | Standard hiking backpack | Hiking, light backpacking, mountaineering, hut-to-hut trekking |
| Berghaus Trailhead 65 | £110 (UK) / €180 (EU) | 1.7kg / 3lb 12oz | Expedition backpack | Hiking, backpacking, mountaineering, hut-to-hut trekking |
How we test the best hiking backpacks
Our reviewers test hiking backpacks on trails in a range of environments and conditions, carrying various weights, ranging from multiday loads to day provisions. Features (including design, carry capacity, harness comfort, product weight, materials, pockets and ease of access) are tested against claims made by the brand, and we assess factors such as value for money, durability and functionality.
For more details. see how Advnture tests products.
How to choose the best hiking backpack
There's an almost overwhelming choice out there when it comes to choosing the best hiking backpack. With such a range of sizes, features and applications, it can be difficult to know where to begin.
Before investing in the best backpack for you, consider the following...
1. Activity dictates capacity
Why you can trust Advnture Our expert reviewers spend hours testing and comparing products and services so you can choose the best for you. Find out more about how we test.
The approach you take to your hiking adventures will determine the size of backpack you'll need. Bigger packs are designed with camping expeditions in mind and come with all kinds of innovative storage solutions for items like your tent. Medium-sized packs are built with day-long adventures in mind and may have features like trekking pole or ice axe attachments. Smaller daypacks start to cross into hydration pack territory and feature handy pockets for things like water packs.
If you're looking to take to easy trails in just your best hiking shoes rather than full on boots, you won't want a heavy expedition pack. Likewise, if you're off an an epic thru-hiking adventure, where you'll be carrying all your camping gear from place to place, the best hiking backpack for you will have plenty of capacity.
As a rough guide, smaller packs for lightweight day walks range between around 15 and 35 litres. Medium packs, ideal for hut-to-hut treks or longer days scrambling and hiking in the mountains range from 35 to 55 litres. Above 55 litres and you're into serious expedition territory, with the capacity you need for your tent and camping gear.
2. Back system
How the best hiking backpacks sit against your spine can make all the difference to your comfort and confidence on tracks and trails. Most back systems have some sort of padding to protect your spine from the pack, while deep grooves create air channels that allow sweat to evaporate.
Other designs deploy a mesh trampoline that holds the entire back away from your spine for even greater breathability and support. This can, however, compromise your balance by holding the weight of your pack further away from your back. If you're weighed down by your camping gear, a traverse of technical ground becomes more difficult with such a backpack.
3. Harness
Shoulder straps need to hug your body closely, sharing the weight of a backpack with the hip belt. This is one of the areas where female hikers will find women-specific backpacks with shaped straps more comfortable. Shoulder straps themselves come in different widths and with more or less generous padding – it's a personal choice between comfort and weight.
Some straps also feature a small pocket or hooks on which to hang kit, ideal for items like your compass or multitool. This particularly true on hydration packs designed for adventure runners, who want to be able to grab energy gels and hydration pouches on the go.
4. Hip belt
Much of the weight of a backpack is supported by the hip belt, which hugs the core of your body. After a long day in the mountains, a standard hip belt often leaves your sides feeling a bit raw. The best hiking backpacks are designed to alleviate this issue. A bit of cushioning here can make a big difference to comfort, and a hip belt pocket for phone, GPS device or other items of hiking technology can prove to be very handy, especially with quick navigation in mind. Some hip belts on larger backpacking rucksacks are designed to swivel with your body movement as you walk, boosting your balance.
5. Organisation of gear
The fundamental purpose of the best hiking backpacks is to carry kit, so how it distributes this gear is vitally important. How to pack a backpack depends on personal preference. Some walkers (and especially climbers) prefer a tall slender pack, with few external pockets and kit carefully stowed in different coloured stuffsacks inside. Other walkers appreciate a host of lid and side pockets for frequently accessed items, such as drinks, snacks, camera and credit card, while keeping extra layers of clothing and a stove in the main compartment.
It's entirely a question of personal choice, but make sure you choose a backpack with a volume large enough to accommodate all your hiking paraphernalia, from your best hiking gloves and hats to your binoculars and insect repellent. Be aware, however, that just because you have space for extra kit doesn't mean you should take it – lugging unnecessary gear up and down mountains is a thankless task.
6. Access
This is particularly important in winter. Fumbling with frozen fingers to open a backpack is a huge frustration, so check you're happy with the access points. Do they open widely enough? Are the drawcord or zips easy to use, even with gloved hands? Does a top opening work for you or would you prefer a full-length zip along the pack to give instant access into the depths of your bag?
When backpacking in winter conditions, a good tip is to pack away things like your best down jacket and waterproofs unzipped, so that when you grab them from your pack, you've got one less thing to fumble with. Little efficiencies like this mean that you spend less time standing still and more time moving — crucial in the harsh winter environment.
7. Dealing with the weather
Your backpack is going to get wet. This is a fact. Very few backpacks are built to be fully waterproof and those that are can be eye-wateringly expensive. If you know you are going to be out a lot in the wetter seasons, it may be worth splashing out.
Even many of the best hiking backpacks are merely water resistant, which means they will cope with the occasional shower but succumb to longer spells of persistent rain. Most come with an elasticated waterproof cover that can be slung over them when the weather takes a turn for the worse. However, these rarely keep things totally dry.
With this in mind, many experienced hikers use dry bags to not only keep their kit dry, but also compartmentalize. This is particularly useful if you are on an expedition, where you can use one dry bag for wet kit, one for dry clothes, one for sleeping essentials and another for valuables.
All the latest inspiration, tips and guides to help you plan your next Advnture!
An outdoors writer and editor, Matt Jones has been testing kit in the field for nearly a decade. Having worked for both the Ramblers and the Scouts, he knows one or two things about walking and camping, and loves all things adventure, particularly long-distance backpacking, wild camping and climbing mountains – especially in Wales. He's based in Snowdonia and last year thru-hiked the Cambrian Way, which runs for 298 miles from Cardiff to Conwy, with a total ascent of 73,700 feet – that's nearly 2½ times the height of Everest. Follow Matt on Instagram and Twitter.