How to waterproof hiking boots: top tips for keeping moisture away from your feet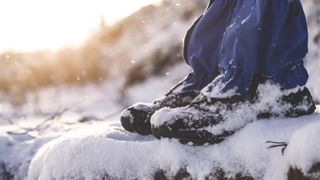 (Image credit: Getty)
Knowing how to waterproof hiking boots is a must for any self-respecting hiker. There's no doubt about it. If you spend any length of time in the great outdoors, you're going to get wet at some point. From knee-deep snow in winter and muddy trails to summer river crossings and sudden downpours.
Washing, waterproofing and waxing your best hiking boots may be as popular a prospect as housework, but it's better than trudging around in soggy socks, and it's a small price to pay compared to buying a decent new boots. Just as with your best waterproof jacket, the occasional bit of TLC will keep your feet dry and extend the working life of your boots.
If you know how to stay dry when hiking, you will know that keeping your feet dry leads to a much happier adventure, particularly when you're wild camping and not returning to civilisation. Nothing dampens the spirits quite like putting on dripping wet, cold socks in the morning.
But how often should you waterproof hiking boots? The simple answer is when water stops beading on the surface and the uppers start wetting out. When that happens, follow these steps.
1. Scrub your boots
Swishing through long, wet grass performs a cleaning function of sorts, but you really need to use a brush (try the Hymax Mudsweeper, a nailbrush or even an old toothbrush) to remove dirt and mud. Take out the laces before you start so you can get into the billow tongue area.
2. Rinse your boots
A good old cold shower from the tap should wash away lingering mud and leave uppers dirt-free in preparation for a proper clean.
3. Clean your boots
Use a specialist cleaning product, such as Granger's Footwear + Gear Cleaner or Nikwax Footwear Cleaning Gel to shift stubborn dirt and stains. This is particularly important with fabric hiking boots that rely on their durable water repellency (DWR) to make water bead on their surface, rather than saturate the upper. Then rinse with a clean sponge or cloth. You shouldn't need to use these cleaning agents every time you wash your boots.
4. Re-proof your boots
Apply a wax or waterproofing agent to your boots to restore their water repellency and stop them from 'wetting out'. Different waterproofing products are available depending on the type of boot.
For nubuck, suede and synthetic fabric boots, spray a product such as Nikwax Fabric & Leather Proof or Grangers Footwear Repel Plus onto clean, wet boots and leave to dry before you next go hiking.
For smooth, leather boots, use a wax, such as Grangers Waterproofing Wax or G-Wax. Use your finger and a clean cloth to rub a thin layer of wax into clean, dry boots. The more layers of wax you apply, the better the end result; wait until the wax has dried before walking. You can buff the wax finish with a dry cloth for a smarter finish.
Alternatively, from time to time it's worth conditioning leather boots with a product such as Grangers Leather Conditioner or Nikwax Conditioner for Leather. These help to keep leather supple and avoid cracking, as well as restoring its waterproof qualities. Apply conditioner to damp boots, using a finger and clean cloth, and work it into the stitched seams as well as the leather, before wiping off any excess and leaving to dry naturally.
No radiators
Don't be tempted to speed dry boots on radiators. It dries out the leather. Leave them to dry in a well aired room.
All the latest inspiration, tips and guides to help you plan your next Advnture!
Thank you for signing up to Advnture. You will receive a verification email shortly.
There was a problem. Please refresh the page and try again.