How to waterproof hiking boots: top tips for how to keep your feet dry this winter
Knowing how to waterproof hiking boots will keep your feet dry on a walk and add to the lifespan of your hiking boots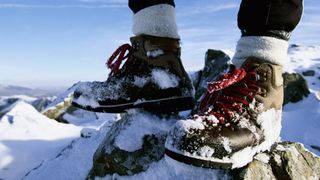 (Image credit: Getty)
Knowing how to waterproof hiking boots will lengthen their lifespan and keep your feet warm and dry, crucial during the winter walking season. There's no getting away from it, if you're a hiker who spends any considerable length of time outdoors, you're going to get wet at some point and its usually your boots that are in the thick of it.
Winter sees increased precipitation, be it rain, sleet, hail or now. After a period of significant snowfall, you could end up hiking through knee deep snow, your best hiking boots periodically submerged under the white stuff with every step. If you're wearing waterproof hiking boots, this may not be such an issue but, if you're not, your feet are in for a chilly and soggy outing.
Just as with your waterproof jackets and pants, the occasional bit of TLC will have your boots' H2O repelling qualities back in no time. You'll know it's time to re-proof your boots as soon as water stops beading on the surface and the uppers start wetting out. When that happens, just follow our simple guide and you'll have waterproof hiking boots again in no time.
Finally, it's worth bearing in mind that in deep snow or when crossing rivers, no matter how waterproof your hiking boots are, water is still going to get through the top of them. This is why we would always recommend equipping yourself with a pair of the best gaiters for the winter season to complement your boots.
How to waterproof hiking boots: scrub your boots
Swishing through long, wet grass performs a cleaning function of sorts, but you really need to use a brush (try the Hymax Mudsweeper, a nailbrush or even an old toothbrush) to remove dirt and mud. This works just as well on your best hiking shoes and it's worth doing even if your footwear isn't waterproof to prolong a pair's life. Take out the laces before you start so you can get into the billow tongue area.
How to waterproof hiking boots: rinse your boots
A good old cold shower from the tap should wash away lingering mud and leave uppers dirt-free in preparation for a proper clean. We often find ourselves rinsing our trail running shoes like this after a day on muddy forest tracks.
How to waterproof hiking boots: clean your boots
Use a specialist cleaning product, such as Granger's Footwear + Gear Cleaner or Nikwax Footwear Cleaning Gel to shift stubborn dirt and stains. This is particularly important with fabric hiking boots that rely on their durable water repellency (DWR) to make water bead on their surface, rather than saturate the upper. Then rinse with a clean sponge or cloth. You shouldn't need to use these cleaning agents every time you wash your boots.
How to waterproof hiking boots: re-proof your boots
Apply a wax or waterproofing agent to your boots to restore their water repellency and stop them from 'wetting out'. Different waterproofing products are available depending on the type of boot.
For nubuck, suede and synthetic fabric boots, spray a product such as Nikwax Fabric & Leather Proof or Grangers Footwear Repel Plus onto clean, wet boots and leave to dry before you next go hiking.
For smooth, leather boots, use a wax, such as Grangers Waterproofing Wax or G-Wax. Use your finger and a clean cloth to rub a thin layer of wax into clean, dry boots. The more layers of wax you apply, the better the end result; wait until the wax has dried before walking. You can buff the wax finish with a dry cloth for a smarter finish.
Alternatively, from time to time it's worth conditioning leather boots with a product such as Grangers Leather Conditioner or Nikwax Conditioner for Leather. These help to keep leather supple and avoid cracking, as well as restoring its waterproof qualities. Apply conditioner to damp boots, using a finger and clean cloth, and work it into the stitched seams as well as the leather, before wiping off any excess and leaving to dry naturally.
How to waterproof hiking boots: no radiators
Don't be tempted to speed dry boots on radiators. It dries out the leather. Leave them to dry in a well aired room.
All the latest inspiration, tips and guides to help you plan your next Advnture!
After spending a decade as editor of Country Walking, the UK's biggest-selling walking magazine, Jonathan moved to edit Outdoor Fitness magazine, adding adrenaline to his adventures and expeditions. He has hiked stages or completed all of the UK's national trails, but was once overtaken by three Smurfs, a cross-dressing Little Bo Peep, and a pair of Teletubbies on an ascent of Snowdon. (Turns out they were soldiers on a fundraising mission.)