Record numbers of new English fish
The Environment Agency has revealed that it has produced a record amount of fish for English venues, all paid for by rod licence money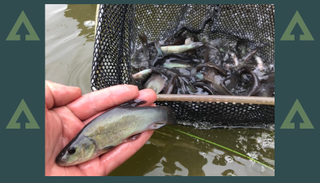 (Image credit: Angler's Mail)
Welcome to Advnture, the new home of AnglersMail.co.uk
Latest EA figures show that it reared 520,475 adult fish last year at its national fish farm near Calverton, Nottinghamshire.
Some 12.3 tonnes of fish were produced at the farm in 2019, compared with 11.6 tonnes the previous year, an increase of six per cent. In 2017, the amount of fish bred at the farm was just nine tonnes.
The fish farm also stocked over 7,600,000 'advanced reared larvae' into the wild. The larvae are bred for longer, so that they have a better chance of survival.
Heidi Stone, EA fisheries manager, said: "The fish we breed are used for the recovery and restocking of rivers and stillwaters all over the country, so it's great to see that the National Coarse Fish Farm has had another record-breaking year of producing healthy fish.
"The fish farm's work is a key example of how we inject income from fishing licence fees directly back into fisheries.
"The fish it produces play an important role in the Agency's work to restore, improve and develop sustainable fisheries in England."
The farm produces coarse fish to replace stocks that have been lost to pollution incidents, following improvements to habitats, or where natural reproduction in the area is low. They are also used to help create fisheries in areas where there is a shortage of angling opportunities.
In total, 25 rivers and 70 stillwaters were stocked by the EA last year.
Alan Henshaw, a long-time team leader at the fish farm, said: "We're pleased to have had another record-breaking year at the fish farm.
"By introducing better growing techniques and achieving a good survival rate for the fish, the overall weight of fish we have produced has risen by six per cent, to 12.3 tonnes, compared with the previous year.
"Great care is taken to ensure that every fish we produce is fit for purpose, so that they can survive when stocked into the wild.
"During their 18 months at the farm, we feed the fish live natural food, they encounter a range of flora and fauna, and are trained in flowing conditions while being grown in earth ponds."
Grayling were the most grown fish, 90,750 of them, followed by 89,678 roach, 78,200 crucians, 65,774 barbel, 56,967 bream, 50,095 chub, 48,532 dace and 22,938 tench. Rudd came in last with 17,541.
Milton Keynes AA chairman Trevor Johnson said: "The EA have done a lot of work in our area. They have been restocking barbel into the Great Ouse around Adams Mill as part of a long-term programme to bring great sport back.
"They have also been restocking the upper Ouse with small fish as part of their recovery plan. It was devastated by poisonous chemicals, following a factory fire in Brackley in 2018.
"Thanks to all in the EA team for really caring about the river and trying so hard."
All the latest inspiration, tips and guides to help you plan your next Advnture!
Running from 1964 until 2020, Angler's Mail was the UK's leading weekly magazine devoted to coarse fishing, telling readers everything they needed to know about which fish to catch, where to catch them, and what kit they needed to do it. Now, loads of the magazine's expert advice can be found on Advnture.com, as a helpful resource for angling newcomers and experts alike.