Best waterproof jackets: stay dry in winter downpours with these upper layers
With the best waterproof jackets you can stay dry and comfortable on the trails. Here are the models you need to consider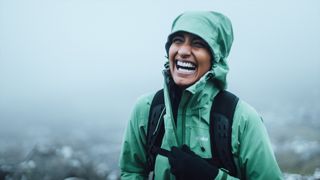 (Image credit: Alpkit)
Never let the weather keep you indoors. The best waterproof jackets are your passport to the walks, hikes and treks you want to do, whatever the forecast. Our selection of rain jackets will keep you bone dry, even if he heavens should open on you. They'll also fend off the wind, keeping you warm.
The differences come in other areas of performance. How well does the fabric breathe? There's no point saying dry from the outside, only to be soaked in your own sweat from the inside like a red-faced boil-in-the-bag victim. How functional are any vents? How stiff and secure is the hood in the face of a wrecking ball gale? And how useful are the pockets for the map, snacks and other gubbins you want to carry with you rather than in your backpack?
All the jackets featured here are top quality; it's hard to top the Berghaus Changtse, which is burly and brilliantly versatile, while the Patagonia Torrentshell has excellent eco values. TNF's Impendor Futurelight features exciting new tech, while the Alpkit Balance is impressively innovative.
So before you set out to take on the elements, take a look a the best waterproof jackets you can buy.
The best waterproof jackets you can buy
Alpkit Balance
The second coming of an excellent, high-performing, all-adventure, all-weather jacket with lots of clever little touches
Price: £180 (UK) | Sizes: Women 8–18; Men S–XXL | Weight (men's large): 466g/1lb 0.4oz | Colours: Fern / Tarmac
Extremely waterproof and breathable (with extra venting)
Stretchy material for all manner of adventures
High performance for low weight penalty
Limited colourways
Underarm vents can't be closed
No inside pocket
It takes courage to completely redesign your best-selling waterproof jacket, but that's what Alpkit have done with this shell. The British brand released the new iteration of the Balance for the last quarter of 2020, as the UK descended into an unpredictable winter, and we have been testing it out since – searching for a bit of dependability in an uncertain environment. And that's largely what we found. Like much of its kit range, Alpkit are targeting the multi-adventurist with this jacket – someone who wants one ready-for-anything jacket to wear while exploring crags, trails and ales (decent waterproofing has been essential for post-adventure beer garden debriefs this year). Made from a PFC-free, durable water repellent (DWR) dynamic material (tough nylon and spandex), which stretches with you when you move to reach a handhold, a stile or a pint, the Balance has an active fit. Accordingly, it also has highly adjustable cuffs (with enough Velcro to ensure a tight fit over or under a pair of gloves) and hem, to keep things firmly in place. The new Balance also has 'stealth vents' beneath each armpit, which provide extra breathability (they have a deep overbite, which should ensure rain is kept out, but you can't actually shut them). It's three-layer coat, with a comfortable inner made with a soft-feel polyester knit. It has a highly impressive hydrostatic head of 20,000, and is extremely breathable, with a moisture vapour transfer rate of 20K. The hood has a stow-away tie, so you can secure it out of the way when it's not required – but, when you do need it, there are multiple adjustment areas, it can accommodate a helmet and zips right up to your nose to keep the worst of the elements out. A popper by the chin means you can keep the hood in place, while opening the zip a bit to get rid of some heat when you're working hard. There are two zippered pockets on the outside, but the redesign hasn't seen the addition of an inner pocket, which seems a shame.
All the right Gore-Tex fabrics in all the right places make this a high-performance waterproof jacket
RRP: £290 /€350 | Sizes (men's): S-XXL | Sizes (women's): 8-16 | Weight (men's): 375g/13oz (size M) | Weight (women's): 284g (10oz) (size 12) | Colours (men's): Haute red/Deep water blue/Graphite | Colours (women's): Orange blue/Spectrum blue/Graphite
Body-mapped Gore-Tex technology
Venting
Hood adjustable from a single point
Only one pocket
Expensive
A serious price for a serious jacket, the Changtse has been designed for hikers who not only head into uncompromising hills and mountains, but who are dynamically active when they get there. Its science lies in the use of three different Gore-Tex fabrics, bodymapped to zones where each can function optimally. Active Shell, the most breathable Gore-Tex, features around the torso to keep hikers cool; robust Paclite Plus is used in areas that suffer the most abrasion, such as the chest and arms; and Topo Stretch appears around the hem and cuffs for stretchable waterproof protection – ideal when scrambling or climbing. Pit zips allow for a through-flow of air, while an innovative (and patented) Vapour Storm vent at the top of the back helps to stop sweaty spine syndrome. The hood, which accommodates a helmet, is adjustable from a single point, and naturally, at this price the jacket is ruggedly waterproof.
Salomon Outline waterproof jacket
A light, stretchy jacket that's completely weatherproof and ideal for multiple outdoor activities
RRP: $300 (US)/£180 (UK) | Sizes (men's): S-XXL | Sizes (women's): XS-XXL | Weight (men's): 307g/11oz | Weight (women's): 257g/9oz | Colours (men's): Valiant poppy/Green gables/Ebony/Fjord blue | Colours (women's): Orange blue/Spectrum blue/Graphite
Light
Easily packable
Good stretch
Shorter style so a bit less protection than some rivals
By bonding the fabric, waterproof membrane and protective backer into a single fabric, Salomon has cut weight from the Outline without sacrificing its rain-, wind- and snow-protection qualities. The result is a jacket that's light to wear and that folds up into a brilliantly small parcel for carrying in a pack. The fabric itself has decent stretch, providing freedom of movement when Nordic walking with poles or scrambling. The elasticated cuffs, hem and hood helps to keep the jacket in place when Mother Nature bares her teeth, although other jackets offer more adjustment in these areas. Two large, zipped pockets sit comfortably above a backpack hip belt, while reflective detailing on the sleeves is a welcome extra safety feature for low-light adventures.
Finisterre Stormbird
A highly featured three-layer, all-conditions outer shell jacket, made entirely from recycled materials
Price: $264 (US)/ £195 (UK) / €219 | Sizes: Women 8–16; Men XS–XXL | Weight (men's large): 690g/1lb 8.3oz | Colours: Black
Excellent waterproof rating and high breathability
Very environmentally friendly
Available for men and women
Only available in black
No armpit vent
Relatively heavy
The new Stormbird jacket sits at the pinnacle of Finisterre's outer-layer range, offering a high level of performance and functionality, combined with peak planet-friendly production principles. First the features: these include a multi-adjustable 3-panel hood (capable of swallowing a helmet) with a high chin and comprehensive face-friendly protection when required. The bottom hem is adjustable, so you can pull it in tight to keep wind, water and snow out, and the cuffs can be tightened close to gloves with Velcro. Seams are taped, and the elbow seam is intelligently angled to allow maximum movement when you're being all dynamic and active in the outdoors. The Stormbird is three layers thick (toasty enough to work without a midlayer in many conditions) and the inner boasts a brushed polyester finish, for increased comfort and coziness. There are three zipable pockets, two deep ones on the outside, and a side-opening breast pocket on the inside left. Finisterre are industry leaders in their approach to using environmentally friendly materials and ethical manufacturing methods, and the new Stormbird jacket is made entirely from durable recycled ripstop Nylon in monitored factories. On top of that, the jacket has a fluorocarbon-free (FC-Free) durable water repellent (DWR) finish, which basically means they have avoided using the more damaging fluorocarbons and long-chain chemicals (PFC DWR) employed by many brands in their waterproofing treatments, which leach from fabrics and end up in our food chain and environment. Has this conscientious approach impacted the product's performance? Nope – the Stormbird has a hydrostatic head (HH) rating of 20,000 (better than many tents) – which means you could have a 20-metre tall column of water sat right on top of the fabric for 24 hours and none of the moisture would get through. It's also got a high breathability rating and a two-way waterproof zip. On the downside, the coat is only available in black, and it lacks armpit vents, which many hikers do like to open when things get steamy on steep climbs.
Helly Hansen Verglas 3L waterproof jacket
A tough, fully-featured waterproof jacket for year-round use
RRP: $325 (US)/£260 (UK) | Sizes (men's): S-XXL | Sizes (women's): XS-XL | Weight (men's): 520g/1lb 2oz | Weight (women's): 435g/15oz | Colours (men's): Papaya/Royal blue/Fir green/Azid lime/ Glacier blu | Colours (women's): Glacier blu/Castle wall/Alert red/Black
Excellent hood
Robust 3-layer construction
Glove-compatible main zip
Limited pockets
The fact that the Verglas is as likely to be seen on ski slopes as it is in hills and mountains says much about its all-round, all-season weather protection. It's not insulated, but the three-layer construction of outer shell, membrane and liner are wind and waterproof as well as breathable for higher energy outdoor activities, while all seams are sealed. If you want to spill heat, open the pit zips for extra ventilation; conversely, if you want to conserve heat simply tighten the inner waist cord. A helmet squeezes under the hood, and on those occasions when you really need to batten down the hatches the hood closes to little more than a letterbox opening. The large main zip tag is adjustable with gloves, but there are only two pockets so you'll have to stow essentials in your pack.
Paramo Velez Adventure Smock waterproof jacket
This jacket adopts a radically different technological approach and style, and has won legions of fans
RRP: £245 | Sizes (men's): S-XXL | Sizes (women's): XS-XL | Weight (men's): 720g/1lb 9oz | Weight (women's): 710g/1lb 9oz | Colours (men's): Black/Dark green | Colours (women's): Navy
Breathability
Huge pockets
Wired peak hood
Heavy
Needs regular reproofing
Rather than the industry standard of shell and membrane, Paramo uses a DWR finish on the outer surface and Nikwax Analogy fabrics to draw water as well as vapour away from the skin and through the outer layer (most membranes only allow vapour, rather than condensed water to escape). It's a warmer solution, best suited to chilly days and requiring a lighter baselayer than other waterproof shell jackets. The substantial wired hood rolls away when not in use, and two lengthy front zips open to provide good ventilation and access to an inner pocket. The fit is generous, delivering first class freedom of movement, while the longer tail extends the waterproof protection. The smock design is unusual and the styling won't appeal to all, but it does allow for a huge, practical chest pocket – just be careful what you stow in it if you're a regular Instagrammer as it can lead to an unflattering side profile.
This three-layer waterproof jacket is made from recycled fabrics and stuffs into its own pocket for easy carrying
RRP: $150 (US)/£150 (UK) | Size (men's): XS-XXL | Size (women's): XS-XL | Weight (men's): 394g/14oz | Weight (women's): 354g/12oz | Colours (men's): Roots red/Supply green/Mango/Andes blue/Forge grey/Fire/Industrial green/Classic navy/Coriander brown/Black | Colours (women's): Catalan coral/Bayou blue/Classic navy/Camp green/Pineapple/Birch white/Roamer red/Black/Gypsum green
Portability
Eco-friendly
Wired peak hood
Good price
Rucksack hip belts can cover pockets
The only difficult decision in choosing the Torrentshell as a waterproof jacket is picking a colour – there are 10 available for men and nine for women. The outer shell is made from a tough, recycled nylon, with a membrane to let sweat escape, while a 'knitted' tricot liner provides a soft layer next to your skin – with comfort levels enhanced even further at the neck by a micro-fleece lining to snuggle into when the heavens open. Velcro cuffs and a hem drawcord provide a seal against sideways rain, as do the internal and external storm flaps on either side of the front zip, while the hood adjusts for a close, face-hugging fit. When the weather is more benign the hood folds and hooks down, and pit zips help you let off steam. And when it's sunny, the whole jacket stuffs into its own handpocket for easy carrying. It's constructed from recycled materials, and to top it all, it's fair-trade certified.
The North Face Impendor Futurelight waterproof jacket
Cutting edge fabric technology make this a waterproof jacket for fast-paced high-level adventures
RRP: £320 | Sizes (men's): S-XL | Sizes (women's): XS-XL | Colours (men's): Black & asphalt grey/Black & flame orange | Colours (women's): Cayenne red/Black
Nano-spun waterproof breathable fabric
Adjustable, helmet compatible hood
Good ecological values
Shorter fit
As the shampoo ads say, "And now for the science bit…" The Impendor takes advantage of Futurelight, The North Face's new fabric technology (their answer to Gore-Tex), which involves the spraying of nano-sized particles to create a waterproof, breathable film. The boffins behind the cutting-edge development have ensured the film's fibres are small enough to let moisture pass through, while keeping water (rain) out, to create the foundations of an exceptionally breathable waterproof jacket. The result is a super-supple jacket, ideal for high energy activities in the mountains, with a wired-brim hood large enough to accommodate a helmet. Extra protection from the elements comes in the form of waterproof zips and taped seams, while an inner chest pocket provides a safe space for a phone. Materials include recycled nylon and the jacket is impregnated with a non-PFC durable water repellent – all good news for the environment.
Rab Downpour Alpine waterproof jacket
Cutting edge fabric technology make this a waterproof jacket for fast-paced high level adventures
RRP: £160 | Sizes (men's): S-XXL | Sizes (women's): 8-16 | Weight (men's): 400g/14oz | Weight (women's): 360g/13oz | Colours (men's): Blueprint/Maya/Sulphur/Black | Colours (women's): Blueprint/Sulphur
Helmet compatible hood
Large chest pockets
Less durable than a 3-layer fabric
Cumbria's lakes don't fill themselves, and you're more likely to need a waterproof than sunscreen in Snowdonia, which is where the Rab Downpour Alpine enters the fray, ready to deliver all day weather protection in the most challenging conditions. Unusually and impressively for a jacket at this price, it uses a proprietary rather than own-brand fabric to square up to downpours. Made from 2.5-layer Pertex Shield, the Rab Downpour Alpine features a membrane bonded to the face fabric, with a coating on the inside. It's less durable than a three-layer jacket, but it allows for freer movement and a smaller pack size when not in use. Two large chest pockets sit well above rucksack belts and easily swallow an Ordnance Survey map, while pit zips bring a breath of fresh air to sweaty armpits. The fleece-lined chin guard is a thoughtful touch for days when you're grimacing into a climatic onslaught, and the malleable-peaked hood cinches to create a close, snug fit around your head.
Choosing the best waterproof jacket for you
Regardless of their RRP or reputation, the best waterproof jackets have to be right for you personally in their length and fit, whether you hike in country parks, rugged moorland or up on the high flanks of unforgiving mountains. Only you know what you're going to put the best rain jacket through, but in order to get a rain jacket that will provide the protection you require, consider the following factors.
1. Fabric
Gear manufacturers deploy different technologies to make the best waterproof jackets, er, waterproof. The first layer is durable water repellency (DWR), which makes rain drops bead on the surface of the jacket. Walkers who take care of their kit can restore the DWR finish by washing a jacket with a specialist cleaning product, such as Nikwax, and then tumble-drying it. The second line of defence is the shell or barrier fabric, which gives the best rain jackets their structure, anti-abrasion protection, and determines whether it's supple or stiff, silent or noisy.
2. Membrane
Attached to the outer shell is a membrane, the scientific bit of the design, which stops water soaking through but lets sweat evaporate out as vapour – to deliver so-called breathability. Gore-Tex is the best-known membrane, but many gear manufacturers have developed their own technologies along similar lines – most recently TNF with Futurelight. The membrane is typically protected by an inner mesh.
3. Ventilation
In-store swing tags may promise that the best waterproof jackets are both waterproof and breathable, but the truth is that you'll still feel sweaty climbing a hill in damp conditions with a backpack on your back. Strategically designed vents and (arm)pit zips that facilitate a flow of air through the best rain jackets and can reduce condensation and leave you feeling less sweaty.
4. Hood
For maximum protection the hood needs to cover the whole of your head, ideally with enough space to accommodate a hat underneath in winter. Climbers and mountaineers need to check the hood can swallow a helmet, too. The hoods of the best waterproof jackets move with your head (for unobstructed vision when crossing a road), so a cinch or ties are useful to secure a snug fit. Make sure any ties tuck away unless you fancy being whipped in the face when it's windy. Finally, a stiff, wired hood will keep its shape in a gale.
5. Zips and seams
Sneaky old H2O seems determined to infiltrate any waterproof jacket, so it's vital that all seams are taped and that zips are either stormproof or covered by a storm flap. If you plan to walk in winter, make sure you can operate the zips while wearing gloves.
6. Fit
Leave enough space under your jacket for wearing a base layer and mid layer (check out our quick guide to mid layers) , such as a fleece, for walking in colder conditions. Jacket length is a matter of taste – longer jackets naturally offer greater protection – and adjustable cuffs and hem will keep you warm and watertight or let you spill heat by loosening them.
7. Weight
For much of the year a waterproof jacket is an insurance policy – carried in a backpack in case of rain. The best rain jackets that are light and fold up small are easier to carry, but will typically offer less protection and be less durable. If you're going to rely on one jacket for year round walking it's far better to choose a robust jacket for the worst of winter and carry a few extra grams in summer, than depend on a featherweight jacket when December's rain is blowing horizontally.
All the latest inspiration, tips and guides to help you plan your next Advnture!
Thank you for signing up to Advnture. You will receive a verification email shortly.
There was a problem. Please refresh the page and try again.