Buyer's guide: Free-spool reels
Duncan Charman tests some of the best free-spool reels for under £100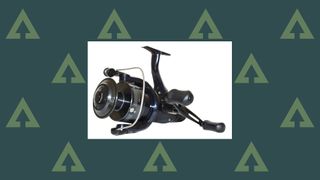 (Image credit: Angler's Mail)
Welcome to Advnture, the new home of AnglersMail.co.uk
Testing some of the best free-spool reels for under £100...
Maver C125 Inspiration 6000
£69.99
Comes with two aluminium spools with a capacity of approx 200 m of 0.35 mm mono, plus an instant anti-reverse system. It weighs in at 17 oz. Boasts 9+1 bearings, a gear ratio of 4.9:1 and large comfortable grip handle, although this doesn't create the most balanced feel. Drag is set by a front dial, and the free-spool rear sited lever offers a range of tension settings across a pleasing two turns of the control. The plastic line clip did damage my line though and the silver cosmetics won't appeal to everyone.
SCORE: 24/30
Quantum Radical Heat V1050
£67
Weighing in at 17 oz this single-handed reel comes with two long cast aluminium spools with a capacity of 160 m of 0.35 mm mono. The multi-disc front drag adjusts through 3 turns. The free-spool, selected by the usual lever on the rear of the body, offers a range of tension settings adjusted via 3.5 turns of the rear control. But it is limited, especially on the heavier tension settings. Featuring 10 bearings and a gear ratio of 5.5:1, it comes with a continuous silent anti-reverse system. I feel it lacks balance and the plastic sprung loaded line clip causes slight line damage.
SCORE: 24/30
Cormoran Pro Carp BR-XL 10 PiF 5000
£57
Weighing in at 16 oz, the grey coloured body and silver aluminium spool is cosmetically pleasing. Front drag operates through 3.5 turns to provide a smooth clutch. The spool takes 160 m of 0.35 mm mono. Spare spool supplied. The free-spool switch is tight and adjusts using a comfortable rear control knob, with 2.75 turns of adjustment. But it's limited, especially on high tension settings. Single handle with comfortable grip, 9 ball bearings, 5.5:1 gear ratio, silent anti-reverse and oversized 'anti-twist' line roller, however the metal sprung loaded line clip produce's slight line damage.
SCORE: 25/30
Abu Cardinal 57FS
£81.99
Solid and robust with 12 bearings and a gear ratio of 4.8:1, this reel has a balanced feel and comes with two aluminium spools capable of carrying 300 m of 0.35 mm mono. It's slow oscillation creates perfect line lay. It takes 3 turns to adjust the carbon matrix front drag through its settings. Weight is 23 oz. Free-spool is selected with the rear switch set in the back position, which takes some getting used to. Free-spool tension via a rear control knob adjusts through 3 turns. Large single handle and smart cosmetics but again the plastic line clip causes too much line damage for my liking and burrs around its recess creates concern. This is a big reel, one of the smaller sizes may be more suitable.
SCORE: 26/30
Korum KXi 50
£49.99
Appealing understated graphics and supplied with a spare aluminium spool with a line capacity of 160m of 0.35 mm mono. Front drag adjusts through 3 turns. The free-spool is the rear switch type, and adjusts through 3.25 turns via a soft touch rear control knob. Line clip is 'line-friendly' creating minimal damage but line tends to spring out on force creating concerns on reliability. The double-handle, anti-vibration system and 8+1 bearing produces a balanced smooth feel and anti-twist line roller ensures good line lay. Gear ratio is 5.5:1. Weight is 17 oz.
SCORE: 27/30
Okuma Epix V2 Baitfeeder 55
£39.99
Fashionable lightweight grey body and silver spool single handle reel, weighing in at 17 oz. The aluminium spool, unfortunately no spare supplied, has a capacity of 260 m of 0.35 mm mono and is a push-button release design. The front drag is adjusted through too many turns for my liking. The free-spool is operated using a rear mounted lever, and is tensioned via a rear control and adjusts from locked up to very light through just two turns. The plastic line clip is as good as any tested and the 5 bearings, 4.5:1 gear ratio creates a smooth balanced feel.
SCORE: 28/30
Best Buy
Shimano Baitrunner DL 10000 RA
£89.99
Stunning midnight blue body and gunmetal grey spool. It weighs in at 21 oz. Aluminium spool is released using a push button. It comes with a rear drag, the Baitrunner is operated using the standard rear mounted lever. Free-spool tension being adjusted via a dial set, just in front of the rear drag. Spool can be locked up tight or set extremely light. Full adjustment achieved through a pleasing two turns. It's supplied with two spools capable of taking 350 m of 0.35 mm mono. Also featuring a double-handle, 4 ball bearings, silent anti- reverse system and oversized power roller for perfect line lay. Well-built and made to last!
SCORE: 29/30
NOTE: All products tested November 2010.
All the latest inspiration, tips and guides to help you plan your next Advnture!
Running from 1964 until 2020, Angler's Mail was the UK's leading weekly magazine devoted to coarse fishing, telling readers everything they needed to know about which fish to catch, where to catch them, and what kit they needed to do it. Now, loads of the magazine's expert advice can be found on Advnture.com, as a helpful resource for angling newcomers and experts alike.