Buyer's guide: Split shot
Dave Coster weighs up six brands of split shot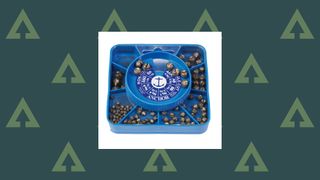 (Image credit: Angler's Mail)
Welcome to Advnture, the new home of AnglersMail.co.uk
Testing six brands of split shot...
Maver 6 Way Competition
£5.99
Six division selection providing AAAs, BBs, 1s, 4s, 6s and 8s. Dull grey colour appealed with these deep cut shot, which were all non-toxic except for the 8s. The glaring omission was no SSGs and there with only 10 AAAs in the container, so big locking shot need to be eked out carefully. The plastic dispenser didn't impress being very stiff to operate when trying to access different shot sizes.
SCORE: 24/30
Preston Innovations Non-Toxic
£6.99
Supplied in six neat flip top storage containers that are housed in a multi division open top box. You get generous amounts of shot in each handy container and these can uniquely be dispersed around your tackle box to suit personal requirements. Sizes supplied are SSG, AAA, BB, 1, 4 and 6, meaning number 8s have to be purchased separately. Identical deep cut and colour to the Maver product.
SCORE: 26/30
Dinsmores 7 Division Super Soft
£7.50
This square 7 division dispenser offers very generous quantities of SSG, AAA, BB, 1, 4, 6 (non-toxic) and 8 (lead) shot. These light grey, deep cut shot are again identical in profile to the previous two selections, but you get quite a few more of each size to play with. The shot are easy to apply and take off but hang well off centre, unless you use silicone buffers or very carefully adjust them.
SCORE: 26/30
Middy 7 Division Super Soft Hinge
£7.25
Square 7 division container, again with very generous quantities of non-toxic SSG, AAA, BB, 1, 4 and 6 shot – plus No.8s in lead. These deep cut shot feature thumbnail divots for easy opening but require careful application (or silicone buffers) to stop them leaning off centre. Finished in a light grey colour and very similar to the Dinsmores shot, also their square shaped dispenser.
SCORE: 26/30
Garbolino G-Shot 8 Division
£6.50
This square shaped 8 division dispenser contains SSG, AAA, AB, BB, 1, 4, 6 and 8 shot – the latter lead while all others are non-toxic. Once again these grey shot were very similar to all the others covered so far, apart from the additional and very useful AB size. The different sizes were rather strangely organised in the dispenser running clockwise AAA, 6, AB, 4, 1, BB, 8, SSG, which doesn't make sense!
SCORE: 26/30
Anchor Double-Cut 8 Division
£7.25
At last something different in that these non-toxic shot have patented smaller slots at the rear of their main cuts. This makes them easier to apply and hang a tad more centrally on the line. The non-spill dispenser contains SSG, SA, AAA, AB, BB, 1, 4 and 6 shot, so although there are no No.8s you get two handy intermediate SA and AB sizes. Only criticism concerns low quantities of each size.
SCORE: 28/30
NOTE: All products tested October 2010. All prices correct at the time of going to Press. Angler's Mail do not take responsibility for price or product changes or current availability.
All the latest inspiration, tips and guides to help you plan your next Advnture!
Running from 1964 until 2020, Angler's Mail was the UK's leading weekly magazine devoted to coarse fishing, telling readers everything they needed to know about which fish to catch, where to catch them, and what kit they needed to do it. Now, loads of the magazine's expert advice can be found on Advnture.com, as a helpful resource for angling newcomers and experts alike.