Buyer's guide: Landing net handles
Dave Coster tests landing net handles for commercial carp fishing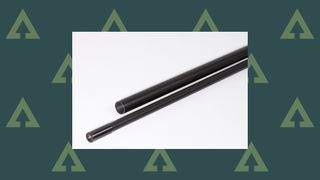 (Image credit: Angler's Mail)
Welcome to Advnture, the new home of AnglersMail.co.uk
Testing landing net handles for commercial carp fishing...
3 M Fox Match Conspiracy
£29.99
Telescopic two-piece carbon composite handle, 3 m in length, with a smooth satin black finish and a textured anti-slip butt grip. Quite slim in profile although a tad heavier than similar looking full carbon designs. This strong handle feels like it can deal with serious bagging sessions and landing carp into double-figures. It offers perfect reach for general pole and short pellet waggler rod tactics, also being just long enough for most other commercial carping applications.
SCORE: 26/30
3 M Shimano Catana X
£24.99
Lightweight three-piece take-apart carbon handle. The butt section has a reinforcing 'x-cross' carbon outer wrap, while the middle and shorter tip sections have a standard grey spiral weave. The top two sections are gloss and the butt section has a smoother satin finish with red and grey cosmetics. This is a good general-purpose match style handle that's easy to manoeuvre thanks to its lightness. It should
handle fish up to 8 lb comfortably, but I'm not convinced it
will take heavier punishment.
SCORE: 26/30
3.3 M Shakespeare Superteam
£66
Another three-piece take-apart carbon handle but with threaded ends on the middle and tip sections. Both of these have a matt black reinforcing spiral outer wrap, while the satin black butt section is completely smooth. This is a very strong handle, but it feels rather heavy and awkward at full length. It's capable of dealing with all strenuous commercial carping methods and the double thread feature means it can be used shorter. I was disappointed with the rough finish on the butt section.
SCORE: 26/30
2.5 M Map Carptek Power
£24.99
Two-piece take-apart format with a long butt section and much shorter top piece, both with a black gloss finish. This sturdy carbon design has a joint aligner on its base section and non-slip matt grips at the lower ends of both pieces. It's quite slimline in diameter and surprisingly lightweight for its strong nature – capable of supporting bigger match style carp nets. At full reach this handle is OK for most commercial tactics, and should easily cope with lively double-figure fish.
SCORE: 27/30
2.8 M Browning Power Slim
£39.99
Very slim, lightweight and strong two-piece carbon take-apart handle. Features Browning's famous burgundy colour, along with an attractive weave effect on the butt section – turning darker towards the threaded end. The smooth surface finish adds to the quality feel of this product. It's light enough to manoeuvre with ease and matches well with all match style carp landing nets, having a strong enough nature to cope with rigorous speed fishing and landing fish into double-figures.
SCORE: 27/30
3 M Preston Innovations Power
£32.99
Three-piece carbon take-apart design with a smooth satin black surface finish throughout and a pinned and glued brass thread. Adds up to a sturdy handle that can be used at two lengths, but its full 3 m reach is likely to be used most for scooping match-sized carp. This strong handle isn't over-heavy so it's easy to position quickly with one hand. It's strong enough to combine with larger sizes of match style carp nets and to handle hard fighting carp well into double-figures.
SCORE: 28/30
3.5 M Drennan Ex-Strong Carp Match
£44.50
Three-piece take-apart design with reinforced joints and an external heavy carbon cross weave. This all carbon product really stands out, having an extremely robust feel, while managing to stay quite streamlined in diameter and not over-heavy. It also has a lovely smooth carbon grey and black satin finish, along with a riveted brass thread and a screw-on metal base cap – that doesn't fall off like rubber ones do! The extra reach will come in handy, as will the shorter two-piece option.
SCORE: 28/30
BEST BUY
4 M Daiwa Tournament Airity
£99.99
Extra long three-piece take-apart handle that's amazingly lightweight and strong at 4 m. Longer reach landing net handles are becoming increasingly popular on the commercials, because they allow hard fighting carp to be scooped out quicker. This design also has a secondary threaded end in its middle section, for a shorter, more conventional reach. All sections have a smooth, fast ship satin black finish, while the
threaded ends have rubber grips underneath.
SCORE: 29/30
NOTE: All products tested March 2009.
All the latest inspiration, tips and guides to help you plan your next Advnture!
Running from 1964 until 2020, Angler's Mail was the UK's leading weekly magazine devoted to coarse fishing, telling readers everything they needed to know about which fish to catch, where to catch them, and what kit they needed to do it. Now, loads of the magazine's expert advice can be found on Advnture.com, as a helpful resource for angling newcomers and experts alike.