How to catch carp in winter
Colin Davidson shares his top tips for how to catch carp in winter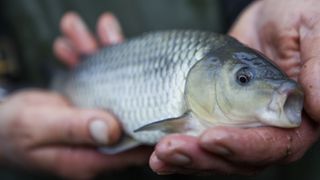 (Image credit: Image Library - Royalty Free)
Welcome to Advnture, the new home of AnglersMail.co.uk
As much as we all enjoy fishing during the spring and summer, it's important to know how to catch carp in winter as well.
Fishing in warmer weather isn't really a hardship, but in winter the days are shorter, a lot colder, perhaps wetter too and you need more kit if you want to be comfortable. And the more comfortable you are, the better you will fish.
Carp fisheries are quieter in winter because the carp feed less and so fewer anglers venture out. However, on big fish waters, with low pressure and if milder weather is forecast, keen carpers will still hit the banks.
The carp can turn on the feed in these conditions and they're catchable. They're often in tip top condition too and a good weight. Here's some solid advice from pro Colin Davidson on how to catch carp in winter.
How to catch carp in winter: leave it late
On a good day in winter, carp might be active all day. But the harsher the conditions the more their periods of activity tends to be put back to later in the day. If you had to pick the best time to learn how to catch carp in winter, it would be mid-afternoon through to a couple of hours after dark.
If you aren't catching on day sessions and by 3pm are fed up, cold and want to go home, you could well be missing the best time. Try a more leisurely start but wait until last knockings to pack up, or better still stay an hour after dark – you might be surprised that the lake briefly switches on after being lifeless all day.
Check out: Best fishing times: how knowing when to go can improve your chances of success
How to catch carp in winter: fish up in the water
Carp can spend long periods of time sat well off the bottom so zig rigs are a great help when it comes to learning how to catch carp in winter. If bites aren't forthcoming on bottom baits, try the upper layers.
Pop-ups or pieces of rig foam at two-thirds depth is a good starting point, and be prepared to go closer to the surface. Even in conditions that are horrible to us, carp are amazingly often sat just a few feet down. It's not just a daytime or desperation tactic, some top carpers use pieces of black rig foam zig rig style day and night as their preferred winter tactic.
How to catch carp in winter: recast regularly
Recasting is an essential element to winter carping. On waters containing large numbers of carp there's often a marked trend for takes to come quickly after casting out – almost a 'golden' half hour or hour after a bait settles where the chances of it being picked up are at its greatest.
Move at least one hook bait around regularly, recasting methodically around a swim to see if you can land a bait next to an interested carp. If nothing happens reel it in half an hour or an hour later and recast elsewhere.
Check out: How to cast for carp
How to catch carp in winter: coat and catch
Anything that offers a bigger taste and smell stimulation to encourage a fish to investigate and eat a hook bait can only help catch more carp and more quickly. Dips are absolutely essential to maximise the attraction close to your bait.
High quality food rich dips introduce the equivalent attraction of hundreds of free baits, just by dipping a small PVA bag or even a single hook bait before casting. A good dunk should be part of your cold water routine every time you cast out.
Check out: The best carp bait for winter fishing
How to catch carp in winter: watch the water
Just one carp has to show itself to put you in the right place to catch a lot of winter carp. Where one carp is found in cold water, the chances are there are lots of them close by.
Winter isn't always the most pleasant time to sit behind the rods looking out over the water, but if you're zipped up in a bivvy or having a social and a fry up you will often miss the odd sighting of a carp that could point you to where most of the carp are sat.
Keep watching, the slower the fishing the more significance you should attach to any carp that shows itself. This is one of my key fishing tips for how to catch carp in winter.
How to catch carp in winter: uncovering carp location
Where carp spend time through the winter varies from venue to venue. Areas of snaggy cover where carp can tuck themselves away are prime spots to investigate. There could be dozens of carp tucked underneath just a couple of small undercut fallen trees.
Investigate all the parts of a lake where carp can hide away – and don't be put off by shallow water, carp will choose cover and protection over water depth every time. An easy giveaway is whether the lake bed is clean of leaves and twigs or your rig comes back with a leaf and smelly black rubbish in it. Carp tend to keep the bottom clean in areas they are frequenting.
Check out: Best fishing spots: how to find the perfect place to go fishing
How to catch carp in winter: baiting beats waiting
If you've a venue close enough to make it practical, regular pre-baiting can be the easiest route to regular winter action. Carp will continue to respond to regular food availability, and if you can feed smaller quantities every couple of days rather than a bucketful once a week, carp will visit your chosen area and feed even in dire conditions.
The more carp feed without being caught and without tackle being a swim the easier they are to catch quickly when you do put a hook bait on your area. Your baited area will be working for you to build carp's confidence even whilst you are sat at home watching TV. Perfect!
How to catch carp in winter: watch your pond fish
Got a garden pond with a few goldfish or koi or even a little common or a mirror? Lots of carp anglers do have ponds, or at least know people who do.
Yes, a tiny garden pond is a very different environment to a fishery, but you can be sure that if fish in a pond are active and busy and seem quite happy about life there's a very good chance of catching a few carp who are experiencing broadly the same conditions in a nearby fishery.
How to catch carp in winter: downsize baits
Smaller baits tend to be more productive in colder weather than large gobstopper type boilies. There are more bites to be hand on 10-12 mm boilies than 18-20 mm baits.
The beauty of smaller baits is that they allow you to put a few more free offerings in without risking over feeding. Pop-ups also work better in the winter, a 10-14 mm bait is more consistently productive than a 20 mm bait. Think small titbits not a big mouthful and you'll be an expert in how to catch carp in winter in no time.
All the latest inspiration, tips and guides to help you plan your next Advnture!
Thank you for signing up to Advnture. You will receive a verification email shortly.
There was a problem. Please refresh the page and try again.