How to catch carp in winter: the best tips for carp fishing in winter
Learn how to catch carp in winter with these expert tips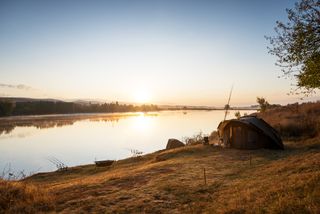 (Image credit: Getty Images)
Learning how to catch carp in winter will ensure you can enjoy action all year round, but changing tactics is often necessary to keep the bites coming. With these tips on the best tackle, baits, rigs and locations for carp fishing in winter, we bet you'll have your best-ever season chasing carp of all sizes.
In Europe, fishing in warmer weather isn't really a hardship, but in winter the days are shorter, a lot colder, perhaps wetter too and you need more kit if you want to be comfortable. And the more comfortable you are, the better you will fish and the more you'll catch.
So what are the benefits of learning how to catch carp in winter? Carp fisheries are quieter in winter because the carp feed less and so fewer anglers venture out. However, on big fish waters, with low pressure and if milder weather is forecast, keen carpers will still hit the banks.
The carp can turn on the feed in these conditions and they're catchable. They're often in tip top condition too and a good weight. Here's some solid advice from pro carper Colin Davidson on how to catch carp in winter.
How to catch carp in winter: the best times? Leave it late...
On a good day in winter, carp might be active all day. But the harsher the conditions, the more their periods of activity tends to be put back to later in the day. If you had to pick the best time to learn how to catch carp in winter, it would be mid-afternoon through to a couple of hours after dark.
If you aren't catching on day sessions and by 3pm are fed up, cold and want to go home, you could well be missing the best time. Try a more leisurely start but wait until last knockings to pack up, or better still stay an hour after dark – you might be surprised that the lake briefly switches on after being lifeless all day.
Check out: Best fishing times: how knowing when to go can improve your chances of success
How to catch carp in winter: the best rigs? Try a zig rig
A key fact to realise when winter fishing for carp, is that carp can spend long periods of time sat well off the bottom, so zig rigs (with a hair-rigged floating hook bait suspended above the lead on a light, buoyant mono hook link) are a great help when it comes to learning how to catch carp in winter. If bites aren't forthcoming on bottom baits, try exploring the upper layers of the water with a zig rig. These are the parts of the lake that'll warm up first as the sun makes brief appearances in winter.
White, yellow, pink, orange or black pop-up boilies in the 10 to 15mm size range, fake 'corn or pieces of hair-rigged rig foam at two-thirds depth is a good starting point, and be prepared to go closer to the surface. Even in conditions that are horrible to us, carp are amazingly often sat just a few feet down below the surface. It's not just a daytime or desperation tactic, some top carpers use pieces of black rig foam zig rig style day and night as their preferred winter tactic. Soak the baits overnight in hemp oil for a great winter carp fishing edge
How to catch carp in winter: the best tip? Recast regularly
Recasting is an essential element to winter carp fishing. On waters containing large numbers of carp, there's often a marked trend for takes to come quickly after casting out – almost a 'golden' half hour or hour after a bait settles where the chances of it being picked up are at its greatest.
This is because cold weather often leads to carp gathering up in one particular location or type of spot on a lake; all in the deepest area or tight to an island, for example. In the summer they can be more spread out. By recasting frequently, you are working to locate their winter holding areas.
Move at least one hook bait around regularly, recasting methodically around a swim to see if you can land a bait next to an interested carp. If nothing happens reel it in half an hour or an hour later and recast elsewhere; deep areas, gullies, margins, areas that will heat up first like shallow bars, weed beds, overhangs, dead trees in the water and reed beds are all favoured locations for winter carp.
Check out: How to cast for carp
How to catch carp in winter: adding flavour to baits
Anything that offers a bigger taste and smell stimulation to encourage a fish to investigate and eat a hook bait can only help catch more carp and more quickly. Dips are absolutely essential to maximise the attraction close to your bait.
High quality food-rich dips introduce the equivalent attraction of hundreds of free baits, just by dipping a small PVA bag or even a single hook bait before casting. A good dunk should be part of your cold water routine every time you cast out. Everyone has their favorites when carp fishing in winter and ours include hemp oil and any sweet or spicy, thick food bait dip that sticks to the baits when casting out and disperses in cold water.
Check out: The best carp bait for winter fishing
How to catch carp in winter: watch the water
A big aspect of learning how to catch carp in winter is finding them. Just one carp has to show itself to put you in the right place to catch a lot of winter carp. Where one carp is found in cold water, the chances are there are lots of them close by.
Winter isn't always the most pleasant time to sit behind the rods looking out over the water, but if you're zipped up in a bivvy or having a social and a fry up you will often miss the odd sighting of a carp that could point you to where most of the carp are sat.
Keep watching, the slower the fishing the more significance you should attach to any carp that shows itself. This is one of my key fishing tips for how to catch carp in winter. Always use a peaked cap and good quality Polarized glasses, too. These will help you spot any signs of fish.
How to catch carp in winter: the best locations
Another thing to consider when winter fishing for carp, is that where carp spend time through the winter varies from venue to venue. Areas of snaggy cover where carp can tuck themselves away are prime spots to investigate. There could be dozens of carp tucked underneath just a couple of small undercut fallen trees, overhanging bushes or island foliage.
Investigate all the parts of a lake where carp can hide away – and don't be put off by shallow water, carp will choose cover and protection over water depth every time. An easy giveaway is whether the lake bed is clean of leaves and twigs or your rig comes back with a leaf and smelly black rubbish in it. Carp tend to keep the bottom clean in areas they are frequenting, so spots where you can see gravel or a harder bottom are worth investigating when carp fishing in winter.
Check out: Best fishing spots: how to find the perfect place to go fishing
How to catch carp in winter: the best baiting strategy
If you've a venue close enough to make it practical, regular pre-baiting can be the easiest route to regular winter carp fishing action. Carp will continue to respond to regular food availability, and if you can feed smaller quantities every couple of days rather than a bucketful once a week, carp will visit your chosen area and feed even in dire conditions.
The more carp feed without being caught and without tackle being in a spot, the easier they are to catch quickly when you do put a hook bait on your area. Your baited area will be working for you to build carp's confidence even whilst you are sat at home watching TV. Perfect for short winter sessions!
How to catch carp in winter: watch your pond fish
Got a garden pond with a few goldfish or koi or even a little common or a mirror? Lots of winter carp anglers do have ponds, or at least know people who do.
Yes, a tiny garden pond is a very different environment to a fishery, but you can be sure that if fish in a pond are active and busy and seem quite happy about life, there's a very good chance of catching a few carp who are experiencing broadly the same conditions in a nearby fishery.
How to catch carp in winter: the best baits for winter carp fishing
A great winter carp fishing tip is that smaller baits tend to be more productive in when winter fishing for carp compared to large gobstopper type boilies. There are more bites to be hand on 10-12 mm boilies than 18-24 mm baits.
The beauty of smaller baits is that they allow you to put a few more free offerings in without risking over feeding. Pop-ups also work better in the winter, a 10-14 mm bait or a small stack of pop-up fake 'corn is more consistently productive than a 20 mm bait. Think small titbits not a big mouthful and you'll be an expert in how to catch carp in winter in no time.
How to catch carp in winter: night fishing for carp in winter
At some point in the planning of how to catch carp in winter, night fishing is going to be a consideration.
Staying out through the night in the summer isn't really a hardship, you can sit out all night with a flask, watch the sun go down, recast the rods, hopefully catch some carp in the process and welcome the dawn a few hours later.
Others choose to invest in a shelter, a bedchair and a sleeping bag and once the rods and baits are in position, they choose to get a few hours sleep, especially if they have to go to work in the morning.
In winter the lights are a lot longer, a lot colder, they might be a lot wetter too and you need to take more kit with you, if you want to be comfortable. The more comfortable you are, the better you will fish.
Here's some solid advice on how to make those winter nights on the bank, more comfortable.
How to catch carp in winter: the best shelter for night fishing
Bivvies and shelters can impede your view, anglers who want to keep an eye out and ears open for what's happening in front of them on a lake opt for an open fronted shelter where possible, with the option of zipping a panel in or door down if the weather gets particularly bad.
If you see any signs of moving carp in winter, it could reveal the whereabouts of a group of fish. If you don't actually see where the activity was, with an open-fronted shelter you've got more chance of hearing it. It may be 30 yards down the bank.
In the dead of winter carp may only move for a limited time to feed, in a 24-hour period. Finding out where and when they're feeding is key information that you don't want to miss. Some specialists favour a shelter with a second skin, which helps provides more insulation, and helps avoid the issue of condensation.
How to catch carp in winter: the best lights and sleeping bag for night fishing
A bivvy light is a very useful accessory, especially the USB-rechargeable lights with a magnetic attachment. They allow you to adjust the level of lighting in your shelter via a remote control, which is particularly useful when you're curled up in your sleeping bag.
Keep your head torch on your head or around your neck whilst you are sleeping, so if you do have to get up quickly to play a fish, you have light to hand for any tricky playing or netting manoeuvres.
Winter nights can be cold and a good five-season sleeping bag is a must. Twin layer systems are popular and versatile. Additional shrouds can offer extra warmth and protection. A good tip is to ensure you dry your bag and air it between sessions to ensure it remains comfortable and warm.
How to catch carp in winter: the best electronics for night fishing
A power pack is a very useful piece of kit to ensure that you can keep electronic accessories charged, whether it's your phone, head torch, bivvy light, even a tablet.
We all know how easy it is to drain the charge on a mobile phone. A power pack will help ensure that you can still keep in touch with the outside world, your family, even order a takeaway for delivery to the fishery car park if you want to push the boat out.
When you're night fishing for carp in winter you will need a reliable remote control with adjustable speaker for your alarms to wake you up when you get a bite, and some spare batteries. Cold weather can kill battery life.
If it's wet and windy, you might have the front on your shelter zipped-down. Or if the kettle is boiling or you're on the phone it can be easy to miss an indication on your alarm heads without a good remote control. Keep the remote control to hand and turned up as loud as you can without disturbing others or the general peace and quiet.
All the latest inspiration, tips and guides to help you plan your next Advnture!
Running from 1964 until 2020, Angler's Mail was the UK's leading weekly magazine devoted to coarse fishing, telling readers everything they needed to know about which fish to catch, where to catch them, and what kit they needed to do it. Now, loads of the magazine's expert advice can be found on Advnture.com, as a helpful resource for angling newcomers and experts alike.