How to catch more carp in September and October
Thomas Petch helps you with great advice for autumn carp fishing.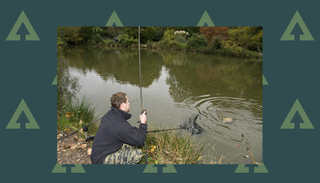 (Image credit: Angler's Mail)
Welcome to Advnture, the new home of AnglersMail.co.uk
Carp fishing can by at its best in early autumn and now we're well into September I'd classify it that way…  we've gone past summer.
The nights are getting longer but  daytime temperatures can still be really pleasantly warm. However, evenings and early mornings are beginning to get a bit chilly.
And that is great news on most prolific carp waters. I've found sport with carp in September and October can be brilliant.
We are now in terrific months for catching carp. You can still get good hits of double-figure fish… and big 'uns, too.
August is traditionally a really tough month. Carp are often shying away from all bottom baits and boilies can be almost pointless even trying at times.
But come the autumn, especially if you are after carp in September and well into October, it is like a switch has happened.
After a few coldish nights, the carp want those little round balls again as they can almost sense harder times are coming soon.
Top tips for carp in September and October on well-stocked waters:
Boilies can become deadly after a lull in their success during summer. Often a 'doubles attack' – for 10 lb-plus carp – can be based purely on boilies.
Both fishmeals and fruity boilies can work. I've found the former best at the start of autumn, switching over to something like frozen Richworth Tutti Frutti offerings as it gets colder.
Carp will still go into shallower swims to get the last strong sunshine, but deeper swims can also start fishing well, especially when it's not sunny.
Carp have been caught all spring and summer so do try a different hookbait to what they have been offered for past few months. I've often had good autumn success offering two 15 mm boilies on the hook, as a standard presentation or as a 'snowman' (with one bottom bait and one pop-up).
If you are NOT fishing snaggy swims, refine your terminal tackle and go for 8-10 lb long nylon traces. Match your bait to the hook size, always keeping it as fine as practical. A size 8 wide gape hook is normally fine for double 15 mm hookbaits, but go down to size 10 and 12s for smaller offerings.
Discard big heavy semi-fixed bolt rigs and try 1-2 oz running leads depending on your distance fished.
Give your hookbait a boost by adding PVA bags of boilies. Don't add pellets as you don't want the carp starting to favour those.
Bottom debris can start to be a pain with dying weed and later on washed in leaves so pop-up boilies can start coming into their own, too.
I've found carp on well-stocked waters start to leave the margins as it gets colder. But that's not a hard and fast rule… you can find the odd bigger fish later on in the day or at night close in.
All the latest inspiration, tips and guides to help you plan your next Advnture!
Thank you for signing up to Advnture. You will receive a verification email shortly.
There was a problem. Please refresh the page and try again.