Buyer's guide: Wagglers
Dave Coster tests the best wagglers on the market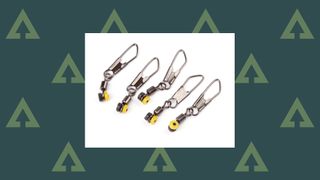 (Image credit: Angler's Mail)
Welcome to Advnture, the new home of AnglersMail.co.uk (opens in new tab)
Our pick of the best wagglers available...
Browning Adaptor Swivel
£2.99
Five swivel links in a pack with plastic buffer bead inserts, through which the main line runs freely. This type of link is often used to connect bombs and feeders to rigs, but also comes in useful for attaching big loaded floats. Semi-loaded wagglers can be anchored with locking shot, while self-cockers need to be trapped in a small loop – formed with the main line, before attaching a hook length. Floats can be changed in seconds and this type of link is also useful for free-running bottom-end sliders.
SCORE: 25/30
Nisa
£1.49
Although primarily designed for attaching free-running feeders, these swivel beads also work well with semi-loaded and self-cocking wagglers. With the former they can be anchored with shot, and, in the latter, trapped in a small loop formed out of the main line. These adaptors are stronger than standard designs making them well suited for serious carp bagging with heavy floats like splashers and bigger pellet wagglers. The clip links allow fast float changes and you get five pieces in a pack.
SCORE: 26/30
Preston Innovations
£2.99
A swivel link is trapped in a recess on a plastic peg, which has pointed ends. Tapered clear plastic sleeves push over these, after the main line has been threaded through them. This simple system works well, locking all types of self-cocking wagglers, including carp splasher designs. There are five adaptors in a pack and their links allow ultra fast float changes without having to dismantle rigs. To prevent any chance of slippage, wind some line around the peg before pushing home the second sleeve.
SCORE: 27/30
Avanti Dr Spin Connectors
£1.99
Four swivel links in a pack, mounted on looped wires, with micro beads and small rubber stops on either side. These adaptors are transferred to the main line in similar fashion to rubber float stops, threading the main line through the wire loop and folding the tag end back, before pulling the connectors and stops onto it. This system suits self-cocking wagglers best and works very well, although once installed on line these connectors are tricky to reuse. They allow fast float changes and are very neat.
SCORE: 27/30
Avanti Pozilink
£2.50
A swivel link fixed to a plastic adaptor with pointed ends, over which small tail rubbers are pushed. The latter are threaded on the main line first before trapping the line by inserting the peg ends. This float connector can be locked even more securely by wrapping a couple of turns of line around a small protruding central pin. Big loaded floats are simply anchored on the clip link, with no need for locking shot. You get four connectors and eight locking rubbers in a pack. Ideal for self-cocking wagglers.
SCORE: 28/30
BEST BUY
Milo Quick Waggler Attachments
£3.99
Swivel links neatly anchored to black plastic adaptors that offer a protruding line-winding pin and pointed pegs on either side. You get three adaptors in a pack and enough clear silicone to lock them all on the line. Two pieces of silicone are threaded on the main line. After pushing home the first tapered peg, a couple of turns of line are wound around the central protrusion, before locking the second peg. This results in these non-slip connectors being able to present all self-cocking wagglers superbly.
SCORE: 29/30
NOTE: All products tested February 2009.
All the latest inspiration, tips and guides to help you plan your next Advnture!
Running from 1964 until 2020, Angler's Mail was the UK's leading weekly magazine devoted to coarse fishing, telling readers everything they needed to know about which fish to catch, where to catch them, and what kit they needed to do it. Now, loads of the magazine's expert advice can be found on Advnture.com, as a helpful resource for angling newcomers and experts alike.
All the latest inspiration, tips and guides to help you plan your next Advnture!
Thank you for signing up to Advnture. You will receive a verification email shortly.
There was a problem. Please refresh the page and try again.