Brilliant fishing venues that welcome dogs
Not all venues allow dogs which is a shame for dog owners. We found some of the best waters from around the country that do let your pooches fish with you.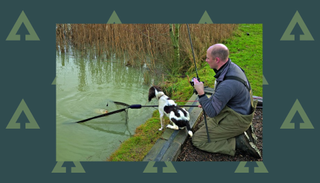 (Image credit: Angler's Mail)
Welcome to Advnture, the new home of AnglersMail.co.uk
LONDON AND SOUTH EAST
NORTHLANDS PARK, Basildon, Essex, SS13 1SD.
Being a public park, dogs are allowed here, but when fishing they should be kept on a lead and the owner is responsible for clearing any muck. There are two lakes to be fished, Café and Road Lake, with Café Lake the more productive, holding a big head of carp to about mid doubles, big perch, roach, some good bream to about 8 lb and tench, while Road Lake holds bigger carp, on average running to over 30 lb, with roach, bream and tench. Feeder or float tactics are favourite on Café Lake, but on Road Lake it's much more legering boilies. Day tickets are at £5 one rod; £7 two rods; £10 for three; under-16s £3/£5/£7; under-12s £2/£3/£4. 24-hour tickets are also available. Tickets on the water or from Basildon Angling Centre on: 01268 520144.
CHICHESTER CANAL, Hunston, West Sussex.
This section starts at the A27 Bridge and runs for 1.5 miles. It's easy to find. Just pick up the B2145, head south off the ring road and you'll see the road run near the canal, with a free car park. The section is on average about 11 m wide and 5 ft deep. Carp run to over 25 lb and there is a fair head of them, along with big bream, tench and lots of skimmers and roach, with some pike and perch. Carp fall to traditional hair-rigged boilies, with pole or waggler and maggot, caster or corn giving plenty of silver fish. Dogs should be kept on a lead. Day tickets £5, on the bank. Southern Angling Supplies have the latest form on: 01243 531669.
LAKE MEADOWS, Billericay, Essex, CM12 0AQ.
Again, dogs should be kept on a lead and the parks require you to clean up any dog muck. This is a five-acre lake with depths running to over 4 ft. It is primarily a carp lake with the original stock now running to about 35 lb and most well over 20 lb. There has been an introduction of younger carp, which have really packed on weight, many now being cracking looking fish well into doubles. To everybody's surprise the lake produced a 50 lb 4 oz catfish just over a year ago. There are also lots of roach coming to float fishing tactics. Day tickets are at £5 one rod; £7 two rods; £10 for three; under-16s £3/£5/£7; under-12s £2/£3/£4. 24-hour tickets are also available. Tickets on the water or from Basildon Angling Centre on: 01268 520144.
GRAND UNION CANAL WENDOVER ARM, Little Tring Turning Basin, Hertfordshire, HP23 4NR.
The turning basin is much deeper than the rest of the canal, with depths to 7 ft. There is a good head of bream, which run to over 6 lb, with tench to a similar size, carp to over 20 lb, perch, roach and rudd. It is one of Virginia's favourite venues, as she just float fishes with paste over micro pellet to bag up on bream. Again, dogs should be on a lead and you must clear up after them. Day tickets are £5; concessions £2.50. The venue is controlled by Tring Anglers, who have lots of good venues on offer at a very reasonable club membership rate. Membership hotline is: 07796 178313 and the website is www.tringanglers.org.uk
ROYAL MILITARY CANAL, Sea View Section, Seabrook, Hythe, Kent, CT21 6AE.
A well-stocked section of canal with tench to 5 lb, lots of bream and skimmers, rudd, roach to over 2 lb, perch to 3 lb 8 oz, pike to 25 lb and carp to 36 lb 6 oz. Float fished chopped worm with casters sorts out most species, with pellet and paste working well in warmer months. Carp fall to boilies and halibut pellets, with winter pike to sea deadbaits. Please take responsibility for your dog. Adult day tickets are £5; concessions £2.50; Juniors £1. Den's Tackle is on: 01303 267053. Cinque Ports AS controls this section and other good waters in the area. Membership details are on: 01303 891450 or go to www.cinqueportsanglingsociety.org
SOUTH AND SOUTH EASTEAST ANGLIAMIDLANDS
SUMMERHAYES, Bridgwater, TA6 6LW.
Dogs must be kept on a lead with the lead staked down at this five-lake venue. All lakes are in form – Longs bags to 137 lb include carp to 6 lb on pole and pellet. A 24-hour session on Perch Pit led to a carper matting eight carp for 115 lb on a maggot ring fished in the margins. Silver fish bags to 30 lb-plus. For youngsters, Willow is a bite a chuck on short pole, and they run a junior match on the last Saturday of each month. Contact: 01278 451043 or 07866 557896. Website: www.sumerhayesfisheries.com
EMPEROR PALLATRAX, Blackdown Cross, Loddiswell, South Devon. TQ7 4EA.
Owners Dave and Jo Lidstone are dog lovers and offer top class specimen carp, catfish and general coarse fishing, so the lakes at Emperor are a must. Carp in the 20s, 30s and 40s await those seeking specimens, while the cats are numerous and run to 75 lb. Tench to doubles are also resident. If you have a dog, that's okay as long as it is not a persistent barker, and is kept on a lead, does not wander off and, of course, you clean-up after it. Call: 07814 060147 or visit www.emperorlakes.co.uk
MILEMEAD LAKES, Mill Hill, Tavistock, Devon. PL19 8NP.
Well-behaved dogs are welcome, but must be kept on a lead at all times and you must clean-up after them. Do that and you can enjoy the fantastic facilities and fishing on offer at this multi-lake complex, including the Specimen Carp Lake, Basin and Canal, Carp Lake and Match Lake. The Specimen Lake has recently been extended to provide more swims, and is an excellent water for upper doubles and twenties that responds to thinking anglers. Call: 01822 610888. Website: www.milemeadfisheries.com
OAKTREE FISHERY, South Molton, Devon, EX36 3PU.
Dogs are welcome here, but you must pay £1 a day or night in addition to your fishing ticket to take your dog along. Of course, you must also keep your dog under control and clean-up any mess. You can fish two-acre Stags Lake for carp, with many mid-to-high doubles and others up to 40 lb, catfish to 56 lb, using boilies, pop-ups, large pellets or luncheon meat. Oaktree and Otters Lakes can be tackled for carp, tench, perch and silver fish. Waggler and corn, maggot or worm produce, though feeder also works. Call: 01398 341568. Website: www.holidaysfishing.co.uk
PLANTATION LAKES, Middle Lane, Kingston Seymour, North Somerset, BS21 6XW.
Te three lakes include the Coarse Lake at 2.5-acres with 40 swims and a wide variety of species. The Match Lake has carp and skimmers, and the Carp lake is where doubles and 20s are the targets, on boilies pellets and meat. You are welcome to take your dog along, but it must be kept on a lead, and as always you must be prepared to clean-up after it. Call: 01934 832325 or 07990 543600. Website: www.plantationlakes.co.uk
MILTON COUNTRY PARK, Milton, Cambridgeshire, CB4 6AZ.
Accompanied by his two Jack Russells, my pal Tony "Taffy" Duffin, a Level 1 coach with controlling club Cambridge Fish Preservation AS, banked a superb 28 lb common carp from Todds Pit, the venue's "runs" water a couple of years back. Todds holds a terrific head of doubles. Weed growth is dense in high summer, but during April and May I've always found the fish hungry for small PVA bags of pellet and boilie crumb with a half boilie (Dynamite Bait's Squid Liver & Black Pepper is my pick) and a fake pellet on the hair, well doused in glug. The larger Dickersons Pit is a tougher proposition, but also holds carp to 30 lb, rudd to 3 lb, tench and quality roach, while bream in the 5-7 lb class are an increasing feature on Deep Pool, where long pole or slider with chopped worm and caster is a favoured approach. CFPAS season tickets cost £35 seniors; £17 OAPs/disabled; £13 Juniors. Day tickets £6, in advance; £7 on the bank. Call Graham Tweed on 01223 234616 or check out www.cambridge-fpas.co.uk
FENDICK'S FISHERY, Northwold, Norfolk, IP26 5LE.
'Dogs are welcome as long as you keep them under control and clean up after them,' is the message from Mark Fendick, owner of this five-lake complex on the fringes of Norfolk's Fenland and Breckland districts. Catfish are a BIG attraction, with one visitor landing five to a whopping 82 lb in the final week of March using matchbox-sized cubes of luncheon meat on Lake 3. The same week also produced a 28 lb 6 oz carp. Fendick's is a Camping and Caravanning Club-registered site. Day tickets are £7; OAPs £4; juniors £5; 24-hour overnighters £15. Call Mark or bailiff Mick on: 07771 753163 or 01366 728862. Website is: www.fendicksfishery.com
TATTERSHALL LAKES, Tattershall, Lincolnshire LN4 4LR.
Selected accommodation and the touring field are both designated dog-friendly at this picturesque holiday park, which offers a variety of camping and caravanning options along with permanent lodge ownership options. Anglers can choose from three on-site lakes, the largest being 14.5-acre Island, which boasts carp to 27 lb, barbel to doubles, tench to 9 lb, bream, eels, roach, rudd and pike. Method feeder and distance legering with pop-up hook baits are popular approaches for the larger residents. Four-acre Duck Lake has depths to 10 ft, so tench and carp can be caught close in as well as out by the islands. Pegs 22-24 are noted for bream shoals. Rudd Lake is the smallest, at two acres, and ideal for beginners, but still holds some chunky tench with a few carp to 20 lb. Corner pegs are rated, casting along the tree-lined bank. Day tickets are £5 one rod; £7 two; annual membership for holiday home owners £100. Visit www.tattershall-lakes.com or ring 01526 348800 for full info.
CANAL & RIVER TRUST, Midlands Canal Network.
Responsible dog owners can take their dogs on CRT canal venues. They must be kept on a lead by locks or busy areas such as contests on the many CRT canals that crisscross the Midlands. Under no circumstances should owners let their dogs swim in or drink from the canal. The Dogs Trust message on dog mess is 'grab it, bag it and bin it'. This means that anglers can take their pooches fishing on the CRT-owned Midlands Canals, but with the proviso that the controlling club, whoever it may be, allows dogs in their rules.
RUDYARDLAKE, near Leek, North Staffordshire, ST13 8XB.
It is best for anglers to keep their dogs on leads at this wonderful venue. There is an abundance of wildlife and no accidents can be caused if your dog is under control. Rudyard has lots of bream, skimmers, roach, perch and some huge carp and pike. One other species caught here is "pommies" – a pop-eyed hybrid that is skimmer shaped with a touch of roach. Most boffins tell me they are silver bream, but they are unlike any silver bream I have caught before! Day tickets are £4 adults; £3 OAPs and under-16s. For more information call John Davey on 01538 306280. Coaching is a possibility. Check out: www.rudyardlake.com
NORTHWALES
SALFORD PARK, Salford, Birmingham, West Midlands.
There have been some unsavoury incidents at this venue in the past, which is a great shame as the fishing can be so good. To that end, it is beneficial to take a big dog with you – an Alsation, rottweiler or the like, and your mobile for added safety. It is also advisable to not go on your own. Slap bang under Spaghetti Junction, it has good bream and roach, but most now bivvy up and aim for big carp, but please take care with this one. Day tickets are around £7, with half price concessions. Contact: 0121 303 1111/leisure. Website: www.birmingham.gov.uk
TATTERSHALL LAKES HOLIDAY PARK, Tattershall, Lincolnshire, LN4 4LR.
Provided your dog is not a breed described under the Dangerous Dogs Act or is fitted with a muzzle, they are welcome at Tattershall Lakes Holiday Park,Tattershall, Lincolnshire. Dogs can also stay in selective value accommodation for a small charge. They must be kept on a lead at all times. Fishing is in three well-stocked lakes – Rudd, Island and Duck – containing carp, tench, bream, plenty of silver fish and all the other usual species. Day tickets are £5. Call: 01526 348800. More on: www.tattershall-lakes.com
FIELDS END WATER, Doddington, Cambridgeshire, PE15 0TY.
This caravan and lodge accommodation site is dog friendly and even has three dog-poo bins on site. There are walks and woods where you can take your pet for a bit of exercise. This is an adults-only (over-16s) accommodation site. There are two highly regarded fishing lakes here – The Pit and The Pool – where you can catch carp and many other species. Day tickets are £6 adults; £4.50 OAPs and registered disabled (no concessions weekends and Bank Holidays May to September incl.). Evening permits (4.45pm onwards) are £3.50. An extra rod (two max) is an extra £2 on The Pit; one rod only on The Pool. Call: 01354 740199. Website: www.fieldsendfishing.co.uk
Wyreside Lakes, Dolphinholme, Lancashire, LA2 9DG.
The lakes here are part of a wider campsite where dogs are allowed. However, and quite rightly, you must keep your animal under strict control when angling on one of the swims, and you must clean up any mess it leaves. The lakes offer a wonderfully clean and respectful environment, and any visitors with pets will be required to continue that spirit. Fishing can of course be superb here for specimen carp, many of which have pet names. Where will it all end! Tickets are from £7. Tel: 01524 792093.
Worsbrough Reservoir, Barnsley, South Yorkshire, S70 5LJ.
You can walk a dog around this pleasant water, so I don't think there is an issue in taking one to fish with you, so long as it is secure whilst you fish, and not liable to have a go at anyone passing by. Once again, it's a simple question of responsibility and respect. You will catch plenty of bream and roach here just now on pole or feeder with casters and maggots, with increasing numbers of carp as the water warms up. Tickets are £4. Tel: 01226 752300.
Elvington, York, North Yorkshire, YO41 4AZ.
Another combined camping and fishing spot where canine pets are accepted so long as they are closely controlled. You will find some excellent big fish potential here, with impressive carp, tench, catfish, and bream all abundant. A specimen-style approach usually brings the rewards here, more so in the warmer months. Tickets for a day's sport cost just £6. Tel: 01904 607 504.
Winsford Flash, Winsford, Cheshire, CW7 4EE.
This large expanse of water is somewhere where you can take a dog, just be sure to have the animal on a short secured rope so that it does not wander off and disturb other anglers or chase the plentiful wildlife, which is the essence of respect. Bream on feeder are up to 4 lb and respond well to maggots and worms presented at distance, with catches to 50 lb now achievable. Tickets are £6. Tel: 01606 558475.
Yeadon Tarn, Yeadon, near Leeds, West Yorkshire, LS19 7TA.
This open water adjacent to the airport has a fine reputation for "dogs" – big bream, that is! However, there's no doubt that you can also take your pet with you for a session here without bothering other anglers. It's also home to some choice carp, hopefully none of which has a pet name such as Mutley, or other such absurdities! Tickets costs just £6. Tel: 01943 879938.
YET-Y-GORS FISHERY AND CAMPSITE, Dwrbach, Fishguard, Pembrokeshire, SA65 9RE.
Dogs are welcome to join their angling owners in the 17 acres of grounds where three of the four lakes are well stocked with carp, perch, roach, tench and bream and the abundance of wildlife includes red kites hovering over the water. Woody's Lake is best at the moment, with big nets of bream to 4 lb coming to pellets, corn and maggots, and plenty of carp, the best a grass carp of 18 lb. The tackle shop has all the essentials as well as maggots, worms and pellets. Caravaners have five hard-stand pitches and there's a six-berth static caravan. A day ticket is £8; £5 concessions. Website: www.yet-y-gors.co.uk or call Darren Bailey on: 01348 873497.
BLAEN CEFN LEISURE PARK, Penrhyndeudreth, Gwynedd, LL48 6NA.
Canine friends will feel at home by the lake that holds carp to doubles, tench, chub, roach, rudd and crucians, and is set in a superbly equipped caravan park that also has eco pods for hire. Pellets and corn fished in the margins is the way to catch fish at this time of year, but floating baits will find the carp as the water warms up. A day ticket is £6. The website at www.blaencefnleisure.co.uk has details of the amenities, or call: 01766 770014.
HENDRE LAKE, St Mellons, Cardiff, CF3 0RG.
At times, an angler with no dog will feel quite undressed because the 140-acre park surrounding the lake is a dog walker's heaven, with all shapes, sizes and breeds passing the pegs throughout the day. The new season starts on April 1 and carp anglers will be out in force for fish running to over 25 lb. A groundbait feeder with maggots or corn on the hook will find the bream, and they run to 6 lb or more and make up some big bags. Roach anglers can catch well on maggots or casters with pole or waggler, but they also go well on hemp throughout the summer. Peterstone Fishery controls the fishing and sells £5 day tickets, Fishery manager Martin Cronin will tell you more on: 07974 053322.
Details were correct at the time of going to Press in April, 2014, but please do check all rules, opening times, Close Season and ticket information before you set off as these can change.
All the latest inspiration, tips and guides to help you plan your next Advnture!