Advertisement Feature
Enjoy Winter Outside: five winter tips and three glorious routes
So that you can enjoy winter outside to the max, we present five winter adventure tips and advice on how komoot can help you plan – along with three wonderful routes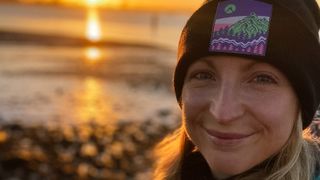 (Image credit: komoot)
Invigorating mornings, sunrises that don't require a 4am start, extra-inviting coffee breaks and lunch stops that take on a whole new level of satisfaction when contrasted with the brisk weather outside. There's a lot to love about winter - at least on paper.
In reality getting outside in the chilly season can feel like a big ask on some days. No matter how much you love the outdoors. It takes commitment to extract yourself from the cosy warmth when the temperatures outside are frosty, the sky is threatening rain, and the light is fading fast.
But whether it's a picture-perfect crisp winter's day or edging dangerously towards the miserable end of the spectrum, winter adventures can be enjoyable in their own right. All it takes is a bit of extra preparation, and a hearty willingness to embrace winter for what it is.
Komoot is all about making adventure accessible to all, so naturally there are a ton of ways that the app can help you find, plan and share adventures, even on the least-inviting days of the year.
5 tips to improve your winter hiking with komoot
1. Every winter walk should include a coffee stop or pub lunch
Check Points of Interest to reveal cosy eateries serving up something hot
Enable points of interest by tapping the search bar in the route planner, and selecting the points of interest that will make your adventure better. For example, select "food and drink," and restaurants and coffee shops will appear on the map, allowing you to ensure your route passes by somewhere warm. Heat up mid-way or round out your adventure with a hot meal or warm drink.
Using the search bar, you can select different kinds of points of interest and they will appear on the map.
Having selected the 'food and drink' POI, you can now add cafes, pubs, restaurants and the like to your planned route.
2. Make sure the eating part of your adventure comes with a recommendation
Click on red Highlight icons on the map to see places recommended by locals
Komoot Highlights are recommendations from the community and can be anything from a hiker-friendly cafe or great view point for a wintry outdoor coffee, to an unassuming pub that serves the best food in the county.
By pressing on a particular Highlight, you can usually see what other members of the komoot community have said about it in the Highlight's tips. You can also browse photos taken by those that have passed this way before. If you fancy checking out a Highlight in future, you can bookmark it to your profile to view again later.
3. Don't get caught in the dark...
See how long your route takes to complete to help you plan ahead
With shorter days in winter, it helps having an estimate of how long a route will take you to complete. When you plan a route on komoot, input your fitness level and the app will estimate how long it'll take you to finish it, so you can either start earlier or pack a head torch.
In the example below, the fitness level is set in 'in good shape' and the hike is expected to take around 3 hours and 5 minutes – perfect for a winter jaunt. Keep an eye on the stopwatch icon to get an idea of the expected duration of your hike
4. ...and don't get caught in the rain, either
On-Tour weather is a komoot Premium feature that updates the weather forecast as you proceed along your Tour
When you use komoot Premium (opens in new tab), On-Tour weather provides dynamic forecasts so you know what to expect. Knowing the forecast on your particular route ensures you head out in the right kit, while watching the weather while you're out there helps you avoid finding yourself in an unexpected downpour.
5. There's no shame in quitting while you're ahead
Adventure is about the joy of being outside, so when it stops being fun there's nothing wrong with calling it a day
Speaking of unexpected downpours, there's no shame in changing your mind, quitting your hike halfway through, and hightailing it straight to a cafe, instead of pushing through when you're hating it. In circumstances like these, komoot's route planner lets you replan on the fly, so you can reroute home or to the nearest cafe via the most direct route possible.
3 routes that will help you enjoy getting outdoors this winter
Now that you're prepped and ready to embrace winter adventures and plan your winter adventures, you just need a new route to try! Komoot's got you covered on that front too. Here we present two highly recommended hiking routes and a great cycling route too.
1. Tongue Pot and Kail Pot wild swimming walk in the Lake District
Advnture contributor and komoot ambassador Sian Lewis presents a remote wild swimming and walking route really has it all - but first you've got to get there.
"The vertiginously steep Hardknott Pass road is revered by cyclists and road trippers alike for its 14% average gradient and far-reaching mountain vistas, but is often cut off by snow in winter.
"If you can get down it to start this walk, you'll be rewarded with sweeping views of the Eskdale Valley.
"The first stop are the remains of a Roman fort, still clinging to the hillside. From here, follow the river to reach the deep, clear emerald-green waters of Tongue Pot, fed by a waterfall and definitely one of the most beautiful and secluded wild swim spots I've come across in Britain.
"On the way back from this glorious spot you'll also find Kail Pot, smaller and shallower but still a lovely place for a plunge or for a picnic."
An award-winning travel and outdoors journalist, presenter and blogger, Sian regularly writes for The Independent, Evening Standard, BBC Countryfile, Coast, Outdoor Enthusiast and Sunday Times Travel. Life as a hiking, camping, wild-swimming adventure-writer has taken her around the world, exploring Bolivian jungles, kayaking in Greenland, diving with turtles in Australia, climbing mountains in Africa and, in Thailand, learning the hard way that peeing on a jellyfish sting doesn't help. Her blog, thegirloutdoors.co.uk (opens in new tab), champions accessible adventures.
2. Park2Park in London
Laura Kennington celebrates the launch of Komoot's #EnjoyWinterOutside campaign with a wee tribute to last year's #Park2ParkUK – a lovely loop around and through some of her favourite London parks.
"It was a bit foggy to begin with but that just meant I was extra grateful when the sun finally broke through.
"Raya (my bike) and I rolled through – Regents Park, Hyde Park, Richmond Park, Victoria Park, London Fields and gave a little wave in passing to St James's Park and Green Park.
"Here's to squeezing in mini winter adventures and here's to the peanut butter sandwiches that fuel them. There are some gorgeous scenes out there this time of year – if you stay inside you miss all the fun!"
Laura is a plant-powered British adventure athlete, author and speaker with a passion for the endurance capability of the human body (as well as an unrelenting enthusiasm for ice cream!)
Previous adventures include solo cycling all 1,600 miles of the world's longest coastal route in Ireland, solo cycling Scotland's North Coast 500 route, running the length of Fuerteventura (100 miles) in four days, and circumnavigating three of the Channel Islands using three different sporting disciplines. Her most notable adventure (so far!) has been solo cycling 3,700 miles along the North Sea-facing coasts of eight countries, from Scotland to Norway.
A strong believer in the positive impact that adventure and sport can have on children and adults alike, Laura uses her human-powered journeys as a platform to inspire and encourage others.
3. Buachaille Etive Beag in Glen Coe
Advnture contributor and komoot Collection editor Alex Foxfield presents an accessible yet mighty mountain in the heart of the Scottish Highlands:
"Glen Coe has been cited many times as Scotland's most scenic glen, an assertion that's hard to argue with, especially in winter. However, many of its mountains are formidable in summer, let alone when covered in snow and ice. One that bucks that trend and is undoubtedly Glen Coe's most accessible big mountain is Buachaille Etive Beag. This is thanks to its relatively untechnical terrain, proximity to the A82 road and the high starting elevation of the layby.
"The route from the A82 up to the Munro summit of Stob Dubh and back is a great introduction to winter walking in the Highlands. The panorama you are treated to from the ridge is immense, while the summit of Stob Dubh looks absolutely magnificent on the approach.
"There are few technical difficulties, making it a spectacular winter walk that really feels like a mountaineering mission. In full winter conditions, you'll need winter hiking boots, an ice axe and crampons. During periods of thaw, when the mountain is bereft of the white stuff, all that might be required is sturdy boots. Check the forecast carefully and don't be afraid to turn back if you find you've bitten off more than you can chew."
Alex is a qualified Mountain Leader, adventure writer and content creator with an insatiable passion for the mountains. A Cumbrian born and bred, his native English Lake District has a special place in his heart, though he is at least equally happy in North Wales, the Scottish Highlands or the European Alps. Through his hiking, mountaineering, climbing and trail running adventures, Alex aims to inspire others to get outdoors. He is currently the President of the London Mountaineering Club, training to become a Winter Mountain Leader, looking to finally finish bagging all the Wainwright fells of the Lake District and hoping to scale more Alpine 4000ers when circumstances allow. Find out more at www.alexfoxfield.com (opens in new tab)
Find more winter inspiration
Find further winter adventure inspiration in the komoot Enjoy Winter Outside route Collection - Share your winter rides, runs and hikes — Enjoy Winter Outside (opens in new tab)
All the latest inspiration, tips and guides to help you plan your next Advnture!