Hiking essentials: the must-have gear for any day hike, expedition or trek
With these hiking essentials there will be nothing that can stop you from having epic adventures on the mountain trails and the coast paths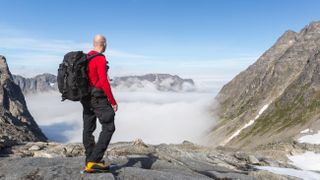 (Image credit: Getty)
Our list of hiking essentials is designed to help you stay safe and maximise enjoyment during your hiking adventures. An adventure is, by its very nature, a step into the unknown. It's often an exploration of virgin territory that you hope will provide the right amount of challenge to help to push your comfort zone that little bit further. It's also a chance to breathe, to enjoy time with friends or simply the company of the wild hills, the silent forests or the vastness of the sea.
To enjoy your hiking adventures fully and have confidence that you've got the right kit to cope with any situation, regardless of what the terrain or weather throws your way, we've compiled our comprehensive list of hiking essentials. From the best hiking boots to the best hiking backpacks, we've got you covered. For the detail beyond the bare bones of the list, scroll further down. See you in the mountains!
Hiking essentials: appropriate clothing
First on our list of hiking essentials is appropriate clothing. Whether you're off out onto exposed sea cliffs and windy coastal trails or cold mountain summits and gusty mountain passes, keeping warm is your first priority. Coastal regions and upland areas are also likely to see their fair share of rain, so having a waterproof jacket and waterproof trousers is vital. However, the items of clothing listed below are the individual ingredients and for a successful hiking recipe, you need to know how to put them together. This is why layering is important.
Here are our hiking essentials where clothing is concerned:
A long sleeved baselayer
Insulation (or mid) layers, such as fleece jackets or down jackets
A waterproof jacket with a hood
A hiking hat
Hiking gloves
Hiking pants
Rain pants to go over the top of hiking pants when things turn nasty
Hiking essentials: footwear
Probably the most important aspect of our hiking essentials is the footwear. After all, it's your feet that are going to bound along the trails, scramble across the rocks and cross bogs, streams and rivers. It should go without saying that if you want to protect your feet from injury, the cold and the wet, a decent pair of hiking boots is absolutely crucial. Also, make sure you're complementing them with proper hiking socks too.
Here are our hiking essentials where footwear is concerned:
Quality hiking boots (if out in winter you will need specialized winter boots)
Warm and breathable hiking socks
Gaiters (vital for river crossings and winter conditions)
Hiking essentials: backpacks
This is where you need to consider the type of adventure you are embarking on. The essential backpack for a simple hike looks different to the best rucksack for a long-distance trek. A daypack with a capacity of 20 to 35 litres will do for a day in the outdoors, while you'll want an expedition backpack with upwards of 60 litres capacity for a wild camp. For more on this, check out what size backpack do I need? As well as this, you've got to think about keeping the kit in your pack bone dry, which is where dry bags come in.
Here are our hiking essentials where backpacks are concerned:
A 20 to 35 litre day pack for day hikes
A 35 to 60 litre backpack for general hiking or hut-to-hut treks
A expedition pack upwards of 60 litres for wild camping trips
Dry bags to keep valuable kit or spare clothing from getting wet
Hiking essentials: navigational aids
In this day and age, there are loads of different hiking apps and GPS devices that can aid your navigation in the great outdoors. However, the two most essential pieces of navigation gear are a decent compass and a topographical map. If you know how to read a map and how to use a compass you can apply these skills anywhere and you'll feel much more intrepid navigating in such a way. Yes, you may often opt for the quick convenience of your smart phone, but if your devices fail and you're out in the wilderness without a means to navigate, you're in serious trouble.
Here are our hiking essentials where navigational aids are concerned:
A proper topographical map (such as National Geographic in the US, Ordnance Survey or Harvey in the UK)
A plastic map case if your map is not waterproof
A mobile phone with its charging cable and a power pack and/or solar charger
A GPS device or one of the best navigation apps, such as komoot, Gaia or ViewRanger
Hiking essentials: emergency kit
This is the stuff you always have with you but hope you'll never need. However, a first aid kit is not only useful in an emergency but will carry many useful bits and pieces for every day occurrences, like spares for when your laces snap or tape for when your trousers rip.
Here are our hiking essentials where emergency kit is concerned:
A hiking first aid kit (available from all outdoor stores)
An emergency space blanket or blizzard jacket
Headtorch or flashlight with spare batteries
Spare gloves, hat, socks and layers if on expedition or in winter
Spare food if on expedition
Hiking essentials: other useful kit
Of course there are plenty of other useful bits of kit that we would consider hiking essentials. From staying hydrated to avoiding insect-borne diseases, there are many applications. Some depend on where you are hiking and others depend on the approach you are taking.
Here are our other useful bits of kit:
Trekking poles, useful in many situations
Water reservoir or hiking water bottle
Hiking flask for a hot drink (especially important in winter)
Plenty of food
Sunglasses (counterintuitively, absolutely essential around snow)
Sun screen
Binoculars (useful for navigation and wildlife watching)
Insect repellent
Tick twister (if hiking in regions where ticks are present)
Everything you need for your trip
The above lists itemize every piece of kit you should need for hiking trips of all shapes and sizes. Below, we delve into each category of kit in more depth to give you a better idea of what to look for and how certain features or characteristics can be of benefit.
Hiking essentials: more details on clothing
Of all the hiking essentials, having decent outdoor clothing is probably the most vital.
When hiking, particularly in mountainous regions, you're likely to be engaging in some pretty brutal ascents that get your heart pumping and your temperature soaring. However, the higher you go, the lower the mercury drops. As a rule you can expect it to get 44 degrees fahrenheit (6.5 degrees celcius) colder for every 1,000 metres of ascent. Add in factors like rain and wind and you soon realise that your clothing options need to be as dynamic as the conditions in order to keep yourself comfortable and, above all else, safe on a hike.
A layering system is super important for helping you to manage your body temperature and keep you protected; the clothing you choose to wear is key. Many hikers start with a wicking baselayer against their skin, which helps with moisture management. Merino wool is a popular fabric of choice, whilst yak wool is a new emerging trend.
Next, adding an insulation layer or two will help with temperature management. This could take the form of a fleece jacket, or synthetic/down jacket. (It's wise to read up on the ethics of down before making your choice.) Finally, a waterproof layer for both your upper and lower body will help to keep you secure from biting winds and dry from rain or snow.
Don't forget about your extremities either. Adding a pair of the best hiking gloves or two into your pack, plus a woolly beanie/hiking hat will help to keep you feeling good and moving.
It's always worth carrying an extra light long-sleeve top (a spare baselayer), just in case you get wet.
Hiking essentials: more details on footwear
The boots you choose to wear will depend on the landscape you will be moving through and the type of activity you are doing on the trail. Many folk enjoy wearing men's trail running shoes/women's trail running shoes when walking with a light pack on fast tracks, as they allow the user to move quickly and swiftly. However, they often provide little support and minimal cushioning, which can be essential for foot protection over longer distances or when working with a heavier load. As well as this, trail running shoes, or indeed approach shoes, won't keep your feet dry during a long day on the hill. Wet feet lead to feeling cold and this spells downright misery, especially on a long trip.
This is why a sturdy pair of men's hiking boots or women's hiking boots are one of our hiking essentials. When purchasing boots always try before you buy and do consider going at least half a size larger than your usual fit. Our feet naturally swell when we are exercising, so the extra space will help to reduce friction points and hot spots. Also analyse the type of support and flexibility of the boot in the ankle, the design of the sole, which should be grippy and hard wearing, and the type of fabric. Leather is generally more resilient and lasts for longer, but synthetic boots are often more breathable and lighter to wear.
If the terrain you are heading out on is not overly technical, you might consider one of the best hiking shoes, many of which are lightweight but still have excellent waterproof qualities. The downside is that they offer less ankle protection, but this is less of a concern on easy trails.
You'll also want comfortable socks that keep your feet warm and stop you from getting blisters. Generally, socks are graded for the different seasons, winter socks being the thickest. The best hiking socks are made from fabric that wicks sweat away from your foot.
Hiking essentials: more details on backpacks
Carrying everything on your back is an immensely rewarding feeling, but choosing a backpack can be a little overwhelming. High quality backpacks are designed with a specific user in mind. The best hydration packs are designed for quick access to your water stores when you want to go fast and light, while the best women's hiking backpacks will have shoulder straps and a hip belt contoured for a women's body.
Meanwhile, the best daypacks do a bit of everything, without being as bulky as a full-on trekking pack. Generally daypacks are around 30 litres, though in truth, if a pack fits well and holds all of your kit, then you're in business. If you want to go higher-spec, consider what features you might like: hip pockets, space for a water bladder, a 'floaty frame' to avoid a sweaty back and so on. Try not to let any technical jargon bamboozle you and always try before you buy.
The finest backpacks are water resistant but none can guarantee to keep your belongings totally dry when an absolute deluge sweeps in or when your kayak capsizes. That's why taking fully waterproof dry bags on your adventures is such a good idea and totally relieves the stress of worrying if your phone is going to resemble a submarine at the end of your hike.
Hiking essentials: more details on emergency kit
Why take a first aid kit? It is easy to overlook their importance. They can be bulky and heavy and often remain untouched, but we always carry a decent first aid kit with us because we like to be prepared – both in the event of personal injury, or coming across someone who needs help.
Even if you choose to take a very simple homemade first aid kit, containing some basic medication, sun protection and plasters – it's better than nothing. A space blanket is a very good and extremely light addition (invaluable if you need to keep someone warm while you seek help), and disposable gloves are essential for keeping you safe from infection when treating someone else. Always make sure you know how to use everything in your kit.
Even if you don't plan to be out after dark, a flashlight or headlamp are other essential pieces of emergency kit, just in case things don't go to plan. They can also be used for signalling for help and attracting attention if things go seriously wrong.
Sometimes bringing an emergency shelter can also be appropriate, especially in remote and challenging terrain, or if you intend on spending all day in the mountains.
If you're going for a long wilderness trek and planning to wild camp, it is important to have a good supply of food. There are dozens of varieties of featherweight and dehydrated freeze-dried meals available. They come to life with just a small amount of boiling water, meaning you can have a nutritious meal on the mountainside.
It's also worth taking some repair tape for tears to your clothing or even fixing up your tent on an expedition. We highly recommend Tenacious Tape in such situations for its... tenacity.
Hiking essentials: trekking poles
Not everyone would consider them a hiking essential, but the best trekking poles really help with stability when you're walking with a pack, and they help spread the stress and weight-bearing duties away from your knees and ankles. All this helps you to hike more efficiently, so you can walk further and feel better.
They are also particularly useful for river crossings and emergency situations. If all you've got is a few stepping stones between you and a fast flowing stream of water, trekking poles can be used to help you maintain your balance and provide that little bit of extra security.
If you're hiking with a group and someone injures themselves, you can use poles along with a group shelter or a tent to form a makeshift stretcher. This is useful if you need to move the casualty to a safer or more sheltered location while you seek help from a mountain rescue service. Bear in mind that you will need at least four people to lift the casualty in this way and only move them if there's no alternative.
Hiking essentials: staying hydrated
Staying hydrated is key to having an enjoyable trekking experience. There's nothing worse than running out of water on a scorching summers' day and realising there is a mountain between you and the next drink. Worse than the thirst is the effect dehydration can have on your concentration and muscle function. Many an accident has occurred on the world's trails due to muddled minds that were starved of water. This is especially true if hiking at altitude, where hydration can be the difference between mild discomfort and altitude sickness. The best hiking water bottles store your much needed reservoir safely and conveniently, while the best hydration packs are a good alternative to a standard daypack, designed specifically with water consumption in mind.
However, sometimes it is so cold that your precious water freezes in your pack. That's why you should never venture out into the snow without a hot drink. The best hiking flasks keep a lovely reservoir of tea, coffee, hot chocolate — or whatever else you fancy brewing up — piping hot. When the time comes to pause and rehydrate, you've got a reinvigorating hot drink or three to enjoy. In fact, become a legend with your hiking buddies and pass the mug around.
Other hiking essentials
"Is that an eagle over there? Is that definitely base camp? Is that a mountain hare, or is it just my imagination?" These are the questions that a hiker might ask because they haven't brought a pair of binoculars with them. Had they, they may have instead been saying: "That's an eagle over there! Don't worry, that's definitely base camp. It's not just my imagination, there's a mountain hare over there. In fact, there's four of them." The best binoculars let you take in the full natural wonder you've invested your time to come and be in the middle of. Once you've taken them once, you won't leave the house without them again.
However, an aspect of the natural world that you might wish you would see, or feel, less of are the insects. From mosquitos to midges and clegs to ticks, these unwelcome companions on the trails are not just a nuissance. In some nations, mosquitos still carry the deadly malaria and, in Britain, a tick can give you Lyme disease if you don't remove it properly. (See our guide to how to avoid tick bites and what to do if you get one.) That's why having the best insect repellent is such a essential when setting out on a hike.
While the sight of blues skies and the sun overhead is a welcome one when we are hiking, we must not forget the dangers posed by UV rays. Sun screen and sunglasses are absolutely essential. This is especially so when hiking alongside or on glaciated ground or on snow, where the rays are reflected back to you off the white stuff. Bear in mind that even on cloudy days you can get burnt, especially as you will often be out with no shelter for many hours at a time.
All the latest inspiration, tips and guides to help you plan your next Advnture!
Abbie runs Spend More Time In The WILD, a campaign and YouTube channel that seeks to inspire and empower individuals to get outside for the benefit of mental and physical health, while building meaningful connections with the natural world and each other. Abbie's area of expertise is long-distance backpacking – in other words, she likes to hike a long way carrying heavy stuff. She loves wildflowers, dogs, playing the handpan and maintaining her existence through drinking a never-ending stream of tea.