Supported
My Favourite Hike: the Helvellyn Ridge
One of the Lake District's classic ridgelines, done from south to north in its entirety – without the need for a car at either end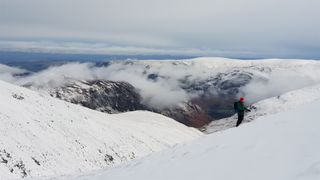 (Image credit: Emily Woodhouse)
Next in our My Favourite Hike series, Advnture contributor and mountain leader Emily Woodhouse takes us up – and all the way along – the Helvellyn ridge in the Lake District, from south to north. She has walked the ridge many times in both directions, never mind the horseshoe walks from either side, taking in its scrambly brilliance.
"It might feel overdone, but the Helvellyn ridge still has a special place in my heart," she says. "It was one of my first experiences of the Lake District, many years ago, and when the weather is on your side the views are spectacular."
"Equally," she laughs, "there can be days when the entire ridge is completely cloaked in cloud and you can't tell where the edges are – best save it for a nicer day!"
The Helvellyn Ridge
The route
Start: Traveller's Rest, Grasmere
Finish: Keswick Moot Hall
Distance: 18 miles / 29km
Elevation gain: 4429 feet / 1350 metres
Difficulty level: Challenging
Duration: 8-9 hours
A very full day out in the mountains. The trail leads over every summit in the Helvellyn ridge, from Seat Sandal to Clough Head. You then drop down to Threlkeld and follow the disused railway line back into Keswick. Although this isn't a particularly remote mountainous area, good navigation skills are still required, particularly in poor visibility.
Why I love the Helvellyn Ridge
I hiked this route recently, in the winter of 2021 with friends. It was the best day in a long and fairly damp winter trip, with good snow on the ground and clear blue skies above. You could see right across to Scafell Pike. Normally, I'll do a horseshoe hike of some sort from either Patterdale or Thirlmere, taking in a small section of the ridge. But there's nothing quite so satisfying as doing the whole thing in one go.
To complete the ridge without the faff of parking a car at either end, you can make use of the Lake District's excellent bus connections. Even in winter, you can catch a bus from Keswick to the Traveller's Rest pub with enough time in the day to complete the route. We walked all the way back to Keswick, as the route describes, but you could potentially catch a bus back from Threlkeld area if the timings work out. Personally, I think it's worth the walk for the pleasure of arriving back to Keswick high street entirely on your own steam.
The initial ascent, in a morning daze, is a bit of a slog as you quickly gain height up to Seat Sandal – only to drop down again to Grizedale Tarn. In March, we also had the snow line to deal with: slush on top of wet grass.
From the tarn, you take the main track's stone steps up even more ascent, onto Dollywagon Pike. Here the views should start: across to Patterdale on your right, over Thirlmere to your left – and hopefully out towards Borrowdale behind you.
From here, just keep picking off summits as you travel north to Helvellyn. We stopped for a bite of frozen sandwich in the fog and snow, inside Helvellyn's stone shelter. Then, miraculously, the cloud passed through and we were suddenly in a blue-sky alpine day.
Make sure to turn right at Helvellyn Lower Man and simply follow the ridgeline onwards and onwards into the horizon. Before you know it, Blencathra will be rising up in front of you. It's a long day, but it never feels long to me when you can see the whole route laid out ahead.
After summiting your final peak, descend mostly off-path to the Old Coach Road and then through a small bog to Threlkeld Quarry. From here it's hard path and tarmac along the disused railway line, now mostly a bike path, all the way into Keswick. It pops out behind the leisure centre, just off the high street.
Helvellyn Ridge highlight: White Side
Although White Side isn't particularly famous compared to nearby mountains, it's right in the middle of the ridge, with mountains in all directions. Catstye Cam looks like a child's drawing of a mountain, while Browncove Crags – on the side of Helvellyn Lower Man – are particularly impressive, with the higher summits in the far south peaking out behind.
And a bonus highlight for reaching the bottom: Calfhow Pike has a lovely view out left over Derwent Water and Keswick. You'll likely have it to yourself, too.
My Favourite Hike Collection
To see the other hikes in the series on komoot, click on the Collection below...
All the latest inspiration, tips and guides to help you plan your next Advnture!
An adventure writer based on Dartmoor, England, Emily is an active member of Mountain Rescue and a summer Mountain Leader, but loves all things adventure – before her third birthday she had lived on three continents. Founder of Intrepid magazine, she works to help break stereotypes about women in the outdoors. Her expeditions have included walking all Dartmoor's 119 tors in a single two-week outing, cycling to Switzerland and back, and riding the Rhine from source to sea.