Advertisement Feature
Four ways komoot can help you take a new approach to adventure
From alternative routes to new sports, komoot gives a different perspective on the great outdoors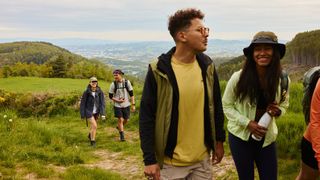 (Image credit: komoot)
It's a given that adventurers love exploring for the physical challenge and the joy of being in nature. But there is another reason people love to get outside. Spending time on the trail has a unique ability to help us see things from a new perspective, be it that big decision you've found hard to take, or more literally, the trail itself!
Sometimes all it takes to turn a walk in your local area into a bona fide adventure is seeing it through fresh eyes. Exploring your favourite trail in a different season, with different people, or at different time of day. Trying out a new hiking route in a region you think you know well. Or even doing your favourite hike in the opposite direction.
Adventure is not about the miles or the elevation, it's about perspective and the way you see the world. Komoot can help you find, plan, and share adventures that help you see the outdoors in a whole new way.
4 ways komoot can reveal a new perspective on adventure
Komoot has a wealth of features that make outdoor adventure more accessible. Here are 4 ways it can reveal a whole new perspective on your adventures this summer...
1. Community highlights
Think you know all the best bits in your favourite walking area? Think again. Komoot Highlights are recommendations from fellow explorers and show up as red dots on the map. They could represent a great picnic spot, an incredible view, or a walker-friendly pub that's worth a detour.
When planning a route on komoot, always check the nearby Highlights so you can add them to your route – you never know, you might discover a special place that you never would've found without a nudge in the right direction.
If, while on your adventures, you find an awesome beauty spot and there's no Highlight to be found, or you discover a superb cafe that you think other komoot users should know about, you can create your own Highlight for the rest of the community. Your tips help others find a fresh perspective, enabling more memorable adventures.
2. Use komoot's Tour search to discover new footpaths and under-the-radar routes
When relying on your own sphere of knowledge to plan your hikes it's easy to fall into the same patterns. In your own region you do walks you already know. When further afield, you gravitate towards established routes.
But with komoot's Tour search you can find out what the community has been up to and base your next adventure on cool stuff other people have done. That might be a beautiful route that remains under the radar in an otherwise well-known walkers' paradise, or it could be an unassuming footpath down the road from your house that you've never thought to venture down.
3. Reverse your regular route
On komoot, all your planned and completed routes are saved to your profile, making it easy to return to them. But instead of revisiting them as they are, try the same route in reverse to get a different perspective. It's easy to plan a similar route in a couple of clicks by selecting 'Replan This Tour' on the web or 'Plan Similar Tour' on your smartphone. Your route will be duplicated and ready to edit. All that's left to do is reverse the waypoints in one click, and you'll have a whole new route ready to go.
4. Try a new sport
There's one more way to switch up how you experience the adventure… Switch up your usual sport! Usually prefer to hike, switch up your two feet for two wheels, or vice versa. Komoot lets you choose a sport when planning your route, ensuring that you only get routed on paths and trails that are suitable for that sport (no routing your bike along walking trails full of stiles, or sending you on a hike which tracks the main road the whole way).
With the right mindset and komoot as your sidekick, you'll find new ways to explore, even in places you visit over and over again.
Find your next adventure
Follow these tips and you'll find adventure, guaranteed. Want to try komoot for yourself? Follow this link and use the voucher code ADVNTURE22 to unlock a free Region Bundle.
*Valid for new komoot users only and redeemable until 31 December 2024.
All the latest inspiration, tips and guides to help you plan your next Advnture!
Launched in July 2020, Advnture is the ideal destination for anyone who loves the great outdoors. Whether you're into epic hikes through the wilderness, camping trips with the family, climbing with your friends, or looking for a trail running personal best, our team of experts will point you in the right direction, with top buying advice and in-depth guides to help you get the most of your time in the backcountry.