Top tips for commercial fisheries
Richard Holroyd's gives us his tips on getting the most out of commercial fisheries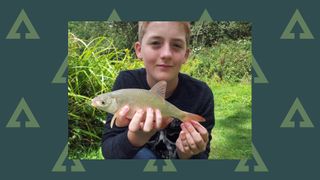 (Image credit: Angler's Mail)
Welcome to Advnture, the new home of AnglersMail.co.uk
Commercial fisheries can be a great place to introduce your kids to fishing, as Richard Holroyd explains...
The summer holidays give me the chance to spend some quality time with my children – Louis (pictured above), 12, and Scarlet, eight. I took Louis out for a session on a local commercial fishery. He float fished meat and bread for bite-a-chuck sport from roach, rudd, silver bream and carp. We are already making plans on returning soon to target the venue's perch.
On another occasion I took Scarlet sea fishing. She managed to catch one of her favourite species using some winning rigs that she likes to make herself with a little help from myself. I'll reveal her rigs and what species she has been catching using them in a future blog.
In this blog I'd like to reveal some commercial basics that Louis used for a thoroughly enjoyable and successful session.
Fishing is a hobby that you never stop learning from, no matter how experienced you are, but for anyone starting out then I think it is best to keep things nice and simple. What I mean by simple is sticking to the basics without overcomplicating things unnecessarily, for example using a fancy rig without properly understanding the mechanics of it. In fact, some of my most successful rigs that I use today are some of the most basic ones in angling. The simple message is keep things simple and do the basics well and you'll catch plenty.
With a week or so of National Fishing Month left it is an ideal chance to get out on a commercial and introduce a family member or friend to fishing. Here are a few basic fishing tips tips to help you succeed on the banks of commercials.
Fish fine
You don't need to fish with powerful rods and strong terminal tackle on commercials. A match rod and a small fixed spool reel, 4 to 5 lb main line, a slightly weaker hook link and a size 16 hook is perfect. This tackle will easily handle double-figure carp as well as being sensitive enough for smaller species such as roach and rudd.
Float fish
Float fishing is the best way to tackle commercials.
Float fishing is a great method to use during the summer months on commercials. Feed two swims – one in open water and another in the margins – and alternate fishing between the two to keep the fish coming.
Simple shotting
Wagglers are great for commercial fisheries. There's usually no need for shot down the line – simply use it to lock the float into position. You only really need to add a dropper shot (to get the bait down through the water quickly) if you are getting too many small fish on the drop.
Beat undertow
On windy days you may encounter undertow and find that your float is always on the move. This makes it difficult to feed your swim accurately and to leave your hook bait in one place long enough to induce a bite. If you find this happening, set your rig up overdepth with a large shot placed a few inches from your hook bait so that it is dragging bottom. This will stabilise your float in an instant.
Mixed bags
Commercial fisheries are great for catching a variety of species, although many are stocked with too many carp I feel. Don't become obsessed with just catching carp but enjoy catching all kinds of fish.
Firm up meat
Bits of luncheon meat or Spam are great baits for a mixed bag of fish on commercials. Used straight out of the tin the meat can be a bit soft and doesn't always stay on the hook when casting it out. Leaving the meat out in the elements for an hour or so before fishing firms it up so it stays on the hook a lot better.
Beautiful bread
Sliced white bread is a great economical bait to use on commercials and is incredibly effective too. Use a bread punch to produce easily hookable discs.
Size doesn't matter
Too many anglers are obsessed with size and are quick to discard small fish as being a nuisance. No fish should ever be a nuisance. When I asked Louis what fish he most enjoyed catching on his latest session he told me it was a carp of a few ounces, more so than any of the bigger fish he landed that day. A refreshing outlook.
Treat all fish with care
An unhooking mat and disgorger is an absolute must to ensure all fish are unhooked correctly and returned safely.
All the latest inspiration, tips and guides to help you plan your next Advnture!
Thank you for signing up to Advnture. You will receive a verification email shortly.
There was a problem. Please refresh the page and try again.