How to use liquid molasses in your bait
Matt Sparkes reveals how the sugary syrup can boost your catches.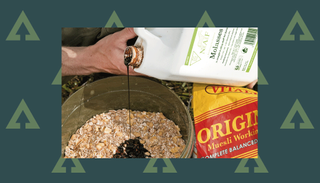 (Image credit: Angler's Mail)
Welcome to Advnture, the new home of AnglersMail.co.uk
Liquid molasses definitely seems to be overlooked as a killer bait enhancer. I can remember a carp angler using this treacle-like liquid to great effect on one of my local carp pools and since then it's been my favourite 'booster' bait.
Molasses is basically a byproduct from sugar refining and this thick sweet dark coloured liquid contains no chemical additives, is high in natural minerals, enzymes and amino acids.
And what many anglers will like in these penny-pinching times is the fact that you can buy a gallon of liquid molasses for well under a tenner from pet and animal feed retailers. Dedicated fishing bait manufacturers also sell it and often enhance its already huge pulling-power by adding Betaine.
How to use liquid molasses in your bait
So, how do you go about using this sugary syrup to boost your catches?
Well, there are many ways in which you can incorporate some liquid molasses into your fishing session. My favourite is to add some to a Method mix. Its thick and sticky consistency really helps to bind any Method mix and adding it the night before your session helps bind the mixture even better.
I like to add some to a dry mix of Vitalin dog cereal, adding warm water the next day. This results in a fantastic mix that'll cling to any feeder with ease and it won't break away on even the meatiest of casts.
An added bonus with this natural feed is that you don't need to be accurate with measurements – just keep trickling it into a mix until it's just right, the fish wont be put off by large amounts of it as they can with the more potent chemically enhanced dips, soaks and glugs.
What to use liquid molasses for
Species wise, everything seems to love the stuff. Carp are perhaps the obvious candidates for using liquid molasses, whether it's used in a Method mix or drizzled into a PVA bag, or used to make a really sloppy groundbait mix for margin tactics.
Tench love it too and its sweet flavour also makes it well worth a try for some big bream. I've yet to add some to a silver fish groundbait mix, but it's odds on that roach and rudd would love it too.
All the latest inspiration, tips and guides to help you plan your next Advnture!