10 of the best baits for winter fishing
These baits are great for carp and many other coarse fish too. Give 'em a try and hopefully you'll have better results!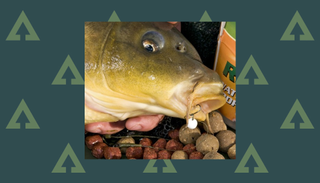 (Image credit: Angler's Mail)
Welcome to Advnture, the new home of AnglersMail.co.uk
Looking for the best winter fishing baits? Not sure what will give you an edge or whether your current baits are fine? Read on…
Tempting lethargic fish to feed in winter can be particularly tricky as most species' metabolism slows right down in colder water.
They need far less food than they require during the rest of the year when they are much more active.
So to cajole them into feeding you need to alter your feeding approach as well as selecting the right winter fishing baits.
Here we reveal ten great options that have a top reputation of catching even the most stubborn of fish in tough conditions. Any one of these winter fishing baits could work for you over the weeks ahead…
1. Salt
The addition of salt to baits is a great attractor at any time of year, but it really comes into its own during cooler conditions when you want to create a small area of maximum attraction.
Forget chemical-laden table salt and opt instead for sea or rock salt which is easily incorporated into pastes or groundbaits or sprinkled onto maggots, casters, pellets, hemp or corn.
Small PVA bags of pure salt are perfect to use with any hook bait and are a little-used but devastatingly effective edge with your winter fishing baits.
2. Bread
Bread is a long-time winner amongst the top winter fishing baits. It especially scores on the rivers where chub and roach both adore it in the form of flake, crust or punch.
Although mashed bread is widely used as groundbait when bread fishing, for winter use a finely liquidised white, sliced loaf.
This produces smaller particle sizes and is less likely to fill up a feeding fish; remove crusts from the slices for an even finer mix if the going is really tough.
A PVA stick of compressed crumb is a little used but brilliantly effective winter carp tactic – use in conjunction with a single grain of white, rubber corn.
3. Chocolate malt
Choccy malt breaks all the rules where winter fishing baits are concerned.
Unlike all other flavours which can be counter-productive if used in excess, it is impossible to add too much.
For a brilliant winter carp puller add 20 ml of the gorgeously sweet liquid to an egg. Then it mix up with a proprietary fluoro-white pop-up mix to create small – 10 mm is ideal – pop up boilies. Reserve a bit for paste too.
4. Maggots
One of the very best coldwater carp catchers.
A mesh PVA bag of maggots, in conjunction with a bunch of grubs on a hair-rigged – perhaps using a maggot clip – is one of the most reliable of winter carp tactics.
Maggots are easily digested, colourful and loved by carp. Cast regularly and tightly to build an area and don't forget to include a couple of rubber grubs on the rig to balance the weight of the hook.
5. Spices
Spicy flavours have long had an association with winter fishing and with the proliferation of Asian stores there is a bewildering range of brilliant additives with which to spice up your baits.
Try a sprinkling of turmeric on maggots or a shake of garam masala in groundbait.
Consider using chilli-laced hemp, coriander flavoured corn, meat dusted with garlic salt and pastes made with belachan paste.
These are just some of the spicy options – they are only limited by your imagination.
6. Paste
Hi-attract paste hook baits are only one part of the winter paste story as the versatility of the bait lends itself to a number of different applications.
Most notably it can be used as a 'plug' for watch-style leads or as a wrap around for any bomb or hook bait; it can even be 'blobbed' onto PVA stringers.
The paste used in this way gives a longer-term leakage of flavour-charged particles into the swim and acts as a great fish-puller, especially in the rivers.
To give a more rapid breakdown for non-hook bait applications mix pastes with water rather than eggs.
7. Lecithin and alcohol
Oil-based flavours and attractors and fishmeals lose their attractiveness as oils become more viscous in cool temperatures.
To ensure flavours leach out and are not locked into bait add lecithin granules (from a health food shop) to fishmeal groundbaits and pastes.
Alternatively, mix up paste baits with alcohol to ensure excellent dispersal.
A tot of the odourless vodka is the usual choice but experiment with whisky or gin for a really different scent.
8. Corn
For coldwater commercial carping there are few baits to beat a simple grain or two of sweetcorn.
Corn is easily digested, highly visible – even in coloured water – and, unlike maggots, resistant to the attentions of small silvers.
A couple of grains hair-rigged through the middle sit perfectly on an 18 but, if the going is really tough, a single grain presented lengthwise on a size 20 should do the trick.
9. Liquids
Solid PVA bags are not just for filling with solid baits.
The tactic of filling bags with neat liquid flavours and attractors has brought me winter bites by giving a massive explosion of attraction with no feed.
Make sure you use PVA-friendly mixes and experiment with different mixes: condensed milk combined with chocolate malt is a good starter for carp.
10. Peperami
The spicy meat snack checks all of the boxes when it comes to winter fishing baits, despite the fact it is on the oily side.
Highly attractive to carp, chub and barbel it can be whittled down to tiny chunks for use with scaled down line and small hooks, yet it still packs a serious punch in terms of attraction once the outer skin is sliced off.
Try a thin slice as a topper for half a 10 mm pop-up boilie for excellent winter carp results.
All the latest inspiration, tips and guides to help you plan your next Advnture!
Running from 1964 until 2020, Angler's Mail was the UK's leading weekly magazine devoted to coarse fishing, telling readers everything they needed to know about which fish to catch, where to catch them, and what kit they needed to do it. Now, loads of the magazine's expert advice can be found on Advnture.com, as a helpful resource for angling newcomers and experts alike.