Tench fishing tips to help you crack a new venue this spring
Essential tench fishing tips to help you catch big specimens this spring and summer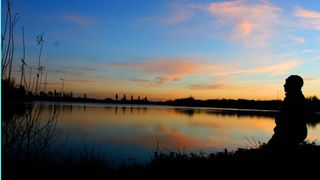 (Image credit: Angler's Mail)
Welcome to Advnture, the new home of AnglersMail.co.uk
Probably the most important part of choosing the right venue is to have some solid evidence that the water contains the size of fish that you are after.
I spent a lot of time and money on a club ticket thinking that it was the right venue only to be kicked in the painfuls from a direction I never knew was coming.
That direction was the club closing the venue at the best possible time to fish for tench, May and early June.
So check your permit very carefully, even ask questions before purchasing the ticket.
If the rules state that the club can close a water when fish are spawning then this will inevitably be directed at the carp. These will spawn when the tench fishing is at its best!
Although this problem was unforeseeable some other factors are quite obvious and here are ones that I would recommend checking out.
Size of the fish
A double-figure tench is a fish of a lifetime, a rare beast indeed, however speak to the wrong person and it will seem as these are a regular visitor to the bank on most club waters.
Usually locating big fish come through word and mouth, competent carp anglers that weigh their fish correctly or angler's in the know.
I mean ones that have actually taken big fish and have images to prove it. Not from club officials or local tackle shops as these are often trying to sell a club membership than help you achieve your ambition.
This may sound a bit weird but tench fishing is a time-consuming hobby.
If you are going to be spending days on end looking for a fish that dreams are made of then one thing I would want to be reassured of is that my car, tackle and myself was safe. A lake fenced and with key entry would be high on my list.
Availability, location & pressure
There are plenty of syndicate venues that offer massive tench however getting on can be tricky.
Remember there isn't a law yet that says you can't place your name on the waiting list… and then choose whether to take it up when your name comes round.
I'm aware of a few local clubs with open membership that offer the chance of a big tench but these are usually busy and fishing against fish and angler is something I try hard to avoid.
However look hard enough and there are a few gems out there, the only downside is you may have to travel some distance!
Unlike some carp anglers I welcome the odd different species gate-crashing the party. It gives me confidence that my baiting and rigs are working, so use these captures to your advantage.
This may mean upping the size of your bait, placing your rig closer in but it's all part of the jigsaw puzzle that needs to be completed in order to build up a picture of the venue and how it ticks.
First steps on your new tench venue
Once a venue has been chosen what's the next step?
Well before even getting the kit out of the car I would spend loads of time watching the water, especially at dawn and dusk as this is when tench will give themselves away.
If the water isn't miles away then don't even take the tackle just put a marker rod in the car. Go and spend a day mapping the contours and features out as this will save you so much time later.
I have always worked on the principle of matching my hookbait with the feed I'm going to introduce. It's not just one of my main tench fishing tips, it applies to so many coarse species.
As tench fishing means starting early in the spring this means using maggots and hemp.
The reason is these baits resemble the natural food that will be found in the venue at this time of year, the maggots mimic bloodworm and the hemp, snails.
The hemp is bought in bulk from an animal feed stockist and I always freeze maggots from past sessions as this will help keep the cost down.
The only downside to using maggots is that if the water contains loads of small fish they can mean that this option is binned instantly.
Some would persist with rubber baits over loads of real grubs yet most, like me, can't afford to pile a lake with expensive maggots.
If maggots are deemed unusable then corn would be my second choice. Rarely have I found a water where if the maggots are being eaten the corn goes unnoticed.
A different plan may well need to have been thought about prior to that first session…. and that means pellets and boilies.
Unfortunately knowing just how effective maggots are, if I have to take the boilie option then I have to admit at having my confidence knocked somewhat.
Some anglers prefer to use a semi-bolt rig for tench yet for me the helicopter-rig beats all when using maggots on the hook.
It's an absolutely fantastic, self-hooking rig. It has rarely, if ever let me down and couple this with its anti-tangle properties will always be my first choice.
The rig is simple to create and the main components are a size 16 super-specialist hook, 4 inch 6 lb fluorocarbon hooklink and a 30 gram maggot feeder.
This rig is designed to be recast regularly. So add this into your memory bank of tench fishing tips: I would try my best to refresh the feeder and bait and recast every hour throughout the session.
Although the helicopter rig has been tried and tested I may have to use a leader due to the typography of the lake bed.
I may also change the hooklink to a braided one due to gravel bars, however I'm not going to change to this until I have too.
If I can't use maggots then the rods will be fishing a single 10mm boilie on a semi-bolt rig.
This has consisted of a Nash Diffusion Camo leader, 2.5 inline lead, 6 inch braided hooklink with a size 10 barbless hook and five-bait stringer attached to this.
Baiting up for tench
Although this is something that will need to be fined tuned during the first couple of sessions, I do feel that it's a good idea to have a game plan in your head before setting out.
Apart from when bream fishing, I have always tried to fish for one fish at a time. I carefully edge my way into each session.
This gives me a much better idea of what's happening sub-surface and how the fish are reacting to my bait application.
My first session for the tench will probably see me spodding out a couple of kilos of hemp and red maggots with helicopter rig being cast over the top.
Rods will be clipped up and the lines marked. It means that when I recast, and this will be as regularly as every hour, I know I'm right on top of my feed.
Obviously if I'm fortunate to catch a few fish on the first session then I can start building a picture of feeding patterns. I can then top the swim up prior to these ready for the feeding period to start.
Tench fishing is rarely instant, especially on big clear gravel pits. Be happy with everything that comes your way in the first few sessions. And be patient, as if it's a 'double' you are after, then it's not going to give itself up easily.
All the latest inspiration, tips and guides to help you plan your next Advnture!