True spending habits of anglers finally revealed
English anglers put £1.46 billion pounds per year into the economy, a major study has found.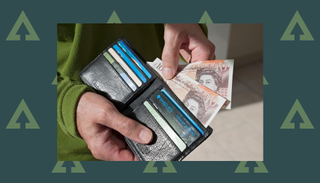 (Image credit: Angler's Mail)
Welcome to Advnture, the new home of AnglersMail.co.uk
But the angling statistics report by the Environment Agency, comparing 2015 from 2005, has confirmed anglers are fishing less days.
As we revealed, rod licences are well down, 39.4 per cent since 2011.
The latest yearly figures showing a yearly decline of 14.7 per cent, and an August monthly comparison to last year showing 14 per cent down.
But anglers are spending more and are supporting up to 27,000 full time equivalent jobs, through their spending on the sport.
The EA study, A Survey Of Freshwater Angling In England, revealed a number of angling statistics.
It examined the spending patterns and behaviour of 10,000 surveyed fishing licence holders to build a picture of the market value of freshwater angling in England. It does not include the rest of the UK or sea fishing at all.
Kevin Austin, EA deputy director for Fisheries said: "This study highlights the money anglers put into their sport and its importance to some of England's regional economies.
"All income from fishing licence sales is used to fund our work to protect and improve fish stocks and fisheries.
"This includes improving habitats for fish, facilities for anglers and tackling illegal fishing.
"We also work with partners such as the Angling Trust, Get Hooked on Fishing, the Canal and River Trust and the Angling Trade Association to encourage people to give fishing a go."
Angling statistics confirm 'contribution'
The Angling Trust has helped ten of thousands of people try angling in the past few years to help get fresh blood.
Trust chief executive Mark Lloyd explained: "These figures confirm that angling makes a huge contribution to the economy, alongside the many benefits it brings to the health and wellbeing of millions of people each year.
"The Trust, working with the EA, are focused on protecting and growing angling not only as an important contributor to our economy, but also to our society as a whole.
"Over the last three years we have worked with the Agency to reinvest millions of pounds of rod licence income in improving facilities for anglers, providing information about how and where to fish.
"Together we have helped over 77,000 people try fishing for the first time."
How the money was spent
Average spend per coarse angler per year
Tackle £420
Bait £210
Clothing £182
petrol £150
Permits £120
Accommodation £70
Hot food £50
Food from shop £70
Magazines, books, DVDS £28
ANGLING days may be down 22 per cent from 28.5 million days in 2015 to 22.3 million days in 2015, but carp angling showed how dominant it has become.
The study found that angling for coarse fish was the most popular activity for the nation's anglers, accounting for 19.7 million days of fishing.
Carp was the most sought after species with an estimated 7 million days fishing time.
Game anglers spent 2.4 million days fishing for salmon and trout.
And stillwater coarse fishing was far more popular with 14 million days fishing, compared to 4,31 millions days on rivers and 1.44 million on canals.
The biggest region for angling was Thames with 5.325 million days, then Humber 5.127 million, Anglian 3.828 million, North West 2.410 million, Severn 1.876 million, South East 1.73 million, South West 1.202 million, Northumbria 643,000, Dee 70,000 and Solway Tweed 57,000.
Most coarse angling trips took place between 5 and 25 miles from home.
Anglers travelled significantly further for game fishing, with most salmon anglers travelling at least 50 miles from home to fish.
Angling Trade Association chairman Naidre Werner said: "This report shows anglers are still fishing an awful lot and spending a lot of money.
"Anglers spending £1.46 billion per year is a welcome bit of news.
Total days spent fishing 2015
Species Total days Average days per angler
Carp 7,440,000 17
Bream 2,980,000 11
Roach 2,470,000 10
Perch 1,810,000 7
Pike 1,720,000 7
Tench 1,630,000 6
Barbel 1,550,000 6
Chub 1,230,00 5
Rudd 1,168,000 6
Crucian 1,013,000 5
Minis 580,000 4
Catfish 453,000 3
Eel 425,000 3
Dace 347,00 2
Zander 262,000 2
Stocked rainbows 1,608,000 10
Stocked browns 1,013,000 8
Other stocked trout 323,000 4
Wild trout 839,000 6
Grayling 383,000 4
Salmon 1,090,001 11
Sea trout 71,000 8
All the latest inspiration, tips and guides to help you plan your next Advnture!
Running from 1964 until 2020, Angler's Mail was the UK's leading weekly magazine devoted to coarse fishing, telling readers everything they needed to know about which fish to catch, where to catch them, and what kit they needed to do it. Now, loads of the magazine's expert advice can be found on Advnture.com, as a helpful resource for angling newcomers and experts alike.