Carp killer disease strikes early at fishing venue
Reports have come in that the deadly Koi Herpes Virus has struck a fishing venue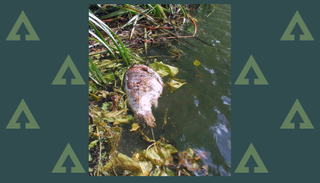 (Image credit: Angler's Mail)
Welcome to Advnture, the new home of AnglersMail.co.uk
The deadly Koi Herpes Virus has struck at a fishery for the first time, three weeks earlier than the first case last year.
The Fish Health Inspectorate at CEFAS has confirmed an outbreak of KHV at Tylers Common Fishery, at Brentwood, Essex.
Initial controls have been placed on the affected site to prevent further spread of the disease. The FHI is assessing the extent of the outbreak and the options available forthe control of the disease. With consent from the authorities, the four-lake complex reopened for fishing.
Tylers Common boasts carp to over 30 lb, roach to 3 lb, barbel to 9 lb and bream to 12 lb.
CEFAS fish health inspector Jason Mewett explained: "Early July usually brings the first outbreaks of KHV, as the disease is very much related to water temperature. Given this, there is a chance that cases will increase with global warming.
"Sometimes the virus can lie dormant in a lake and it takes a rise in fish stress levels through things such as higher temperature, lower oxygen levels or algae blooms to bring it out.
"The biggest risk of new infection comes from restocking of fish, so every care should be taken to buy a certified supply, but sometimes it is spread by the illegal release of unwanted pets such as koi carp.
"To prevent the spread of this disease or any other, good bio-security is necessary. I would recommend fisheries provide their own netting equipment. Failing that, nets, weigh slings and mats should be thoroughly disinfected, before and after use. It is essential that disinfecting tanks are properly maintained. Anglers can also help by drying their nets thoroughly after use, as this will kill the virus.
"Fish inspectors are classed as key workers, so we have been working throughout the lockdown period, investigating outbreaks of diseases where necessary, albeit with modifications due to social distancing, as in our laboratory," Jason added.
In 2019 there were 16 confirmed cases, down from 28 in 2018. There were 22 outbreaks in 2017 and a whopping 32 in 2016.
KHV is a viral disease that causes necrotic white or brown patches on the gills, rough patches on the skin and sloughing mucus and sunken eyes. It affects only carp.
It was first detected in the UK in imported koi in 2000, is prevalent when water temperatures rise above 16C/60F, and fatalities can be up to 100 per cent of carp stock, typically 60-80 per cent.
All the latest inspiration, tips and guides to help you plan your next Advnture!
Running from 1964 until 2020, Angler's Mail was the UK's leading weekly magazine devoted to coarse fishing, telling readers everything they needed to know about which fish to catch, where to catch them, and what kit they needed to do it. Now, loads of the magazine's expert advice can be found on Advnture.com, as a helpful resource for angling newcomers and experts alike.