Club's huge 122 lb catfish taken away
One of the biggest catfish in the country has been rehomed after being caught in a club water that didn't have permission to keep it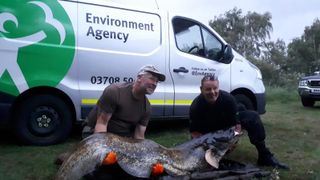 (Image credit: Angler's Mail)
Welcome to Advnture, the new home of AnglersMail.co.uk
For a number of years, top Norfolk club Diss DAC had been aware of rumours of a huge cat prowling its Diss Mere, and as soon as it was caught at a whopping 122 lb, the club followed strict Environment Agency guidelines for non-native species and called the public body.
It was landed by local specimen ace and angling guide Phil Spinks while he was carp fishing the six-acre venue.
News of the giant's capture caused a social media storm, local anglers wanting it kept in the water, where it is believed to have lived happily for around ten years.
Club treasurer Martin Buckenham said: "There were a lot of negative comments and sheer hatred for our club regarding the capture of the 122 lb catfish.
"I was the person who contacted the EA about its capture, as it had informed us that we, along with the angler, would have been fined if it had been returned to the water.
"It was stocked illegally, without our knowledge or consent, a few years ago from an unknown water. Phil is a personal friend of mine, and he unintentionally caught it while fishing for carp. Any negativity towards the club or Phil is totally unjust, as he was purely fishing as a member and we were following the law and guidelines from the EA.
"The fish was rehomed within 90 minutes of being picked up. It was seen swimming away happily and healthy. The new owner has all the legal documentation and paperwork to stock catfish, but wants the new location to remain private, so we were not told the whereabouts of its location.
"Diss Mere doesn't have a licence to keep catfish. It is as simple as that. It had to be removed, and it was always the plan when or if it ever got caught. It's now in a location that has all the correct documents, so the right thing has been done," added Martin.
Phil's capture puts the specimen 11th on the All Time Top 50 Catfish List, run by the Catfish Conservation Group, and the giant could even go on to beat the biggest UK catfish, of 147 lb, caught from Essex's day ticket Oak Lakes Fisheries.
The EA is also refusing to name the water it has been moved to. An EA spokesperson said: "We were contacted by the club in Diss and were told that a catfish had been caught. Our officers visited the water and removed it with specialist equipment. It was then transported to an undisclosed location in a large fish tank.
"Catfish are a non-native species that can harm delicate river ecosystems. They can only be used for angling purposes when in a fully enclosed stillwater, provided the owner has a permit granted by the Agency.
"We don't know how the catfish got into the mere, but thank the club for promptly reporting it once caught.
"We are unable to say where the catfish has been moved to, due to the high amount of attention this could generate. However, I can say that it is in a stillwater that has a permit for catfish."
All the latest inspiration, tips and guides to help you plan your next Advnture!
Running from 1964 until 2020, Angler's Mail was the UK's leading weekly magazine devoted to coarse fishing, telling readers everything they needed to know about which fish to catch, where to catch them, and what kit they needed to do it. Now, loads of the magazine's expert advice can be found on Advnture.com, as a helpful resource for angling newcomers and experts alike.