Best insect repellents 2023: keep the little nasties at bay on your backcountry jaunts
Our selection of the 10 best insect repellents for keeping the pesky bugs away in the great outdoors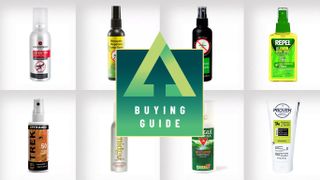 (Image credit: Future)
Having the best insect repellents for your summer hiking missions is crucial. Let's face it, the last thing we want when we've set aside hard-earned time off in the wild is to have our fun ruined by pesky, biting insects.
The best insect repellents contain active ingredients that the little nasties hate. The most notable is DEET, though this can be irritating for sensitive skin in large doses and can even react with synthetic materials, such as watch straps. Other active ingredients in repellents include Picaridin (also known as Saltidin), which is found in Smidge That Midge, a spray offering good protection from midges.
As mentioned, being equipped with the best insect repellents when you set forth in your hiking boots can be vital. Not only can some insects be a nuisance, depending on where you are in the world, they can also give you some pretty nasty illnesses. Mosquito-borne diseases continue to be a scourge across the globe with the Zika virus, dengue and malaria among the most notorious.
Meanwhile, ticks are also to be avoided. Some carry Lyme disease, while UK hikers have been warned to check for ticks recently after a man contracted the tick-borne encephalitis virus (TBEV), which is common in Europe. We think Smidge that Midge is the very best insect repellent, which is why this excellent spray kicks off our roundup.
The best insect repellents
The best picaridin-based insect repellents
The best Picaridin-based repellent
Specifications
Active ingredient:
Picaridin
Reasons to buy
+
Smells fantastic
+
Gentle enough to use on kids
+
Great against midges
Reasons to avoid
-
No DEET, so may not work hard enough in jungle conditions
Heading to Scotland or northern Europe? Stash a bottle of Smidge That Midge in your backpack. This repellent is created by the makers of the Scottish Midge Forecast (where you can check the prevalence of midges on a given day), so they definitely know a thing or two about Scotland's most annoying mini residents. This spray sets out to do one thing – repel midges – and we found it does so effectively, although you might still need to arm yourself with a midge net when they're really biting.
Smidge That Midge contains no DEET, instead using Picaridin agents that also work against mosquitoes, horse flies, sand flies, fleas and ticks. The slim bottle is easy to pop in your pocket, and the spray is water resistant enough to stay put if you sweat, and lasts all day with one reapplication.
For us, the standout feature of Smidge that Midge is the lovely smell – it has a mild, very pleasant scent you'd be mistaken for thinking was a summery perfume, which is a far cry from most medicinal-smelling insect repellents. It goes on with a watery cream texture but dries fast, and leaves a slight sheen on skin that isn't sticky.
Read our full Smidge That Midge insect repellent review
2. Proven Insect Repellent Lotion
The best fragrance-free repellent
Specifications
Bottle size:
177 ml / 6 oz
Lasting power:
12–14 hours
Active ingredient:
Picaridin (20%)
Reasons to buy
+
Fragrance-free
+
Non-greasy
+
Great for faces
Modeled after piperine, a molecule found in the plant that produces peppercorns, Picaradin is a manmade compound that's been used in insect repellents in Europe and Australia since the 1980s, and has been available in the United States since 2005. Both the World Health Organization (WHO) and the CDC recommend Picaridin to repel mosquitoes, ticks, black flies, gnats, chiggers, and no-see-ums. Picaridin stays on top of the skin instead of absorbing into it.
Trust Proven insect repellent contains 20% Picaridin, and it repels mosquitoes and ticks for up to 14 hours and black flies, gnats, chiggers, and no-see-ums for up to 8 hours. It's made in the USA with ingredients sourced from the USA and Germany. We found that the unscented cream goes on smoothly, and it's available in odorless format, or with gentle odor. Studies have shown that a 20% Picaridin repellent is as effective as higher concentrations of DEET. Since Picaridin is moderately toxic to fish, however, this may not be the best repellent to use near water.
The best DEET-based insect repellents
Best for backpackers
Specifications
Active ingredient:
30% DEET
Reasons to buy
+
Highly transportable
+
Ultralight
We think Ben's wipes are an ideal bug repellent for backpacking. They're individually wrapped, and therefore light, transportable, and easy to keep in a pocket until you need them. Each packet contains a small towelette soaked in 30% water-based DEET (and, if you are using DEET, 30% is commonly considered the ideal concentration). We like Ben's water-based formula because it stays on the skin's surface rather than being absorbed.
Ben's is also available in a spray bottle. Ben's 'Max' spray contains a hefty hit of DEET (50% in Europe, the highest percentage allowed under EU law, but up to 98% in the US), which means that despite its dinky size, you don't need to spray too liberally to keep mosquitoes and other insects at bay. Avoid using the strong spray on delicate skin – spray it in your hands first and avoid your eyes and mouth if you're applying to your face.
When first applied, the spray has a very strong lemon smell that's a little reminiscent of toilet cleaner, but the good news is that the smell fades fast and ends up being a pleasant whiff of citrus. The spray also goes onto clothes easily without staining them. Ben's MAX does feel oily and thick on the skin, so it may not be suitable for those with sensitive skin, or if you don't like to feel a repellent is there - it's also a tad sticky even when dry.
Read our full Ben's Max insect repellent review
Best for protection in warm weather
Reasons to buy
+
Long-lasting
+
Effective protection
+
Stays put if you sweat
A big smack of 50% DEET makes Pyramid's popular spray a reliable choice for international travels – this is the dosage we recommend if you may be travelling anywhere where dengue Fever, zika Virus and other diseases are present.
On test we found this repellent one of the longest-lasting if you're sweating or swimming, too – ideal for very hot countries. The only downside to all that tough protection? Pyramid is quite sticky on the skin, and can also stick to clothing in an unpleasant way, so only spray onto exposed skin and let dry.
This spray also has a strong lemony scent – if you don't like a noticeable aroma from a repellent, this is not the brand for you. That said, a light spray of this rather thick liquid goes a long way to protect skin, making it good value for money.
Caution – this is strong stuff (although they used to make a Trek 100, which was doubly potent!), so avoid using near your eyes, or on children under 12.
Read our full Pyramid Trek 50 review
Best protection you can put on clothes
Reasons to buy
+
Goes onto clothes
+
Mild smell
+
Effective in malarial zones
The only spray we reviewed offering 24 hour protection (well, if diligently reapplied three times), Lifesystems Expedition Max may be overkill for a ramble in the Lake District but it's ideal for jungle conditions or anywhere where you'll be exposed day and night to illness-carrying insects.
We took this spray to India (and also carried the dinkier 50ml version in our backpack when out exploring) and found it offered worry-free protection even in malarial zones. It can also applied to clothing as well as skin without staining them, for added protection.
The Max spray has a thick, rather viscous consistency but a not unpleasant lemon smell but never feels like it fully dries – this is because it's designed to form a physical barrier on your skin, but if you find sprays that don't sink right in annoying this might not be for you. There's no alcohol in the formula, though, so it won't dry skin out.
A DEET-free alternative is Life Systems' Expedition Sensitive spray, which uses 20% Saltidin (also known as Picaridin) as an active ingredient instead.
This formula is ideal for anyone who finds DEET irritates or dries out their skin, but still needs hardworking insect protection on their travels or in places where it's important to avoid mosquito bites. You can also use this spray on children and delicate skin.
Read our full Life Systems Expedition Sensitive insect repellent review
Best for approved protection against disease
Specifications
Lasting power:
9-12 hours
Reasons to buy
+
Reliable protection even in areas with insect transmitted diseases
+
Approved by the London Hospital for Tropical Diseases
Heading into the tropics? Pack Jungle Formula. Designed for 'tropical, heavy wooded and lake areas or when extra protection is needed', this spray is made up of 50% DEET, making it ideal for areas with a high risk of malaria and other mosquito-borne illnesses such as dengue fever and yellow fever.
Jungle Formula does have a strong chemical smell and feels thick and a little oily on the skin, but it's well worth it for reliable all-day protection. Jungle Formula is designed to be applied once, so spray liberally on exposed skin for even coverage – it also works upside down, ideal for when you want to protect your feet and ankles on the go.
There are multiple other versions of this repellent available, including a handy roll-on you can stick in your pocket and 'medium' and 'outdoor and camping' versions with less DEET which are better suited to more casual outdoor adventures.
Read our full Jungle Formula Dry Protect Pump Spray insect repellent review
Best insect repellents for the environment
7. Lemon Eucalyptus Repel
The best environmentally friendly repellent
Specifications
Bottle size:
118ml / 4 oz
Active ingredient:
30% Lemon Eucalyptus oil
Reasons to buy
+
Natural and environmentally friendly
+
Effective
+
Pleasant lemon scent
Reasons to avoid
-
Lemon scent too strong for some users
-
Doesn't last as long as DEET
We think that, for those who don't like spraying chemicals on themselves and their family, or releasing them into the environment, this is a great choice. Lemon Eucalyptus Repel is made with oil extracted from the leaves of the Eucalyptus citriodora, a lemon-scented gum tree native to Australia.
Considered safe for children 3 years and older, it's registered with the Environmental Protection Agency (EPA) and recommended by the Center for Disease Control and Prevention (CDC) as effective against disease-carrying mosquitoes. But does it really work? Well, yes. In a 2014 scientific study a mixture of 32% lemon eucalyptus oil provided more than 95% protection against mosquitoes for three hours. In another independent laboratory test, Lemon Eucalyptus Repel was the second most effective mosquito repellent after a 30% DEET concentration. Although this is an oil-based pump spray, we found that it didn't leave us feeling greasy or sticky.
The best vegan repellent
Specifications
Active ingredient:
Citrepel
Reasons to buy
+
No DEET
+
Vegan friendly
+
Non greasy
Reasons to avoid
-
On the pricy side
-
Some biters may get through
We've often spied Incognito's little ninja-style black bottle in other explorers' backpacks, so we were intrigued to give this DEET-free repellent a try. One of the more expensive sprays on test, Incognito is made with 100% natural ingredients – so no DEET, parabens, GMO and SLSs - and it's approved by the Vegan Society, making it an easy choice for anyone who is a stickler for making sure products are animal-friendly. We found that Incognito worked well at repelling insects in the UK, as long as you carefully spray every inch of skin.
The brand claim to be proven to be effective in malarial zones, but the caveat is that the spray should be used in conjunction with a mosquito net – so we would recommend sticking to using this natural repellent in Europe and reaching for a DEET product in malarial areas (or using DEET by day and Incognito by night).
The benefit of no DEET is that Incognito feels light and grease-free on the skin and has a pleasant scent of bergamot and citral.
Read our full Incognito insect repellent review
Best insect repellent for children
Specifications
Active ingredient:
Citrepel
Reasons to buy
+
Mild on skin
+
Great for kids
+
Fresh scent
Reasons to avoid
-
Needs regular reapplications
Another all-natural spray that is fast gathering fans. Theye's active ingredient is Citrepel, derived from eucalyptus - we found it was strong enough to keep insects at bay in the UK (although you'll need something stronger to combat Scotland's midges) and Europe, and the mild formula is suitable for kids, too, making it a nice one to pack for summer family holidays.
You'll need to regularly reapply Theye, especially after sweating or swimming, as it fades faster than a DEET-based spray, but it does have a fresh summery scent that we found made it pleasant to use, and there's no alcohol in the formula, so it won't dry out skin.
This is another natural repellent that claims to be effective in malarial zones, but we would recommend using a stronger repellent such as LifeSystems or Jungle Formula on tropical trips. A cream version and repellent-infused wet wipes are also available.
Read our full Theye Natural insect repellent review
The best insect repellent for groups
Best spray-free repellent
Specifications
Package:
Contains 1 repeller, 3 repellent mats, 1 fuel cartridge
Lasting power:
Covers a 15-foot area for 12 hours
Active ingredient:
D-cis/trans allethrin
Reasons to buy
+
Repels mosquitos for everyone in an area up to 15 feet
+
Convenient
Reasons to avoid
-
Can't be used close to exposed food
-
Toxic to some animals
An excellent option for people, families and small groups who don't want to cover themselves in oils or sprays. Thermacells MR 300 contains a fuel canister and repellent soaked pad. Hit 'on' and 'start', and a small flame inside the repeller heats the repellent to keep mosquitoes away within a 15-foot radius.
The latest version has quiet ignition, a re-engineered grill and switch, improved ergonomics, and a sturdy waist clip, so active people can have it on hand wherever you stop. The MR300 uses a scent-free repellent called D-cis/trans allethrin, a synthetic copy of a natural repellent found in chrysanthemum plants. The EPA has approved both allethrin and the Thermacell device itself as a safe and effective means of repelling mosquitoes with minimal environmental impact. But don't use it near exposed food, avoid inhaling its vapor directly. And it's toxic to bees, cats, and fish, so avoid exposing those creatures to Thermacell vapors.
Insect repellent comparison table
Swipe to scroll horizontally
Best insect repellent comparison table

| | | | |
| --- | --- | --- | --- |
| Insect repellent | Active ingredient | Lasting power | Size |
| Smidge That Midge | Picaridin | 8 hours | 75ml |
| Proven Insect Repellent Lotion | Picaridin (20%) | 12–14 hours | 177ml / 6oz |
| Ben's Wipes | 30% DEET | 8 hours | 12 wipes |
| Pyramid Trek 50 | DEET | 6 hours | 100ml |
| Life Systems Expedition Max DEET | DEET | 8 hours | 100ml |
| Jungle Formula Dry Protect Pump Spray | DEET | 9-12 hours | 90ml |
| Lemon Eucalyptus Repel | 30% Lemon Eucalyptus oil | 6 hours | 118ml / 4 oz |
| Incognito | Citrepel | 6 hours | 100ml |
| Theye Natural | Citrepel | 6 hours | 75ml |
| Thermacell MR 300 | D-cis/trans allethrin | Covers a 15-foot area for 12 hours | N/A |
How to choose the best insect repellent
The threat posed by insects and how to mitigate
There are few things more irritating than being mobbed by midges or hearing the high-pitched whine of a mosquito around your ears when you're settling down to a campfire-cooked meal or trying to get to sleep in your tent – that realisation that you're about to get munched is awful.
On a more serious note, depending on where your hiking, an insect's bite can carry some nasty diseases, such as malaria from mosquitos or lyme disease from ticks. Knowing how to avoid bites and stings in the first place is half the battle and repellent is just one factor in this. If you're hiking in certain regions, it's useful to not only know how to avoid tick bites, but also what do if you find one of these blood-sucking hitchhikers already attached.
The best insect repellents go a long way towards protecting you and it's clear that decent insect repellent should be on every camping checklist. But still, you don't really want to be spraying yourself with strong chemicals left, right and centre, without knowing for sure that they're not going to take your skin off. So, where to start when selecting an insect repellent?
What ingredients should I look out for?
A number of active ingredients are used in the best insect repellents. Some are chemical, like Diethyltoluamide or DEET, as it's better known. DEET, a chemical solvent that's considered the most effective repellent available, is safe when used as prescribed, but is very strong in concentrated form. With this in mind, it's important to read instructions carefully. If you're using DEET, 30% is commonly considered the ideal concentration – it's the minimum percentage recommended to guard against mosquito and tick-transmitted diseases. Using a higher concentration increases your chemical exposure without notably increasing insect the protection you get.
Permethrin and Picaridin are synthetic pesticides that repel mosquitoes, deer ticks, and biting flies. Natural repellents, including lemon eucalyptus, a scented oil derived from a tree native to Australia the Eucalyptus Citriodora, can be just as effective.
DEET or no DEET?
You can divide insect repellents into two broad categories – those with DEET, and those without. DEET (or to give it its more tongue-twisting name, diethyl-meta-toluamide), is an active ingredient that is highly effective against insect bites, working by creating an impermeable barrier on the skin that stops insects getting through. It has been around since the 1940s, and was originally developed for the US Military, but has been available to the public since 1957.
The downside to this strong repellence is that a high concentration of DEET can cause skin irritation and is considered unsafe for use by children and pregnant women – DEET can even be known to melt plastic if it comes into contact with it. A higher concentration of DEET can also melt or damage camping gear and fabrics like Lycra. Repellents containing a varying dosage of DEET (from as low as 5% to up to 98%) are available, although repellents with more than 50% DEET are banned for sale in the EU.
In the USA, repellents with more than 35% DEET aren't recommended for use on children. We advise using DEET only on adults, and primarily when avoiding mosquito bites is imperative, such as when travelling in countries where malaria and other insect-borne diseases are present.
DEET-free alternatives
The good news is, if you want to go DEET-free, there are plenty of hardworking alternatives on the market. The most effective active ingredient for sale as a viable alternative to DEET is Picaridin (also marketed as Icaridin and Saltidin), which isn't known to cause any skin irritation. It may not be quite as effective as DEET, but it still works at protecting from bites – and isn't known to have the side effects of DEET.
If you prefer an all-natural spray, look for one containing citronella or oil of lemon eucalyptus (also known as Citriodiol), naturally-occuring plant ingredients that dissuade biting insects by masking the smell of skin with their own strong citrus scent.
Note that natural repellents are never as effective as stronger ones, and evaporate faster, but are ideal for mild climates or for use on children or people with sensitive skin.
Type of application
Repellents come in all shapes and sizes, so you're likely to find one that suits you. We usually recommend spray bottles, especially those that still work when sprayed upside down, as they give full, even coverage, allow you to reapply on the go and are usually clear, so they can be applied to clothes as well as skin. If you prefer a cream based repellent, many brands also come in lotion form.
Other options include wet wipes impregnated with repellent and solid sticks of repellent, both of which are great for applying to children who dislike sprays. We don't recommend using a formula that claims to offer sunscreen and repellent in one, as sunscreen usually needs reapplying far more often than repellent.
As a rule of thumb, you should apply a repellent containing DEET or Picaridin once or twice a day or after you swim or sweat heavily. Reapply natural repellents every two hours.
All the latest inspiration, tips and guides to help you plan your next Advnture!
An award-winning travel and outdoors journalist, presenter and blogger, Sian regularly writes for The Independent, Evening Standard, BBC Countryfile, Coast, Outdoor Enthusiast and Sunday Times Travel. Life as a hiking, camping, wild-swimming adventure-writer has taken her around the world, exploring Bolivian jungles, kayaking in Greenland, diving with turtles in Australia, climbing mountains in Africa and, in Thailand, learning the hard way that peeing on a jellyfish sting doesn't help. Her blog, thegirloutdoors.co.uk, champions accessible adventures.