Fishing tackle shop tries new 'old-school' move to boost interest
One of England's oldest angling traders is coming up with 'old-school' initiatives to attract customers.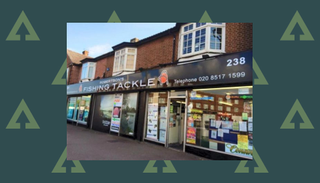 (Image credit: Angler's Mail)
Welcome to Advnture, the new home of AnglersMail.co.uk
The long-established fishing tackle shop Robertson's, in Dagenham, Essex, is introducing several schemes to start the new decade. It hopes to attract new customers and retain existing ones.
The fishing tackle shop has been going since 1937, and like many others is trying to stay afloat in the difficult retail market.
Robertson's co-owner Sam Dear explained: "We decided it would be beneficial to stay open until 8pm on a Wednesday, and provide tea and biscuits, allowing anglers to sit and chat about the sport.
"For newer anglers we will demonstrate things such as rig tying and proper bait preparation and presentation.
"The late opening also gives a chance for working anglers who may not get home from work till after 6pm to pop in and pick up something that they might need for their weekend's fishing trip."
Fishing tackle shop issues
Sam continued: "Frankly, interest in angling is declining, and sadly we get only a handful of youngsters coming into the shop.
"The Xbox has won out, as parents are worried about children going out fishing on their own, and they themselves, with all the modern work pressures, don't have time to take them.
"Being well established means nothing in the age of the internet, and businesses can't rest on their laurels and stand still.
"There are three other tackle shops within a three-mile radius of our premises, so it is vital to provide the best possible service we can, especially with the competition from internet suppliers.
"But it is actually less about the competition than trying to encourage people into the sport, which we all should be doing.
"We are also introducing extended opening hours in the summer, having a loyalty card, and considering a free home delivery service.
"I am aware of the new AIR group that has been set up for independent tackle retailers, and believe it is a good initiative that we would be interested in joining – something has to change," Sam concluded.
According to recent research, tackle shops have been closing at just over one a week in the past year.
The last survey by the Angling Trades Association showed that from 2011 to 2016 the number of shops had declined from 2,472 to 2,300, and the closure rate has accelerated since. Their next survey is due in 2021.
All the latest inspiration, tips and guides to help you plan your next Advnture!
Running from 1964 until 2020, Angler's Mail was the UK's leading weekly magazine devoted to coarse fishing, telling readers everything they needed to know about which fish to catch, where to catch them, and what kit they needed to do it. Now, loads of the magazine's expert advice can be found on Advnture.com, as a helpful resource for angling newcomers and experts alike.