Kevin Nash calls for 'new thinking' to turn around fortunes of UK fishing
Angling legend Kevin Nash has expressed his horror at a lack of new blood coming into angling.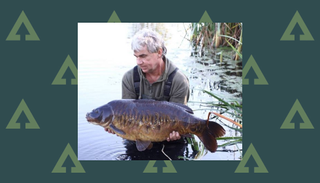 (Image credit: Angler's Mail)
Welcome to Advnture, the new home of AnglersMail.co.uk
The Angling Trades Association held a mini conference, entitled Keep Britain Fishing, in the West Midlands.
Carp tackle, bait and fisheries pioneer Kevin Nash attended the day after he rejoined the ATA this year.
He did so following the change of ATA hierarchy, including experienced John Loftus becoming chairman/chief executive, and former Angling Trust chairman Mike Heylin as vice chair.
Kevin said: "Well, at least it was a start, and it was pleasantly surprising to see so many there, although there were a few dinosaurs in the room.
"What the industry needs is new blood, greater vitality and new thinking. I'm not 100 per cent sure that the ATA is the best organisation to lead on this, but new chief exec John Loftus has a lot of experience in the industry and is clearly trying to galvanise things – for a start he has made history by getting me to join.
"Angling and the trade face two big threats – declining participation and possible barring altogether.
"I was shocked to find recently that one club I was a member of when young no longer has a junior section, and some 50 per cent of its sharply declining membership are over 70.
"A quick survey of other clubs showed seven out of ten no longer have junior sections."
Kevin Nash on threats to fishing
Kevin continued: "A warning shot across the bows came this summer when an animal welfare group, through crowd-funding, managed to get the funds to persuade the courts to ban the culling of nuisance bird species.
"If we aren't careful, in 20 years time fishing itself might be impossible, with the anti-hunting and animal rights agenda!
"What we need is more funding, and the trade could contribute to this by companies accepting a levy on their profits to go towards schemes that promote the sport and encourage participation, as well as defend it from possible threats," added the Essex-based big carp angler.
Other views on moves to boost angling's future
Like Kevin Nash, John Ellis, fisheries manager at the Canal & River Trust, was also present at the ATA's event.
John said: "I felt very optimistic after the meeting, with the trade realising that they have to work together to raise participation levels.
"To get that many together, albeit with differing ideas, is a huge step forward."
Clive Copeland, head of participation at the Angling Trust, added: "It was highly constructive and a positive first step.
"The Trust is very keen to forge stronger links with the trade, and I will be attending their AGM in September.
"I met with John Loftus the next day, when we both attended the first meeting of the board set up to implement the new National Angling Strategy.
"This was a first meeting, and was chaired by Tom Sherwood of the Environment Agency, and we agreed our terms of reference."
All the latest inspiration, tips and guides to help you plan your next Advnture!
Running from 1964 until 2020, Angler's Mail was the UK's leading weekly magazine devoted to coarse fishing, telling readers everything they needed to know about which fish to catch, where to catch them, and what kit they needed to do it. Now, loads of the magazine's expert advice can be found on Advnture.com, as a helpful resource for angling newcomers and experts alike.