Fishing bait manufacturing giants quit UK
Two of the biggest international players in the fishing bait world have pulled out of the United Kingdom.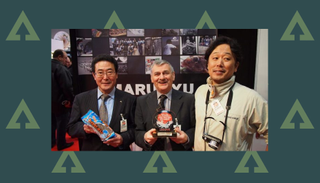 (Image credit: Angler's Mail)
Welcome to Advnture, the new home of AnglersMail.co.uk (opens in new tab)
Japanese bait manufacturer Marukyu has withdrawn its operations within the UK.
They've blamed a mixture of factors, notably poor trading conditions, uncertainty caused by Brexit and turmoil within the angling trade.
Widely regarded as one the world's biggest supplier of bait, Marukyu, under then-chairman John Loftus, entered the UK in 2010.
In 2015, they bought Chapel Baits to secure a manufacturing facility to increase supply to UK and European markets.
Marukyu supply across the World from Brazil to Bulgaria and the USA to Ukraine.
However, the company announced on its website that it was pulling out of the UK.
National sales and marketing manager Howard Kaye wrote: "It is with deep regret that we announce that the company is withdrawing its operation in the UK with immediate effect.
"Marukyu, which specialises in the production of quality groundbait, additives and other baits for the coarse fishing market, has not taken this decision lightly.
"Poor trading conditions, the uncertainty surrounding Brexit and turmoil within the UK angling trade are all contributory factors.
"We have enjoyed great success in the UK since we launched in 2010, supplying top quality and environmentally friendly baits to anglers.
"We would like to thank everyone for their support over the last eight years, including our pro staff team, retailers and loyal customers."
Last December, the company had a problem with production at its Boston, Lincolnshire, manufacturing base. The Health And Safety Executive served an enforcement notice due to breaches in requirements on some equipment. It is not clear whether these problems played any part in the company's closure decision.
Roy Marlow said: "I'm sorry to see the company close after John Loftus, myself and my son Nick worked so hard to build it up over a number of years.
"We left in March 2016 after they put the Japanese owner's son in charge and it seems to have been downhill all the way since."
And former Marukyu boss John Loftus commented: "It is a great shame to see the company shut down here as it has some great products.
"I doubt whether Brexit had very much to do with it though – everything seems to be being blamed on that at the moment," added widely respected John, who also helped make Shimano tackle a success in the UK.
Sketting to follow Marukyu out of UK
Also withdrawing from the UK in April, with the loss of 100 jobs, is Norwegian aqua feed manufacturers Skretting. They supply pellets to both commercial fish farming and the angling trade.
The company quote over capacity and subsequent low prices in the industry as the main factor, with a new plant opening in Scotland leading to 50 per cent more supply than demand.
Some 50 jobs will go from their main manufacturing base in Invergorden, Scotland. A further 50 jobs will go, spread between another manufacturing plant in Preston, Lancashire, a storage warehouse in Shetland, and their head office in Norwich, Norfolk.
Running from 1964 until 2020, Angler's Mail was the UK's leading weekly magazine devoted to coarse fishing, telling readers everything they needed to know about which fish to catch, where to catch them, and what kit they needed to do it. Now, loads of the magazine's expert advice can be found on Advnture.com, as a helpful resource for angling newcomers and experts alike.
All the latest inspiration, tips and guides to help you plan your next Advnture!
Thank you for signing up to Advnture. You will receive a verification email shortly.
There was a problem. Please refresh the page and try again.