Record barbel river restoration gathers momentum
The Environment Agency has completed ten years of barbel conservation work to restore the Great Ouse.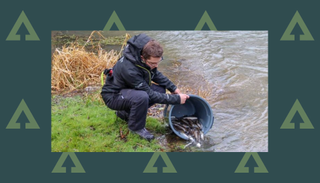 (Image credit: Angler's Mail)
Welcome to Advnture, the new home of AnglersMail.co.uk
The record barbel river benefited from 342 of the biggest barbel the EA have ever produced.
The Great Ouse became the record barbel river in the 1990s and early 2000s with a string of big doubles.
Several fish of record weight were caught, most famously the 21 lb 1 oz giant to Grahame King, a catch which is still No.1 on the official BRFC record list.
But otter predation and poor spawning has meant barbel fishing has seriously declined on the record barbel river.
Record barbel river revival efforts
An EA spokesperson said: "We have just released our final winter stocking, the biggest barbel that Calverton has ever produced, well over 30 cm in length and approaching 3 lb (pictured below).
"In total, we stocked 251 fish, to Harrold Country Park in Bedfordshire and 91 into the nearby River Ivel at Biggleswade Mill."
The EA spokesman revealed: "At both locations where we have been working extensively over the last ten years to conserve the barbel populations, and restore river habitats to help ensure sustainable fish populations.
"Our recent PhD studies have shown that barbel numbers are being impacted most heavily by poor spawning and poor fry survival, which in effect means the populations are struggling to support themselves.
"We are doing a lot of work to turn that around though, improving spawning habitat, building fry refuge areas, creating fish passage and, of course, stocking.
"These fish have been dye-marked with a safe blue agent, and we want anglers to send us pictures of any captures."
"We have also introduced 8,000 chub at several locations around Buckingham on the upper Ouse as part of efforts there to help the higher river recover from a large pollution in June 2018.
"These were some of the biggest chub we've ever stocked, from 14-20 cm.
"These fish will form part of the recovery plan to help restore 25 km of the river after it was affected.
"We have further fish ordered for the next three years; roach, dace and more chub, with the next batch arriving summer 2019."
All the latest inspiration, tips and guides to help you plan your next Advnture!
Running from 1964 until 2020, Angler's Mail was the UK's leading weekly magazine devoted to coarse fishing, telling readers everything they needed to know about which fish to catch, where to catch them, and what kit they needed to do it. Now, loads of the magazine's expert advice can be found on Advnture.com, as a helpful resource for angling newcomers and experts alike.