Walthamstow Reservoir hit by sleepy koi disease
The cause of the major fish kill at London's renowned complex has been revealed as Carp Edema Virus.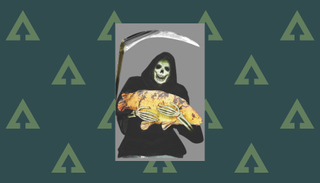 (Image credit: Angler's Mail)
Welcome to Advnture, the new home of AnglersMail.co.uk
Walthamstow saw 600 prime carp die, mostly on day ticket No.1 Reservoir, and many locals feared it could have been the far-worse Koi Herpes Virus.
The complex, run by Thames Water, has just reopened to fishing after a closure to anglers for over a month.
It's not known how catches will be affected across the site. Walthamstow No.1 will undergo restocking to get it back to its best.
Will Barnard, fisheries manager for Thames Water, explained: "Initial reports back from the Centre for Environment, Fisheries and Aquaculture Science found Carp Edema Virus present in samples of dead fish.
"CEV, commonly known in the ornamental pet carp trade as Koi Sleepy Disease, is still being researched throughout Europe and CEFAS will carry out additional tests on the Walthamstow fish in order to aid further research."
A CEFAS a spokesman said: "Infections with CEV, a pox virus, have been known from Japanese koi populations since 1974.
"The characteristic clinical sign associated with the infection is a lethargic behaviour and therefore the disease is called 'koi sleepy disease'.
"Mortality rates up to 80 per cent are described and diseased koi show swollen gills, sunken eyes and skin alterations.
"For a long period of time, disease outbreaks seemed to be restricted to Japan, but during recent years clinical outbreaks of Koi Sleepy Disease occurred also in the UK and in the Netherlands," he concluded.
All the latest inspiration, tips and guides to help you plan your next Advnture!