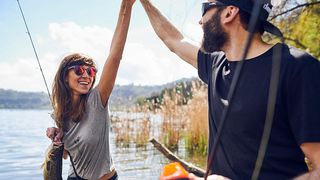 (Image credit: Amazon)
When it comes to the noble art of angling and the age-old battle between fish and line, you need every advantage you can get. Fish finders use sonar technology to reveal the location of the underwater inhabitants of your fishing spot so you know you're casting in the right place.
Deciding on a fish finder can be a baffling task with multiple models and confusing technical specifications. However, there are essentially three different kinds based around the type of sonar used - traditional, down scanning or side scanning. Traditional sonar works at a lower frequency which shows up the fish but is not as good at scanning the structure of the bottom. The higher frequency of down scanning will reveal much more detail of the bottom where you fish. Side scanning is also high frequency and will show up the bottom structure on either side of the boat. Fish finders with GPS make it easier to mark favorite fishing spots and keep an eye on your speed. Screen size is another important consideration with bigger screens giving you a more complete picture while limiting the portability of the device. Here are the fish finders we'd recommend:
Best overall
Portable with sensitive sonar
This highly portable fish finder has a sonar transducer and an LCD to detect and display water depth, fish location plus weeds, sand and rocks on the bottom. The depth range is from 3ft (1m) to 328ft (100m) with a 45° cone underwater. There are five levels of sensitivity and the batteries last 4-5 hours.
Best for wi-fi
Links to a free app
Wi-fi connectivity means this portable fish finder displays fish location, depth and size, water bottom contour and vegetation on your iOS or Android device on a free app. It casts up to 165 ft. and scans down to 165 ft. with a 40° sonar beam. There's also an automatic night fishing mode and six-hour battery life.
Best for Bluetooth
LED beacon and identifies fish
This wireless Bluetooth model has patented sonar fish identifying technology plus an LED beacon. It syncs with iOS and Android and gives accurate sonar readings down to a depth of 135'. Two snap swivel connections let you use it as a bobber or remoter fish finder.
Best with GPS
GPS and dedicated mapping software
The transducer in this model provides Garmin CHIRP sonar plus ClearVü scanning sonar. Built-in Garmin Quickdraw Contours mapping software will create and store maps with 1' contours for up to two million acres. The GPS lets you mark waypoints and view boat speed, and all the data is easy to see on the vivid display.
Bottom line
The best fish finders give you the technological advantage you need to ensure your fishing trips are full of catches. There's nothing worse than coming home empty handed or with little to show for hours - or days - spent fishing. The fish finder we would recommend for most people is the LUCKY Handheld Fish Finder. It's a great portable device that will help you locate fish from a kayak at depth and get a good idea of the underwater environment you're casting your line into.
If you want a fish finger with the added convenience of GPS, the Garmin Striker 4cv fits the bill. Its built-in mapping software is great for creating personalized fishing maps of your favorite spots.
All the latest inspiration, tips and guides to help you plan your next Advnture!
Launched in July 2020, Advnture is the ideal destination for anyone who loves the great outdoors. Whether you're into epic hikes through the wilderness, camping trips with the family, climbing with your friends, or looking for a trail running personal best, our team of experts will point you in the right direction, with top buying advice and in-depth guides to help you get the most of your time in the backcountry.