Best navigational apps for outdoor adventures in Britain and beyond
By Phoebe Smith
Our pick of the best navigational apps for plotting adventures, and for finding your way through the wilderness once you're out there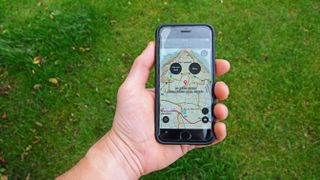 (Image credit: m\p)
There was a time before the best navigational apps when your only option for planning routes – whether walking or cycling – was with a good old-fashioned paper map and compass*. However, now there are hundreds of apps designed to help you plot your next outdoor escape.
*Disclaimer: Navigation apps are great but just remember a paper map and compass won't ever run out of batteries or stop working in bad weather. It's always advisable to take one as a backup, but you will know how to read and use both properly just in case.
Ordnance Survey
OS maps have been keeping outdoor explorers on track in the UK since 1791 – how they've gone digital
Find it: osmaps.ordnancesurvey.co.uk | Price: Free; £29.99 for 12-month premium subscription for Landranger and Explorer maps | Available for: iOS; Android
You can't think about maps of Britain without picturing the ubiquitous orange and pink folded gems that are the Ordnance Survey 1:25,000 (Explorer) and 1:50,000 (Landranger) charts, respectively.
Still the tool of choice for any orienteering training, it's good to see that OS have moved with the times and made an app available on your phone. But is it as good as its paper counterparts?
The free option – which includes basic mapping and sharing, creating and printing routes – is ok but not really detailed enough on the ground. However, once you pay the annual £30 subscription, the entire range is at your disposal – in all scales – meaning you can plot, share and follow a route, for walking, running and cycling anywhere in Britain and download it to your phone, then track your position once there.
It also unlocks a 3D Tabletop rendering to give you a good idea of the terrain you'll encounter as well as a nifty augmented reality option so when you stand on a summit you know exactly what you are looking at.
The only niggle is that you can't orientate your map (i.e. turn it to the direction you are facing) which would be useful, but the fact that it works in tandem with the desktop site makes it great for pre-trip planning as well as in the great outdoors.
Viewranger
Good functionality with the option to add OS and other mapping, including cartography for international destinations
Find it: viewranger.com | Price: Basic: free; annual subscription: £4.99; annual subscription with OS map bundle: £24.99 | Available for: iOS; Android
Much like OS, Viewranger also offer a free basic version which uses rudimentary maps that allow you to see your position, record your walk and plan routes, as well as save a limited number for use offline. But, again, it's not really much use for adventures until you start to spend some cash on the premium version(s).
Once you do the £5 version gets you a fair chunk of features including 3D flyovers of your routes, augmented reality to know what you're looking at, the ability to live track friends or be live tracked with BuddyBeacon, auto plot routes plus add photos that are tagged to your location.
The cartography lacks the superb quality of the OS maps, but you can add these on if you pay the £25 subscription. The interface is more clunky than the OS app for sure, but one additional feature that may appeal is that you can also purchase access to Harvey maps (which do special editions on long distance paths and National Trails) as well as overseas maps to 23 different countries.
Komoot
Worldwide route-planning capability for hikers and bikers
Find it: komoot.com | Price: Basic: Free; per map: £3.99; bundle: £29.99 | Available for: iOS; Android
If you are a cyclist or mountain biker, then chances are you will have heard of this app, which has been rapidly growing in popularity over the past year. It's better for pedallers than plodders, but the redeeming feature is that it can be the best friend of a lazy planner, as you can simply pop in the start/finish location for your chosen adventure and it will work out a suitable route for you – with options on paths, roads or trails.
The maps themselves are quite basic, especially if you're expecting OS level of detail, but for cycling they are adequate. The free version includes one downloadable offline map of a region, with the £3.99 charge applying to each additional map purchased.
Those looking to use it a lot should opt for the £29.99 one-off payment (a lifetime purchase, rather than annual subscription – a bargain), which – impressively – covers mapping worldwide. Navigationally it provides turn-by-turn directions. Of particular use is that they highlight routes suitable for road/mountain biking as well as cycle touring, and allow you to see what sections of the road are paved and which are dirt tracks.
But its popularity comes from the social media/community aspect, as users are encouraged to log in and highlight favoured spots and recommendations, which definitely adds value to the user experience.
Alltrails
Providing re-plotted routes for all trail users, with multi-functionality that remains available off-line once downloaded
Find it: alltrails.com | Price: Basic: free; pro membership: £29.99 | Available: iOS; Android
If blazing your own trail is not what you're about, and you'd sooner follow ready-made routes that are tried and tested, then a good option is Alltrails.
The free version allows you to search the database (there's over 50,000 routes featured – with more than 5,000 just in England alone) to find a whole host of hikes close to wherever you find yourself – including dog-, wheelchair- and stroller-friendly options, which all come with distance, elevation and timings as well as (handily) images and reviews, not to mention a function to be directed (via Google Maps) to the start of the walk, and a quick weather forecast too.
You can also write and submit your own route if you want to share your favourite strolls. The premium package gets you all this, but crucially downloads (so you can still use it when no phone signal is available) notifications that tell you when you've strayed from your route, a 'Lifeline' tracker (so your family and friends can see where you are) and a number of map overlays to show terrain.
It's great for when you find yourself in an area you are not familiar with, though no access to OS maps does limit its use in mountainous and wilder areas.
what3words
Discover exactly where you are on the planet, and get easy-to-remember 3-word addresses for everything from wild meeting points, cool camping spots or buried treasure…
Though certainly not an app to rely on to help you find your way across a mountain or through a jungle wilderness, what3words is still worth a mention.
Invented by a man who was sick of having delivery men unable to find his home in rural Hertfordshire, he devised a system whereby the whole world was divided into 3x3metre squares (that's 53 trillion total for those interested), with each one being uniquely identified by… you guessed it… three single words.
A gloriously simply idea – and one that can be used to pinpoint a very exact location with map-phobic friends who wouldn't know what a bearing or grid reference was.
It's now been adopted by many emergency services including air ambulance, police and fire and rescue, as well as guidebook publishers Lonely Planet (to identify landmarks), and even parts of Africa and Mongolia where – away from the cities - street names don't always exist. Mapping-wise it can be used to navigate but only via basic free software such as Google/Apple maps.
But it does add some creativity to meet-up points and is super useful when you travel – especially as its available in nearly 50 languages, and counting.
Footpath Route Planner
A brilliantly simple point-and-shoot plot planner
Find it: footpathapp.com | Price: Basic: free; single route: £1.99; annual subscription: £21.49 | Available for: iOS; Android
If you're keener to map your own routes with a swish of your finger – literally – then this is worth a download. Footpath will let you use your digit to draw where you'd like to get from and to, then snap the line to a map to show you available trails and roads to get you there.
Not only that, but it will also measure the distance and elevation you'll encounter, allow you to save routes for use later (up to five for free) and share them with friends too. You can also select what activity you'll be doing – from the standard walking, running and cycling, to SUP, kayaking, skiing and even sailing (though the snap to map function is less useful on the latter ones).
You need to pay the annual subscription to access additional handy features – including turn-by-turn navigation instructions, map overlays (including topographical versions with cycle lanes and avalanche slope shading for example, but no OS), the ability to save unlimited routes, record your stats and export and export GPX files into it – though there is an option to just pay £1.99 for a one-off more-detailed map called a Single Route Pass.
Go Jauntly
Excellent community-built app that aims to encourage more people to explore the outdoors
Find it: gojauntly.com | Price: Basic: free; annual premium subscription: £19.99 | Available for: iOS; Android
Similar to Alltrails, the Go Jauntly app offers free access to browse a whole host of walking routes stored in their catalogue, which have all been provided by other outdoor lovers who know the areas covered well.
A fairly new addition to the navigation app line-up, its focus is mainly on the UK and Sweden (with only specific areas covered in both) with a particular focus on London (its underlying ethos is to encourage city dwellers to go outdoors more). Its database is much smaller than Alltrails – there are currently around 800 trails on offer.
Though more basic (and of course not featuring the more technical maps found on the likes of Viewranger and OS) there is a lovely feelgood factor to what this app is trying to achieve, with useful information for fairly newbie hikers and bikers, including train stations, toilet stops and cycle docking stations, as well as photos, key interest points, directions and even a 'nature notes' feature (currently Apple only, but this will soon be on Android too), which you can use like a diary to record the little things that inspire you on your stroll such as birdsong, wildlife or flowers.
Premium subscribers pay to use the trails offline, get special access to premium curated routes and help fund the app for those who can't afford to pay – now doesn't that feel good…
Outdoors GPS
The self-proclaimed best navigational app for hikers and bikers who explore trails around the world
Find it: outdoorsgps.com | Price: Basic: free; Pro annual subscription: £30 | Available for: iOS; Android
Claiming to be the best complete mapping and GPS app you'll need to have adventures across the globe, is quite a bold statement.
Although this app does, indeed, offer maps covering the whole world, to get both the OS and equivalents (beyond Google Maps level) you will need to pay the £30 yearly subscription fee for a Pro account.
The good thing is that you can store any of the maps on your phone, which is useful if you have no internet connection, and does mean you can use it anywhere. Plus you can use the Route Builder function on the desktop version and import them into the app, which is useful for planning.
There's also an active community who share their own outdoor jaunts – from hikers to cyclists, runners and photographers – currently there are more than 200,000 free routes available, as well as worldwide maps in satellite, terrain and hybrid overlays.
All the latest inspiration, tips and guides to help you plan your next Advnture!
Thank you for signing up to Advnture. You will receive a verification email shortly.
There was a problem. Please refresh the page and try again.