Best navigational apps: for outdoor adventures wherever you roam
By Phoebe Smith , Alex Foxfield published
Our pick of the best navigational apps for inspiration, route planning, navigation and sharing your adventures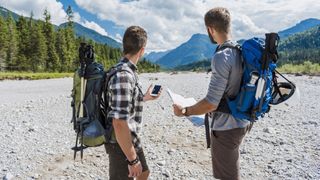 (Image credit: Getty)
There was a time before the best navigational apps when your only option for planning routes – whether walking or cycling – was with a good old-fashioned paper map and compass*. However, now there are hundreds of apps designed to help you plot your next outdoor escape.
*Disclaimer: The best navigation apps are great but just remember a paper map and compass won't ever run out of batteries or stop working in bad weather. It's always advisable to take one as a backup, but you will know how to read and use both properly just in case.
Of course, many of the best hiking apps do more than just help you plot your route. They give you information about the weather, the surfaces that will greet your hiking boots and the elevation profile of your chosen course. During your hike, they'll pinpoint your location and indicate nearby points of interest. Some can even provide voice navigation, which is admittedly overkill for a hike but perfect for a bikepacking expedition or a nav-stress-free trail run.
As the debate over map & compass vs GPS continues, we have to admit that the future of the best hiking apps is exciting. Developers are evolving their platforms all the time and, as competition becomes more and more fierce, great innovations emerge that make hiking even more fun and safer. One example of this is the emergence of live tracking, where you can share your real-time location with friends and family.
We've rounded up the best navigational apps out there. Some work all over the world, while others focus on a certain region or country.
The best navigational apps for the whole world
komoot
Worldwide route-planning capability for hikers and bikers
Find it: komoot.com | Price: Basic: Free; per map: £3.99; bundle: £29.99 | Available for: iOS; Android
Social media community aspect
Live tracking
Multiple sports catered for
Voice navigation
Hiking maps not as detailed as some
Route planning tool more functional on desktop than on app
If you are a cyclist or mountain biker, then chances are you will have heard of this app, which has been rapidly growing in popularity over the past year. It's better for pedallers than plodders, but the redeeming feature is that it can be the best friend of a lazy planner, as you can simply pop in the start/finish location for your chosen adventure and it will work out a suitable route for you – with options on paths, roads or trails.
The maps themselves are quite basic, especially if you're expecting OS level of detail, but for cycling they are adequate. The free version includes one downloadable offline map of a region, with the £3.99 charge applying to each additional map purchased.
Those looking to use it a lot should opt for the £29.99 one-off payment (a lifetime purchase, rather than annual subscription – a bargain), which – impressively – covers mapping worldwide. Navigationally it provides turn-by-turn directions. Of particular use is that they highlight routes suitable for road/mountain biking as well as cycle touring, and allow you to see what sections of the road are paved and which are dirt tracks.
But its popularity comes from the social media/community aspect, as users are encouraged to log in and highlight favoured spots and recommendations, which definitely adds value to the user experience.
Viewranger
Good functionality with the option to add OS and other mapping, including cartography for international destinations
Find it: viewranger.com | Price: Basic: free; annual subscription: £4.99; annual subscription with OS map bundle: £24.99 | Available for: iOS; Android
Augmented reality
Live tracking
Ability to add regional mapping
Ability to download maps for offline use
Very basic until you splash the cash
Viewranger offer a free basic version which uses rudimentary maps that allow you to see your position, record your walk and plan routes, as well as save a limited number for use offline. But, again, it's not really much use for adventures until you start to spend some cash on the premium version(s).
Once you do the £5 version gets you a fair chunk of features including 3D flyovers of your routes, augmented reality to know what you're looking at, the ability to live track friends or be live tracked with BuddyBeacon, auto plot routes plus add photos that are tagged to your location. The cartography lacks the quality of some until you pay the £25 subscription.
In 2019, Viewranger was bought by German company Outdooractive and the two platforms are currently in a transition period. At some point, as yet unclear, the ViewRanger app will cease, with many of its features passed on to the Outdooractive app.
Alltrails
Providing re-plotted routes for all trail users, with multi-functionality that remains available off-line once downloaded
Find it: alltrails.com | Price: Basic: free; pro membership: £29.99 | Available: iOS; Android
Tried and testing hiking routes
Walks suitable for wheelchair users and dog walkers
Works without signal
Mapping not as detailed as some
If blazing your own trail is not what you're about, and you'd sooner follow ready-made routes that are tried and tested, then a good option is Alltrails.
The free version allows you to search the database (there's over 50,000 routes featured) to find a whole host of hikes close to wherever you find yourself – including dog-, wheelchair- and stroller-friendly options, which all come with distance, elevation and timings as well as (handily) images and reviews, not to mention a function to be directed (via Google Maps) to the start of the walk, and a quick weather forecast too.
You can also write and submit your own route if you want to share your favourite strolls. The premium package gets you all this, but crucially downloads (so you can still use it when no phone signal is available) notifications that tell you when you've strayed from your route, a 'Lifeline' tracker (so your family and friends can see where you are) and a number of map overlays to show terrain.
It's great for when you find yourself in an area you are not familiar with, though the level of mapping detail means it isn't ideal for the mountains.
Footpath Route Planner
A brilliantly simple point-and-shoot plot planner
Find it: footpathapp.com | Price: Basic: free; single route: £1.99; annual subscription: £21.49 | Available for: iOS; Android
Intuitive route planning
Route sharing with friends
Elite version Boasts topo maps for the whole world
Works with multiple sports
Can only save 5 routes before spending money
If you're keener to map your own routes with a swish of your finger – literally – then this is worth a download. Footpath will let you use your digit to draw where you'd like to get from and to, then snap the line to a map to show you available trails and roads to get you there.
Not only that, but it will also measure the distance and elevation you'll encounter, allow you to save routes for use later (up to five for free) and share them with friends too. You can also select what activity you'll be doing – from the standard walking, running and cycling, to SUP, kayaking, skiing and even sailing (though the snap to map function is less useful on the latter ones).
You need to pay the annual subscription to access Footpath Elite's additional handy features – including turn-by-turn navigation instructions, map overlays (including topographical versions with cycle lanes and avalanche slope shading for example), the ability to save unlimited routes, record your stats and export and export GPX files into it – though there is an option to just pay £1.99 for a one-off more-detailed map called a Single Route Pass.
Outdoors GPS
The self-proclaimed best navigational app for hikers and bikers who explore trails around the world
Find it: outdoorsgps.com | Price: Basic: free; Pro annual subscription: £30 | Available for: iOS; Android
Can be used everywhere
Compatible with desktop route builder
Ready made routes created by community
£30 yearly subscription to access useful features for hikers
Claiming to be the best complete mapping and GPS app you'll need to have adventures across the globe, is quite a bold statement.
Although this app does, indeed, offer maps covering the whole world, to get the quality you'll need for hiking (beyond Google Maps level) you will need to pay the £30 yearly subscription fee for a Pro account.
The good thing is that you can store any of the maps on your phone, which is useful if you have no internet connection, and does mean you can use it anywhere. Plus you can use the Route Builder function on the desktop version and import them into the app, which is useful for planning.
There's also an active community who share their own outdoor jaunts – from hikers to cyclists, runners and photographers – currently there are more than 200,000 free routes available, as well as worldwide maps in satellite, terrain and hybrid overlays.
The best navigational apps for the US
The NPS App
Game changing, feature-heavy and free – all the national parks of the US at your fingertips
Find it: nps.gov/subjects/digital/nps-apps | Price: Free | Available for: iOS; Android
A wealth of features
Interactive maps
Offline maps
Every national park mapped
It's free
Only for users in US national parks
For those heading out to explore America's national parks, the NPS (National Park Service) App is an absolute no-brainer. Released in February 2021, it features a wealth of features that go way beyond navigation. There's information about local amenities, access to webcams, lodge reservations, suggested itineraries, restaurant bookings and even virtual postcards so that you can share your experiences with family and friends. Best of all, the app is totally free!
Of course, any hiking app worth its salt will be judged by its maps. The NPS App's are detailed, interactive and user friendly. Most importantly, they work offline too, which is great if you're concerned about signal in remote areas or data usage. Having all the national parks in one handy app is a real game changer. The National Park Service are adding features all the time so, while the app is already great, it will only get better.
The best navigational apps for the UK
Ordnance Survey
OS maps have been keeping outdoor explorers on track in the UK since 1791 – how they've gone digital
Find it: osmaps.ordnancesurvey.co.uk | Price: Free; £29.99 for 12-month premium subscription for Landranger and Explorer maps | Available for: iOS; Android
3D walk flythroughs
Augmented reality features
Unrivalled detail
Works in tandem with desktop
Only suitable for the UK
No community sharing element
You can't think about maps of Britain without picturing the ubiquitous orange and pink folded gems that are the Ordnance Survey 1:25,000 (Explorer) and 1:50,000 (Landranger) charts, respectively.
Still the tool of choice for any orienteering training, it's good to see that OS have moved with the times and made an app available on your phone. But is it as good as its paper counterparts?
The free option – which includes basic mapping and sharing, creating and printing routes – is ok but not really detailed enough on the ground. However, once you pay the annual £30 subscription, the entire range is at your disposal – in all scales – meaning you can plot, share and follow a route, for walking, running and cycling anywhere in Britain and download it to your phone, then track your position once there.
It also unlocks a 3D Tabletop rendering to give you a good idea of the terrain you'll encounter as well as a nifty augmented reality option so when you stand on a summit you know exactly what you are looking at.
The only niggle is that you can't orientate your map (i.e. turn it to the direction you are facing) which would be useful, but the fact that it works in tandem with the desktop site makes it great for pre-trip planning as well as in the great outdoors.
Go Jauntly
Excellent community-built app that aims to encourage more people to explore the outdoors
Find it: gojauntly.com | Price: Basic: free; annual premium subscription: £19.99 | Available for: iOS; Android
Ready-made walking routes
Great feel-good, community factor
Extremely useful for navigating London
Main focus is the UK and Sweden
Not really aimed at mountain going hikers
Not as many routes as competitors
Similar to Alltrails, the Go Jauntly app offers free access to browse a whole host of walking routes stored in their catalogue, which have all been provided by other outdoor lovers who know the areas covered well.
A fairly new addition to the navigation app line-up, its focus is mainly on the UK and Sweden (with only specific areas covered in both) with a particular focus on London (its underlying ethos is to encourage city dwellers to go outdoors more). Its database is much smaller than Alltrails – there are currently around 800 trails on offer.
Though more basic (and of course not featuring the more technical maps found on the likes of Viewranger and OS) there is a lovely feelgood factor to what this app is trying to achieve, with useful information for fairly newbie hikers and bikers, including train stations, toilet stops and cycle docking stations, as well as photos, key interest points, directions and even a 'nature notes' feature (currently Apple only, but this will soon be on Android too), which you can use like a diary to record the little things that inspire you on your stroll such as birdsong, wildlife or flowers.
Premium subscribers pay to use the trails offline, get special access to premium curated routes and help fund the app for those who can't afford to pay – now doesn't that feel good…
Best navigational apps for pinpointing your exact location
what3words
Discover exactly where you are on the planet, and get easy-to-remember 3-word addresses for everything from wild meeting points, cool camping spots or buried treasure…
Find it: what3words.com | Price: Free | Available for: iOS; Android
Accepted by emergency services
Pinpoints precise location
Not so much a navigation app as a location app
Though certainly not an app to rely on to help you find your way across a mountain or through a jungle wilderness, what3words is still worth a mention.
Invented by a man who was sick of having delivery men unable to find his home in rural Hertfordshire in the UK, he devised a system whereby the whole world was divided into 3x3metre squares (that's 53 trillion total for those interested), with each one being uniquely identified by… you guessed it… three single words.
A gloriously simply idea – and one that can be used to pinpoint a very exact location with map-phobic friends who wouldn't know what a bearing or grid reference was.
It's now been adopted by many emergency services including air ambulance, police and fire and rescue, as well as guidebook publishers Lonely Planet (to identify landmarks), and even parts of Africa and Mongolia where – away from the cities - street names don't always exist. Mapping-wise it can be used to navigate but only via basic free software such as Google/Apple maps.
But it does add some creativity to meet-up points and is super useful when you travel – especially as its available in nearly 50 languages, and counting.
How to choose the best navigational app
Hiking technology has moved on leaps and bounds, and navigational apps are no different. Your choice of the best hiking app will depend on what you want to get out of it. Are you looking to simply use it as a GPS tracker when you're out on a walk, or do you want the full experience of route planning, live tracking, sharing your routes and photos on social media and being part of the community that creates the platform? Are you going to use it simply for walking, or do you want an app with sport specific maps and things like voice navigation for cycling?
If you also enjoy a spot of camping, you might want to consider downloading one of the best camping apps, perfect for finding the ideal pitch.
Here, we break down some of the features to look for in the best navigational apps:
Regional expertise
Many of the most popular hiking apps offer the whole world at your fingertips. This obviously gives them global appeal and they're really useful for quick trips abroad. However, there are mountains that no one has yet climbed, places that are still unchartered, and so it should come as no surprise that not everywhere has been accurately mapped yet.
With this in mind, in terms of truly detailed mapping of the kind of mountainous regions we love to explore, no one has yet created a product that covers the whole world. When you compare the accuracy and painstakingly precise mapping of regional experts – such as the Ordnance Survey for the UK – to global digital mapping platforms, there's simply no comparison. So if you spend 99% of your time hiking in a specific region, see if there's a dedicated mapping platform for the area; the odds are it will be much more detailed.
Ready made routes
Many apps boast ready made, tried and tested routes that you can open up on your phone, grab your day pack and set out onto the trail. On some apps, these routes are accompanied by things like a written summary, a community rating and information about the strenuousness of the hike and the elevation stats. These are great features if you're not confident enough to plot your own route yet and you're looking for a recommended hike.
Route planning
Some of the best navigational apps have powerful route planning tools, meaning you can dream up your ideal hike, plot it using the platform and get an idea of things like how long it will take you and even how many calories you can expect to burn. Many work in tandem with a desktop version and you can usually download your planned routes as a GPX file, which will be compatible with other platforms and GPS devices.
Live tracking
You can alleviate the worry of your friends and family by allowing them to live track your movements. Of course, this means you will all have to be on the same app platform, but this is an excellent safety net that means you'll never go missing without a trace (as long as you have battery). This is also great if you're taking on a big peak-bagging challenge or a ultra run, as your friends can track your progress.
Social media sharing
'If it's not on Strava it didn't happen' has become something of a saying in the online running community. With apps like komoot providing a fun and easy to share your adventurous exploits on social media, the same could be said of hiking these days. After a walk, the best hiking apps allow you to share your photos, your thoughts, your personal highlights and create your own content for the platform, giving you a great sense of ownership. You can label other people's contributions as useful or not useful and get inspired by each others' antics.
Multi sports
These days, many apps offer sport specific maps and features. After all, what's useful for a speedy road cyclist is different to what's useful for someone who's loaded up like a mule on a thru-hiking expedition. Some platforms now offer voice navigation, which is tremendously useful for fast pursuits like cycling, mountain biking and trail running, where you don't want to be looking at a map every time you reach a junction.
Frequently asked questions about the best hiking apps
What are the best hiking apps for use across the planet?
komoot (available on iOS and Android)
Viewranger (available on iOS and Android)
AllTrails (available on iOS and Android)
Footpath Route Planner (available on iOS and Android)
Outdoors GPS (available on iOS and Android)
What is the best hiking app specifically designed for the US?
NPS (National Park Service) App
What is the best hiking app specifically designed for the UK?
Ordnance Survey
Should I use Google Maps for hiking?
No. While Google Maps does show some hiking trails, it is not recommended for use as a hiking app. It doesn't show the level of detail you need to navigate effectively, such as contour lines. Further to this, it may recommend routes that take you into dangerous technical terrain, which it made global news for after leading hikers up a hazardous route on Ben Nevis, Britain's highest mountain.
Do I need a GPS Device or can I just use my phone?
These days, a smart phone is a perfectly good navigational tool, as long as you are using a high-quality, dedicated hiking app. The ability to see your location on a topographical map in real time is a marvel that explorers of old would have been amazed by.
However, technology is fallible and batteries can die. We would always recommend also carrying a map and compass and knowing how to use them, as well as having a navigational app. It's also a good idea to bring a power pack so that you can charge your phone, should it be running out of juice.
Creator and host of the Wander Woman Podcast, extreme sleeper Phoebe Smith is an award-winning travel and adventure writer, photographer, broadcaster and author of 10 books about the outdoors. She's the first person to have slept at all the extreme points of mainland Britain, solo on consecutive nights. In 2021, Phoebe and Dwayne Fields will take a group of underprivileged young people to Antarctica through their #WeTwo Foundation. The strangest place she ever wakes up is in her own bed – as she's so rarely there…
All the latest inspiration, tips and guides to help you plan your next Advnture!
Thank you for signing up to Advnture. You will receive a verification email shortly.
There was a problem. Please refresh the page and try again.