Friday 5: interview with trail runner Claire Maxted
We have a quick chat with trail runner, YouTuber and recent author Claire Maxted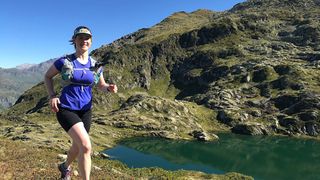 (Image credit: Claire Maxted/ Wild Ginger Running)
Claire Maxted is, first and foremost, a trail runner. She was the co-founder and formerly editor of UK's popular Trail Running magazine. Now she runs a YouTube channel called Wild Ginger Running that focusses on trail running and ultra running. Her first book, the Ultimate Trail Running Handbook, is on sale now. She's also a contributor to Advnture.
Our Friday 5 interviews are short and sweet: five quickfire questions about gear and the outdoors with interesting people. We're really pleased Claire managed to find time to have a chat with us. Not only has she just launched a book, but she's also just had a baby.
If you could only keep one item out of all your outdoor gear, which would you keep and why?
Sports bra. You can run with pretty much anything else, but if you've got big boobs you really need to have the right support.
What's your pet peeve in the outdoors/adventure space?
Dropping litter. Inexcusable. I pick it up as much as possible.
If you could be instantly transported to the start of any adventure, what would it be, where and why?
I'd love to be transported to the start of the 6 day UTMB (Ultra Trail Mont Blanc). I planned to do this in 2020 but, obviously, it was unfortunately cancelled.
We're sitting round a campfire. Tell us a funny or entertaining story about one of your adventures.
I was filming at Top of the Gorge Festival at Cheddar Gorge and running along behind some competitors in an uphill 50m climb event as part of an Omnium. They sprinted off, and I was following, until all of a sudden I tripped over a huge tussock of grass and face planted into the grassy field. Luckily it was a very soft landing. It made a good outtake for my yearly blooper reel though.
Either that or the time I was doing the Extreme Dolomiti 50k Ultra in Italy. There were all these snow patches that the men were gingerly tip toeing down, and I bombed past them all: bum sledging on my backside. At the end I wanted to exclaim that I now had a really cold bum so, in what I thought was the correct Italian, I kept saying "Caldo culo" to all the men around me. They looked at me really weirdly!
Later I learned caldo does not mean cold in Italian. It means hot (of course...?!) and culo is more of a vulgar word for bum, more like arse. So I had eagerly been informing all the men around me that I had a hot arse. That explained the weird looks at least. Though you'd have thought they would have just smiled and agreed with me, my arse isn't that bad is it?
Is there any gear that's on your shopping list at the moment?
A running buggy, having just had a baby. He's only two weeks old but I'm looking forward to the time when we can take him running.
To hear more from Claire and to find out more about her new book, visit wildgingerrunning.com (opens in new tab)
An adventure writer based on Dartmoor, England, Emily is an active member of Mountain Rescue and a summer Mountain Leader, but loves all things adventure – before her third birthday she had lived on three continents. Founder of Intrepid magazine, she works to help break stereotypes about women in the outdoors. Her expeditions have included walking all Dartmoor's 119 tors in a single two-week outing, cycling to Switzerland and back, and riding the Rhine from source to sea.
All the latest inspiration, tips and guides to help you plan your next Advnture!
Thank you for signing up to Advnture. You will receive a verification email shortly.
There was a problem. Please refresh the page and try again.