What is plogging? It's where running gives something back to the environment
By Pat Kinsella published
Nothing ruins a running experience like seeing a load of trash all over the trails – which is why some runners have taken the problem into their own hands by plogging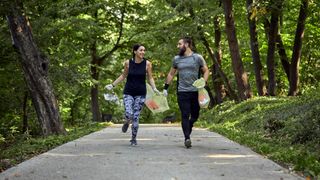 (Image credit: Getty)
One of the great things about trail running is that you very rarely have to stop if you don't want to. Plenty of things can slow you down for a second or two, from a fallen tree or a swollen stream to a kissing gate, but there are no car-clogged roads to wait by, kicking your heels until the green man gives you the nod, or a gap in the traffic lets you through.
Trail runners do tend to be less time orientated and more interested in the immersive experience than their road-running cousins, though, so many will pause mid path to take in a view across a valley, or look ahead towards a towering peak or rolling seascape they're about to run around.
And because of this close connection to the landscape, most of these runners have a visceral dislike of litter tainting the trails and wild terrain, and some will choose to stop or stoop to pick up plastic as they run, depositing it in the next rubbish bin or stashing it in a pocket or pack, taking it all the way home to recycle or dispose of it there.
When they do this, perhaps without even realising it, they are taking their first steps to becoming a plogga.
What on Earth is a plogga?
In short, plogging is the combination of running and collecting trash. Against all odds, this practice has become so popular, that it has actually evolved into a popular sub-culture of the sport of running, and the noun plogga is included in some modern English-language dictionaries.
People have been independently picking up litter during their outdoor escapades for decades, of course, but the idea of deliberately going out to clear rubbish while running was conceived in Sweden. The concept is credited to Erik Ahlström, who began organizing group plogs in Stockholm after moving to the capital from the pristine Swiss Alps in 2016, when he also set up the website Plogga (opens in new tab).
The name 'plogging' comes from the conflation of the Swedish verbs plocka upp (pick up) and jogga (jog), making the new verb plogga, which has been widely anglicised to become 'plogging'.
And the idea caught on. Big time. Plogging is now a recognised pursuit that takes place on streets, beaches, woodland paths, parks and hillsides from Stockholm to Sacramento, via Sunderland, Sydney and Singapore. It has become huge in India, where plastic pollution is a major problem. And just try punching #plogging into your social media platform of choice and see how many results you get.
Why would people plog?
Using the tagline 'Pick 'n Jog – become a hero', advocates and enthusiasts say it is good for both body and soul. The community element of the activity, and the benefit it brings to both beauty spots and urban areas, is overwhelmingly positive. The feelgood factor before and after taking part is tangible.
Plus, the pursuit of plogging does actually involve using different muscles, as you combine your normal running motion with stooping, stretching and squatting to collect pieces of litter from the ground.
It's not complicated – it simply combines the idea of going out for a run with picking up non-biodegradable items you find along the way – a little like a beach clean or a park litter-pick, but done at a faster pace, and on running routes. It doesn't need to ruin your run (to the contrary, it can be the catalyst to getting out more), and it can be a great way of meeting like-minded people.
There are organised plogging events the world over, and lots of high-profile runners and brands have championed the activity. Salomon jumped on the trash wagon (opens in new tab) early, working with plogging pioneer Erik Ahlström to promote the pursuit. And last year, Damian Hall and his support team collected litter along the route, while he was setting a Fastest Known Time along the Pennine Way.
How can I become a plogga?
The first step is very easy. You just get in the mindset of picking up pieces of litter when you see them while out running, and popping them in bin when you see one. Every little bit helps.
To take things a bit further, you can then make contact with like-minded individuals through social media. The plogga Facebook (opens in new tab) and Instagram (opens in new tab) pages have thousands of followers, and it's a good place to start if you're trying to find events and initiatives in you area, no matter where you live.
You can start to take the lead too, and become a plogging ambassador. There are several levels of this, which you can explore on the relevant plogga website page (opens in new tab). You can also make contact with community based litter-busting organisations that span all trail-based activities (from running and hiking to mountain biking and horse riding), such as Trashfree Trails (opens in new tab).
In the US associated initiatives include National Clean-up day organized by www.plogging.org (opens in new tab), 'Trashercize (opens in new tab)' in Tennessee and Plogging NYC (opens in new tab) in New York.
Top tips for new ploggas
You don't have to completely clean a beach, park or hillside of every piece of litter – stopping every few strides to collect something and lugging a big bag of trash around for your whole run. Simply picking up one or two pieces of plastic on each outing and disposing of them properly makes a real difference to the environment, and it won't ruin your run. If everyone did a little bit, we'd live in a much cleaner place.
But, if you are setting out to collect as much trash as you can, take a pre-used bag with you (an old dry bag is excellent for this), so you don't have to try and carry everything in your hands while you're running along – which can quickly become an uncomfortable and unmanageable juggle.
Try targeting trash on a certain stretch of your run – perhaps a park, patch of trees, a certain street or stretch of beachfront – and then just enjoy the rest of the run without thinking you have to constantly clean up everyone else's rubbish. You can alternate the bit you focus on.
Trash is a threat to public health and the environment, even when it's not discarded in a beauty spot. A piece of plastic dropped in the most unloviest of laneways or roads will eventually end up in a storm drain, and thereafter in a stream, river, lake, sea or ocean, clogging up weirs (causing floods), being ingested (sometimes fatally) by wildlife, collapsing into microfibres that end up in the food system (our food system) and generally polluting the ecosystem. So, don't only pick up rubbish from pretty places – grab it wherever you see it.
Wearing a pair of gloves can protect you against certain nasties, especially in these strange times, but don't talk yourself into picking things up if you're concerned about your own health and safety – for example a used syringe, dog mess or broken glass. You can alert local authorities to a certain areas if the problem is serious, once you get home.
Writer, editor and enthusiast of anything involving boots, bikes, boats, beers and bruises, Pat has spent 20 years pursuing adventure stories. En route he's canoed Canada's Yukon River, climbed Mont Blanc and Kilimanjaro, skied and mountain biked through the Norwegian Alps, run an ultra across the roof of Mauritius, and set short-lived records for trail-running Australia's highest peaks and New Zealand's Great Walks. He's authored walking guides to Devon (opens in new tab) and Dorset (opens in new tab), and once wrote a whole book about Toilets (opens in new tab) for Lonely Planet. Follow Pat's escapades here (opens in new tab).
All the latest inspiration, tips and guides to help you plan your next Advnture!
Thank you for signing up to Advnture. You will receive a verification email shortly.
There was a problem. Please refresh the page and try again.