Advertisement Feature
An everyday escape pod for adventurous families, the CUBE Kids Trailer CMPT is an all-in-one multi-terrain buggy and bike trailer
Whether you're hiking, biking or going for a run, the game-changing CUBE Kids Trailer CMPT allows you to take the toddlers along for the ride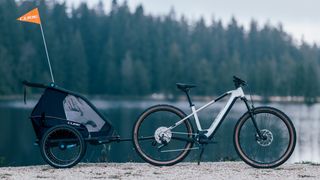 (Image credit: Cube)
Having young children doesn't mean parents have to put their involvement in outdoor pursuits on hold, at least not anymore. With the CUBE Kids Trailer CMPT, the whole family can enjoy all kinds of outdoor activities together. It's completely transformative – in more ways than one.
Offering secure seating for two children, the CUBE Kids Trailer CMPT is a super-versatile infant buggy that quickly transforms from a sophisticated all-purpose, practical pushchair into a highly featured and protective bike chariot or running/hiking rig, which lets little ones relax in safety and comfort, while parents pedal or push their way through any kind of landscape they feel like exploring.
From a highly maneuverable street-smart pusher, the CUBE Kids Trailer CMPT can be converted into a cycling trailer in a matter of seconds, by simply swapping the buggy wheel for the included tow bar. The easy-to-use attachment has been designed to work with a wide range of steeds, from road and commuter bicycles to mountain bikes.
There are several reflective features around the trailer, plus a flag and mounted rear light for safety during road rides, but with adjustable suspension, pneumatic tyres and safety belts, adventurous families are far from limited to urban outings.
You can tackle almost any sort of terrain with the CUBE Kids Trailer CMPT, no matter how rugged and bumpy, without your pint-sized passengers having to endure a rough ride. The trailer has a full-coverage insect net, so young ones can enjoy the liberating feel of the breeze rushing through their hair without the risk of getting whacked in the face or stung by flying insects.
And for trekkers and joggers, the buggy can also be transformed into a technical hiking and all-terrain running rig in just a few seconds with the CUBE Jogger Kit (sold separately). Featuring a larger front wheel with adjustable tracking and a 16-inch Schwalbe tyre, this sleek set-up enables you run or hike on pavements, unsealed tracks and technical trails.
Whether you're using the buggy as a standard street pusher or as a running rig, the height of the ergonomic handlebar is fully adjustable, and a rear window and access opening allows you to see and interact with your children while you're on the move.
On clear and bright bluebird days, the sun shade will shield children's sensitive skin and eyes from harmful UV rays. But it's also great to teach kids from a young age that inclement and wilder weather shouldn't be an impediment to enjoying the outdoors, and the comprehensive splash screen that comes with this trailer means you can still get out and about when conditions are damp and windy without the kids getting wet and cold.
The spacious travel compartment has two padded seats, with adjustable back support, safety belts and a helmet pocket, so your children will stay comfortable and protected for the duration of your hiking or biking adventure. With the generous suspension creating a gentle rocking sensation, youngsters will often enjoy a snug snooze en route to or from your destination.
The CUBE Kids Trailer CMPT is ideal for fun-filled days out with the little ones in tow, but it's also perfect for turning those everyday outings that need to be done, to the shops or the school gate, into enjoyable experiences. It allows fitness-focussed parents to get some more valuable steps in, or to incorporate an extra little outing on the bike, and makes small trips in the car completely avoidable – which is good for the planet as well your health.
And during family vacations, the CUBE Kids Trailer CMPT really comes into its own: as a buggy it enables you to stroll around the urban lanes, alleyways and market places of your chosen destination, while converted to a running rig or bike trailer, it means you can explore further afield, venturing to wilder places and escaping the crowds to discover quieter corners and secret scenic spots.
The CUBE Kids Trailer CMPT retails for £699.95 / €699.95 and is available now. Find a CUBE dealer near you, and start planning your next family adventure.
All the latest inspiration, tips and guides to help you plan your next Advnture!
Launched in July 2020, Advnture is the ideal destination for anyone who loves the great outdoors. Whether you're into epic hikes through the wilderness, camping trips with the family, climbing with your friends, or looking for a trail running personal best, our team of experts will point you in the right direction, with top buying advice and in-depth guides to help you get the most of your time in the backcountry.