Advertisement Feature
Seize the day with Garmin's exciting new CamperVan sat-nav
Spark your spontaneity with CamperVan, Garmin's new sat-nav for tourers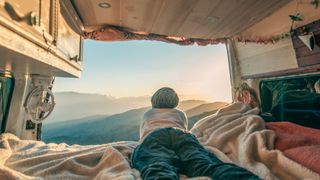 (Image credit: Garmin)
It's 5pm on Friday and there's a crackerjack forecast for the weekend. So do you: a) log into Google, dig out your guidebooks and spread maps across the kitchen table before spending the next few hours planning a comprehensive itinerary for a 48-hour break; or b) grab your toothbrush, snatch a bottle of wine from the fridge and fire up the ignition of your camper van?
Campers determined to seize the day rather than drown in detail have a new weapon in their armoury. The Garmin CamperVan is a catalyst for spontaneity, a rich encyclopaedia of priceless information tucked behind a clear, 6.95" sat-nav screen.
Pre-loaded with a comprehensive directory of campsites and stopovers specifically chosen for camper vans and motorhomes, this brand new Garmin holds rich information from specialist sources like ACSI, CamperContact, iOverlander and Trailer's Park. Scroll through site descriptions, photos, prices and opening hours before making your choice on the fly. And if you prefer a campsite to a wild camp, you can even prioritise creature comforts by setting the search filters to 'showers' or 'electric hook-up'.
Designed for adventurous travel in smaller vans, this sat-nav points out attractions along the way with Trendy Places™ and Local Spots™ content.
Fancy a bite to eat on the way? Tap into CamperVan's Tripadvisor® traveller ratings and top-rated Michelin® locations, including pictures, descriptions and more. Want to get off the beaten path? The Roadtrip Routes™ feature will guide you along more adventurous roads to see the villages, countryside and seascapes that other drivers miss. Alternatively, if you want to make a beeline for your pitch so you're in time to toast the end of the week with a celebratory sundowner drink, simply sync your CamperVan with the Garmin Drive™ app on your phone for live traffic and weather reports.
What's more, if your travelling companion is feeling a bit dozy after a tough week at work, they can relinquish their navigation duties and enjoy a bit of shut-eye, while you use Garmin's voice assistant to control the sat-nav. Garmin's famously accurate navigation know-how sits at the heart of its new CamperVan – there's even BirdsEye satellite imagery to give you the option of an aerial view of hidden paths to secret, remote locations.
And when the new day dawns, tap into Local Spots™ content shows local places to visit and exciting activities to try around your current location, giving travellers the ability to save recommendations for another day.
Or you could, of course, still be sat at the kitchen table, umming and ahhing your way through the weekend's plans. Seize the day with CamperVan or snooze the day – the choice is yours.

Make the most of your camper van trips with Garmin.



© 2021 TripAdvisor LLC. All rights reserved. Copyright © Michelin Travel Partner. Copyright © 2021 Cyclops UK Limited. All rights reserved. © 2021 ACSI Publishing B.V. All publishing rights reserved. NKC campercontact data: © 2021 Nederlandse Kampeerauto Club "N.K.C." iOverlander is a trademark of iOverlander, LLC.
All the latest inspiration, tips and guides to help you plan your next Advnture!
Thank you for signing up to Advnture. You will receive a verification email shortly.
There was a problem. Please refresh the page and try again.