Supported
My Favourite Hike: the Lairig Ghru in the Scottish Highlands
This classic mountain pass provides a rugged challenge amid stunning scenery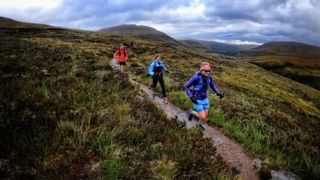 (Image credit: Graham Kelly)
The Lairig Ghru
In the latest of our My Favourite Hike series, Advnture contributor Fiona Russell celebrates Lairig Ghru, a pass that cuts a spectacular route through the mountains of the Cairngorms in the Scottish Highlands.
You can also check out Pat taking in the peaks of the Lake District's Mosedale Horseshoe in the Lake District, Alex's journey around the Bochlwyd Horseshoe in North Wales, and Julia's trip up Ben A'an in Scotland.
The route
Start: Braemar or Linn of Dee
Finish: Aviemore
Distance: 35.1km (21.8 miles)
Elevation gain: 520m
Difficulty level: Challenging
Duration: 8 hours 43 minutes
The Lairig Ghru is completed from Braemar, or Linn of Dee, to Aviemore. If you start from Linn of Dee car park (£3 parking fee) as I did, however, you miss an 8 km (5 mile) section of tarmac road.
The full route has a total ascent of 520m and a high point of around 840m. The path is relatively easy to follow, however there are long sections that are stoney and rocky.
It's a remote and committing route that requires good fitness levels if you want to complete in a day. Two days is also a good option because you can wild camp or take your chances with space at Corrour Bothy. (What is a Bothy? Check out our guide to the shelters spread throughout the Scottish Highlands.)
Why I love it
The Lairig Ghru is a classic long-distance hike or run – also the focus of an annual running race – and it has long been on my bucket list. Fitness acquired during the Covid pandemic lockdown and then a summer of reduced restrictions in 2020 gave me and a group of friends the opportunity for an adventure.
The pass has a great history, as many mountain passes in Scotland do, and it was once a popular route for drovers. Today, the A9 and A939 offer a more practical tarmac route for motorised traffic and it's walkers and runners who follow the mostly well-trodden path of the Lairig Ghru.
I chose to start at Linn of Dee and finish at Aviemore, which is a total of some 39km. This includes a 1km out-and-back detour to visit Corrour Bothy.
Almost from the outset, I felt my spirits soar as we journeyed through a wonderfully remote and wild landscape. At first, a wide track provides a fairly gentle climb through Glen Lui, on the Mar Estate, before the way narrows to a mountain path that winds and climbs below some of Scotland's tallest mountains, Cairn Toul, Angel's Peak, Braeriach, Cairngorm and Ben Macdui.
Although within a large glen, the Lairig Ghru is a high pass and open to variable weather. The rewards for a long day on our feet were the stunning vistas. From the high summits of the steep-sided rocky mountains to the panoramic views of the valleys and lochs below, the scenery is every-changing and dramatically picturesque.
We were treated to up close views of the gorgeous Pools of Dee, on the Mar Estate side of the summit of the pass, and hiked through fabulously atmospheric ancient woodland on the Rothiemurchus Estate, near Aviemore.
I thoroughly enjoyed the run-walk of around five to six hours. We did not push the pace and we walked the hills and ran where it was easy and safe to do so. We chatted, laughed and stopped to take in many, many superb views, all of which are now stored in my digital photograph archive to be looked at again and again.
Highlight: Corrour Bothy
The view as you journey south to north climbing the high hill pass of the Lairig Ghru is consistently stunning. Look up to see iconic mountains on either side. To the east are the peaks of Cairn Gorm and Ben Macdui, while to the west four summits rise one after the other through The Devil's Point, Cairn Toul, Sgòr an Lochain Uaine and Braeriach. Tucked below, seemingly the size of a brick of Lego, is Corrour Bothy, situated near a beautiful winding river with waters that flow towards Deeside.
My Favourite Hike Collection
To see other hikes in the series on komoot, click on the Collection below...
All the latest inspiration, tips and guides to help you plan your next Advnture!
Fiona Russell is a widely published adventure journalist and blogger, who is better known as Fiona Outdoors. She is based in Scotland and is an all-round outdoors enthusiast with favourite activities including trail running, mountain walking, mountain biking, road cycling, triathlon and skiing, both downhill and back country. Her target for 2021 is to finish the final nine summits in her first round of all 282 Munros, the Scottish mountains of more than 3,000ft high. Aside from being outdoors, Fiona's biggest aim is to inspire others to enjoy the great outdoors, especially through her writing. She is also rarely seen without a running skort! Find out more at Fiona Outdoors.