Supported
My Favourite Hike: Mosedale Horseshoe in the Lake District
The Mosedale Horseshoe takes in a fistful of Wainwrights, phenomenal views and a legendary pub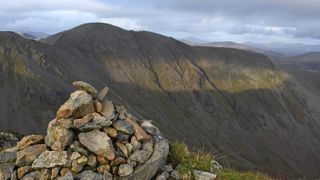 (Image credit: Pat Kinsella)
The Mosedale Horseshoe
In the third of our My Favourite Hike series (check out Julia's journey up Ben A'an in Scotland and Alex's celebration of the Bochlwyd Horseshoe in Snowdonia, North Wales), Advnture consulting editor Pat Kinsella sings the virtues of the Mosedale Horseshoe in England's Lake District.
The route
Start/Finish: Wasdale Head
Distance: ~20km/12 miles
Elevation gain: 860 metres (2,800 feet)
Difficulty level: Hard
Duration: 6 hours plus
This is a classic Lake District horseshoe route, which you can round off into a complete circuit by starting and finishing at Wasdale Head. It's a fairly challenging day out on pretty technical terrain in the fells north of Wast Water, which will bag you a fistful of Wainwrights if you opt to visit all the peaks on the way round. The difficulty level is hard, with a bit of navigational nous a distinct advantage, and it's best enjoyed in fair weather, when the views are exceptional. The round distance is just shy of 20km (12 miles), depending on your route choices. Allow 6 hours plus. Take lots of protective layers (a waterproof jacket is a must), provisions, map and compass, and a means of communication in case of injury, incidents or surprise weather.
Mosedale Horseshoe: why I love it
Part of the appeal of this route is the fact that you can do roughly the same semi-circuit around Mosedale multiple times, but vary the experience a little on each outing, scaling all of the point-scoring summits along the way if you want to, or staying beneath most of the peaks (you have to climb some of them) and just walking the main horseshoe.
The other massive thing this adventure has going for it is that you can choose to start – and, more importantly, finish – at one of Britain's best climbing- and hill walking-orientated pubs, the legendary Ritson's Bar in the Wasdale Head Inn. The unofficial dress code here includes muddy boots, wild wind-blown hair and outdoor clothes imbued with smells earned on the fells. You can explore their extensive range of Cumbrian-brewed beers, and then camp across the road for a few quid. The eponymous Ritson is a former landlord of the pub – a raconteur, wrestler, guide and farmer (allegedly), fondly remembered as the 'World's biggest liar' for the outrageous yarns he famously span to local and visiting clamberers and ramblers. He even started an annual international fib-spinning competition, a tradition that is still continued to this day, albeit in a different pub. Honest.
But it's no word of a lie to state that the Lake District landscape served up on this cracking Cumbrian canter is eye-wateringly wonderful all the way around. And, in sharp contrast to the nearby trails leading to Scafell Pike – which are busy most days (and some nights) outside of winter, with people rushing around doing the Three Peaks or just trying to climb up onto the rooftop of England – you will probably only bump into a handful of fellow fellwalkers during the entire day on this Mosedale meander.
And it is wise to give yourself a whole day to complete the circuit, because whatever route options you choose, they all involve a big battle against gravity in parts. There's plenty of elevation on this horseshoe, with some scrambling over rocks required, and the paths are not always clear. There are no waymarkers to hold your hand – this is proper fellwalking (come armed with a map and compass, and the knowledge of how to use them). The rewards are considerable, though, with stunning vistas across Cumbria's famous fells every bit as breathtaking as the ascents required to reach them.
And if peak pocketing is your bag, you can also tick off a wad of peaks in one outing. Starting on the shores of Wast Water – England's deepest lake – and walking up the trail that follows Over Beck, you can go via Yewbarrow (627m), Stirrup Crag (616m), Red Pike (826m), Scoat Fell (841m), Steeple (819m), and Pillar (892m), before coming back along Black Sail Pass to Wasdale Head and hitting the bar.
And even if you don't quite make it to the top of all those peaks (as I didn't on my last foray here, foregoing Yewbarrow and Stirrup Crag at the outset, skimming Scoat and neglecting Steeple altogether, because I knew I'd lose in a race against nightfall by the end if I attempted all the summits), just spin a colourful account about the epic conditions and wild dramas you encountered en route.
As Mr Ritson reminds us, there's no need for rigid accuracy to ruin a good tale from the trails over a post-adventure ale.
Mosedale Horseshoe highlight
The 360-degree view from 892-metre Pillar, the highest point of this multi Wainwright-bagging walk – looking north to High Crag, Hay Stacks, Fleetwith Pike, Honister Crag, and east across Black Sail Pass to Kirk Fell and Great Gable, not to mention west and south, taking in the peaks you have just scaled – is enough to steal any remaining breath you may have left in your lungs.
Other Highlights
Red Pike
Scoat Fell
Black Sail Pass
Wasdale Head
My Favourite Hikes Collection
To see the other hikes in the series on komoot, click on the Collection below...
All the latest inspiration, tips and guides to help you plan your next Advnture!
Author of Caving, Canyoning, Coasteering…, a recently released book about all kinds of outdoor adventures around Britain, Pat has spent 20 years pursuing stories involving boots, bikes, boats, beers and bruises. En route he's canoed Canada's Yukon River, climbed Mont Blanc and Kilimanjaro, skied and mountain biked through the Norwegian Alps, run an ultra across the roof of Mauritius, and set short-lived records for trail-running Australia's highest peaks and New Zealand's Great Walks. He's authored walking guides to Devon and Dorset, and once wrote a whole book about Toilets for Lonely Planet. Follow Pat's escapades on Strava here and instagram here.