Bothies: the remote shelters scattered across the remarkable mountain landscapes of the Scottish Highlands
Our guide to Scotland's mountain bothies: what they are, what to take with you and five of our favourites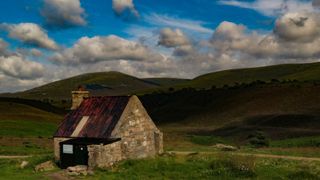 (Image credit: Kieran Cunningham)
Is there a finer sight than one of Scotland's legendary bothies when dark is falling and a chill is setting in after a long day in the Highlands? Situated in lonely glens, on the shores of silent lochs, beneath bristling crags, by secluded beaches and under towering mountains, they witness the ebbing tides, the violent blizzard, the scampering herds and the soaring golden eagle. But what are they?
What are bothies?
Bothies are basic, open shelters in the British countryside, free for all to use and a great alternative to your tent. Although there are some in England and Wales, most bothies are found in Scotland, particularly in the Highlands. The majority of these mountain huts are managed by the Mountain Bothies Association (MBA) and offer shelter for the weary adventurer, an objective for an intrepid night out in the wilderness, or even the ideal romantic hideaway.
The rising popularity of pursuits like peak-bagging and wild camping, coupled with advances in digital mapping, mean that the secret is out and it is now easier than ever before to plan and enjoy a stay in a bothy. However, do not expect home comforts. Bothies are mostly abandoned stone crofts, farmsteads or estate buildings. What they all have in common is that they provide a roof over your head and a place to sleep – beyond that, however, any additional facilities are a bonus.
Having been locked during the Covid pandemic for social distancing purposes by the Mountain Bothies Association, most bothies are now open once more. For updates, check the MBA website.
What you need to stay in a bothy
Sometimes you'll have a bothy completely to yourself, other times you'll arrive to find it already full to the brim. This being so, a good rule of thumb is to prepare exactly as you would for a wild camp, as this is what you'll be doing if there's no room at the inn. This means bringing your best sleeping bag, best sleeping pad, best camping stove, cooking utensils, biodegradable washing-up liquid, best headlamp, toiletries, toilet paper and – most importantly – your tent. As you'll be hiking to reach the bothy, you'll also need all the usual hiking essentials.
The main heat source in many bothies is a fireplace, so a lighter or a pack of matches is also essential, while candles are also useful for extra light. Hopefully, there will be a supply of logs when you arrive and good bothy etiquette requires you to replenish the stores before you leave. For more information on bothy etiquette, see the Bothy Code.
5 of the best bothies
1. Shenavall
In a region known as 'the Great Wilderness', Shenavall is one of the MBA's most iconic bothies. It is popular with peak baggers, as it provides access to An Teallach and the Fisherfield Six, some of Scotland's most remote Munros. The bothy was renovated in 2013-14 and features a fireplace, kitchen and sleeping spaces.
Shenavall's surroundings are immense. To the north rises the legendary An Teallach, considered by many as Britain's finest single mountain. The spectacular backdrop to the south west is Beinn Dearg Mòr, the 'Anvil' to An Teallach's 'Forge'. In the hinterland to the west is beautiful Loch na Sealga, a mesmerising place for a wild swim.
2. Corrour
In the dark heart of the Cairngorms, Corrour is a welcome sight for those who've spent a long day on some of Scotland's highest mountains. You will find the bothy at the southern end of the great Lairig Ghru, a dramatic defile that cuts straight through the sub-Arctic plateau above. Under the towering slabs of the Devil's Point, by the burgeoning River Dee, few shelters are as wonderfully located. It is a basic granite building comprising a single room with a fireplace and sleeping platform.
3. Suileag
This may only be a basic shelter, but what it lacks in home comforts, it makes up for with its surroundings. Suileag is the bothy for exploring Suilven, the idiosyncratic beauty that rises from Assynt's otherworldly knock-and-lochan landscape like a gigantic beached leviathan. The bothy is owned by the Assynt Foundation, an organisation that is doing sterling work at safeguarding this incredible region. Within its walls are two sleeping spaces, each with its own hearth.
4. New Camasunary
Of all Scotland's mountain ranges, none quicken the pulse quite like the the Black Cuillin on the Isle of Skye. Beneath the Cuillin, enjoying a serene spot on a beautiful, secluded bay is the New Camasunary bothy. It is an ideal base for ascents of the fantastic Blà Bheinn and for Sgùrr na Stri, which rewards with a gigantic view of the Cuillin Ridge.
This is a modern facility, replacing the original Camasunary Bothy, which was reclaimed for use by the landowner. Fortunately, he provided the funds for a replacement in 2014, paying a team of 59 Commando Squadron Royal Engineers to construct the new bothy. The building is well insulated and comprises two rooms: a kitchen/diner and a bunkroom that can sleep 16.
5. Dibidil
All bothies are bestowed with a flavour of adventure and wilderness. However, if you have to cross the sea to get there, you've really earned your bothy bagging credentials. On the sparsely populated, yet utterly spectacular Isle of Rum is Dibidil. Almost within hammer-throwing distance of the Viking-named peaks of Ainshval and Trollabhal and boasting sublime views across to Eigg and Muck, Dibidil's location takes some beating. The bothy consists of two main rooms and has an overall sleeping capacity of six.
All the latest inspiration, tips and guides to help you plan your next Advnture!
Alex is a freelance adventure writer and mountain leader with an insatiable passion for the mountains. A Cumbrian born and bred, his native English Lake District has a special place in his heart, though he is at least equally happy in North Wales, the Scottish Highlands or the European Alps. Through his hiking, mountaineering, climbing and trail running adventures, Alex aims to inspire others to get outdoors. He is currently President of the London Mountaineering Club, training to become a winter mountain leader, looking to finally finish bagging all the Wainwright fells of the Lake District and hoping to scale more Alpine 4000ers when circumstances allow. Find out more at www.alexfoxfield.com