Advertisement Feature
On Tour with komoot: discover the path to exciting new adventures with Tour Recommendations
With komoot's Tour Recommendations, the expert local knowledge of an active outdoors community is at your fingertips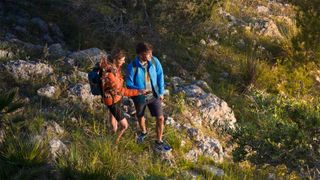 (Image credit: komoot)
Gazing at a map, tracing intriguing trails and potentially fascinating footpaths to sew together into a bespoke adventure, is great fun – and a good way to plan an outdoor escapade. Sometimes, however, it's quicker, easier and more sensible to soak up information and inspiration from people with intimate knowledge and vast experience of the wild places and green spaces you're planning to explore. The Tour Recommendations feature on komoot is where you can instantly unearth exactly this sort of treasure.
In its Discover feed, the route-planning app has a feature that will – with a quick click – reveal all sorts of suggested routes for hikers, bikers and runners, inspired by other walkers, cyclists and trail users. They come with highlights ranging from great view points to snug pubs and exceptional cafés.
Komoot will automatically zero in on recommended Tours near your current location, but you can extend the search radius or move it altogether if you're intending to go adventuring further afield. Users can select what activity they want to do, and the search results will be further refined around that choice. You can even filter Tours according to their duration and difficulty level.
Then, if you find a Tour that tickles your fancy, you can download it straight to your device and either follow it faithfully, or customise the route to take in some other points of interest that you want to explore. Once you start playing around with it, the Tour Recommendations feature is very easy to understand and use.
If you're new to Komoot use our Advnture voucher code to get an offline region map bundle for free. Head to www.komoot.com/g and enter the code ADVNTURE. Valid until December 31, 2021.
Scroll down to learn more...
Community
Although many of us hit the hills, forage in the forests and explore the moors to escape the madding crowds, outdoor culture is actually built around a sense of community, where shared experiences and top tips from the trails are hot currency.
And this isn't about swamping already popular areas with yet more people – indeed it's quite the opposite. With komoot's Tour Recommendations you can discover extra special places, well away from the honeypots, which are struggling under the pressure of large-scale visitation, particularly at the moment as we emerge from lockdown and people are descending on well-known destinations in large numbers.
For example, everyone knows Snowdon is a sensational summit to climb – but there are myriad other amazing peaks and intriguing trails to explore around Snowdonia National Park, which receive a fraction of the footfall and arguably serve up a far more special experience as a result. How can you seek them out? Easy – centre your search in the midst of the region and take a look at the Tours that pop up.
Hit and don't miss
Whether you're wandering or cycling somewhere new because you happen to be on holiday there anyway, or you're actively seeking out new places to explore based on the quality of the outdoor experiences they offer, the community built database that is komoot's Tour Recommendations feature is a rich resource.
And it's not just for people who can't be bothered to scope out their own routes. Because, even if you're an experienced map reader and regular walker, it's all too easy to visit a new place and completely miss a real highlight of the area, something unique to that spot that you could have enjoyed had you tapped into the knowledge of other outdoor types. By browsing Tours, you might learn about a hidden beach, local waterfall or wild-swimming spot that you can plan your next hike of bike ride around.
"I've been using the komoot app for two years now," says writer, blogger and outdoor adventurer Sian Lewis. "It's fantastic for finding new routes and trails. It's so easy to open the app and use the Discover tool to see what routes others have recommended near me. If I'm heading somewhere new, I always check for Tours recommended by komoot and save them to follow later. Komoot users also highlight their favourite spots along a route; highlights can be anything from an amazing view to a cosy pub.
"They're those things that make a walk special, and I'd probably miss them without the komoot community's input. Komoot has been so useful during the pandemic, when I've mostly been confined to local walks. Thanks to the komoot community I've discovered wonderful walking routes straight from my doorstep that I never knew existed. It has made a big difference to life during lockdown, but also given me a new appreciation of the area I live in, which will stay with me even when we've got a bit more of our freedom back."
In turn, Sian logs her own Tours, complete with highlights and comments about the route, for people to access when they visit an area she has previously explored. And there is an army of outdoor adventurers out there, all doing the same.
It's a roaming community, where people point others in the right direction for the sort of experience they're looking to enjoy. So, to bend the golden rock-and-roll rule completely, what happens on tour still stays on Tour – but it's also shared with everyone else.
All the latest inspiration, tips and guides to help you plan your next Advnture!