Supported
The best walks in Snowdonia: 8 hikes to take you from mighty Snowdon to iconic Tryfan and beyond
Our selection of the best walks in Snowdonia, a rugged and beautiful landscape boasting nine mountain ranges as well as lush green valleys, dramatic waterfalls and spectacular river gorges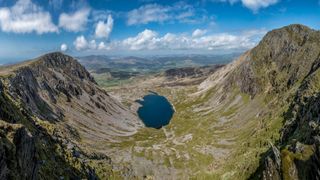 (Image credit: Getty)
Snowdonia National Park – or Eryri, to give the park its Welsh name – is a sprawling area that covers 823 square miles of beautiful North Wales. The best way to explore it all is undoubtedly on foot, and this selection the best walks in Snowdonia offers a range of spectacular hikes suitable for hardened hillwalkers and casual strollers alike. You'll visit cascading waterfalls, tumbling river gorges, narrow passes and lofty peaks – most famously Snowdon itself, which at 1,085 metres (3,560ft) is the highest mountain in England and Wales.
Of course, the best walks in Snowdonia have far more to offer than Snowdon alone. Get off the beaten track and you can still find peace and tranquillity in the hills and mountains, leaving you to enjoy glorious vistas and panoramic views in splendid solitude. But like all of the UK's national parks, this is also a living and working landscape. Today, tourism and recreation play a big part in the life of the park – meaning that adrenaline-seeking visitors can take on everything from the world's fastest zipline to the swells of an inland surf lagoon. But Snowdonia is also rich in history, culture and tradition, all ready for you to explore. You'll likely see this first-hand in the region's magnificent medieval castles, ancient archaeological sites and the scattered industrial ruins of the once mighty slate industry.
What can you expect from the best walks in Snowdonia? The terrain is notoriously steep, rocky and rugged – more so than in most other national parks – so be prepared for uneven ground and some lung-busting ascents. Wear sturdy footwear if you're tackling any of Snowdonia's summits. Take a good waterproof too, since the Welsh weather can also be wet, wild and windy. Even on a rainy day, however, the terrain has a certain majesty, as slate-strewn hillsides shift from dull grey to shimmering purple.
But North Wales shows its true splendour on clear, dry days, when intrepid hillwalkers are rewarded for their efforts with exhilarating views of undulating ridges, craggy summits and mysterious llyns (lakes and pools). You might even spot the odd mountain goat. It is the perfect backdrop for challenging and adventurous days out – and to help you make the most of your visit, here is our list of eight of the best walks in Snowdonia.
Advnture's 8 best walks in Snowdonia
1. Snowdon
Climb majestic Snowdon via a quieter route, avoiding the crowds found on the more popular paths.
Distance: 14.8km (9.2 miles)
Ascent: 1,080m (3,543ft)
Start/finish: Nant Gwynant
Snowdon is Wales' highest and best-known mountain. And unlike any other mountain in the UK, you don't actually have to climb it on foot to enjoy the summit views, thanks to the Snowdon Mountain Railway, which runs from Llanberis to the summit station at the top. While that means that it is often busy, there are lesser trod paths that make for a spectacular day of walking, without the crowds.
Our route starts by heading up the Watkin Path from Nant Gwynant. Your uphill efforts are soon rewarded with stunning views down the valley and as you climb you'll pass tumbling waterfalls on your right. On a clear day, you'll be able to enjoy the falls against the impressive backdrop of Snowdon. You'll reach a path junction, where you want to take the left path, climbing steeply up to Bwlch Cwm Llan. Take the path on the right to continue the ascent atop Clogwyn Du before reaching Bwlch Main, which takes you to the summit. To descent, retrace your steps slightly and take the Watkin Path down to Bwlch Ciliau, before heading right and winding your way back down to reach the famous Gladstone Rock. Just beyond this you'll join your original path and retrace your steps back down to Nant Gwynant.
2. Cnicht from Croesor
Small in stature but offering spectacular summit views, Cnicht has been dubbed the 'Welsh Matterhorn'.
Distance: 11.2km (7.0 miles)
Ascent: 560m (1,837ft)
Start/finish: Croesor
As you approach Cnicht ('the knight' in Welsh), it's easy to see how it acquired the nickname of the Welsh Matterhorn. Seen from certain angles, it shares the same classic 'jagged tooth' shape of the Alpine giant, a silhouette that renders it instantly attractive to aspiring summiteers. But if you manage to climb this petite peak on a clear day, the views from the top are nothing short of spectacular. The 360-degree panorama stretches as far as Snowdon and Cadair Idris, and out over the beautiful Dwyryd Estuary.

From the car park in Croesor, head up the hill past the old school. Continue through a gate to climb up through woodland, until you reach another gate on your right. Head through this and follow the path towards Cnicht. At the brow of a hill you will head right, and from here the way to the summit is obvious, straight up the ridge. Don't be fooled by the false summits on the way up, keep climbing and you'll eventually reach the true summit where you'll want to pause to take in the views. Rather than re-tracing your steps back down, you can carry on ahead, descending in the direct of Llyn Yr Adar. At a path junction, take the right hand path down towards Llyn Cwm-y-foel, skirting around the edge to reach the dam. From here, pick up a path that descends into the valley, heading along Cwm Croesor before returning to the village. Alternatively, you can carry on past Cwm Croesor to the Rhosydd quarry and follow the track west back to the village.
3. A Carneddau Round
An epic circular route that takes in three of the seven highest peaks in Snowdonia, exploring the windswept mountains of the Carneddau.
Distance: 20.4km (12.7 miles)
Ascent: 990m (3,248ft)
Start/finish: Llyn Ogwen
Even when the tourist season is in full swing and the Llanberis Path swarms with hordes of tourists heading up to the summit of Snowdon, the Carneddau range to the north tends to be much quieter. However, it is no less spectacular. In fact, the Carneddau are well known for their sweeping vistas. This route bags three summits including Pen-yr-Ole-Wen, Carnedd Dafydd and Carnedd Llewelyn. On a clear day, it offers up mega views back towards hulking Tryfan and the shattered tops of the Glyderau.
From the eastern end of Llyn Ogwen the route heads up the east ridge of Pen-yr-Ole-Wen to the summit. It is a stiff climb but once you reach the summit of Pen-yr-Ole-Wen you'll have completed the majority of ascent for the day, and now have a lofty ridge walk to enjoy. Continue to the summit of Carnedd Dafydd before passing the Ysgolion Duon and ascending to the highest point of the day at Carnedd Llewelyn. From here, you'll descend via Penywaun-wen ridge down to Ffynon Llugwy Reservoir before returning to the road.
4. Tryfan and the Glyderau
A challenging loop stacked with incredible landscape features, including the twin rock pillars of Adam and Eve on Tryfan's summit, the Glyderau's teetering cantilever stone, the shattered 'castle of the winds' and a descent through the Devil's Kitchen.
Distance: 10.6km (6.6 miles)
Ascent: 880m (2,887ft)
Start/finish: Llyn Ogwen
If you relish big mountain days with the chance to get your hands on rock then this is the route for you. Locals say you can't reach Tryfan's summit without using your hands, and that you never go up the same way twice. With plenty of opportunities to pick your way among boulders and crags, a scramble to the summit of this much-loved mountain always feels like a real adventure. The steep terrain also means you eat up the ascent super quickly. Tie that in with a loop that also bags Glyder Fach and Glyder Fawr, with their shattered rock formations and lunar-landscape summits, and you're guaranteed a mega mountain day.
Park at one of the car parks along the shore of Llyn Ogwen and depending on your skill level and how adventurous you are feeling, decide whether you want to climb Tryfan via its technical North Ridge, or the slightly less challenging Heather Terrace. At the summit you'll spot the stone pillars known as Adam and Eve and if you're feeling brave, take a leap between them. Descend to Bwlch Tryfan, before starting the climb up to Glyder Fach, passing the Cantilever Stone just before the summit. Head for the aptly named Castell-Y-Gwynt, which translates to castle of the wind, before summiting Glyder Fawr. You'll descend via the Devil's Kitchen to Llyn Idwal, before dropping back down to Llyn Ogwen.
5. Rhinog Fawr from Cwm Bychan
Rugged and wild, this exhilarating hike explores some of the most isolated and challenging terrain in the whole of Snowdonia.
Distance: 9.5km (5.9 miles)
Ascent: 600m (1,969ft)
Start/finish: Cwm Bychan
The Rhinogydd occupy an oft-neglected part of the Snowdonia national park that is ripe for discovery. These rocky, heather-clad hills offer a wilder and more isolated experience for walkers than the more popular Glyderau, Carneddau and the central Snowdon massif. The terrain is about as rugged as it gets in North Wales, so this is a hike for experienced hillwalkers in search of a challenging yomp.
From the basic campsite at Cwm Bychan where you can park, follow the sign for the Roman Steps. Climb through a pasture and woodland and follow a stream uphill through the Roman Steps, which was once an ancient packhorse route between Chester and Harlech. Climb up to Bwlch Tyddiad. Beyond this take a path to the right heading up to Llyn Du and skirt the lake edge before heading left to ascend the northwest flank of Rhinog Fawr. It is a hard climb, but rewarded by great views from the trig at the summit. Retrace your steps back to the start.
6. The Dyfi Ridge
A real hidden gem, this panoramic ridge walk in southern Snowdonia is far from the beaten track, but offers lofty views and the chance to spot RAF jets taking on the famous 'Mach loop'.
Distance: 12.5km (7.8 miles)
Ascent: 1,020m (3,346ft)
Start/finish: Dinas Mawddwy
East of the mighty Cadair Idris in southern Snowdonia lies a little known and rarely walked hidden gem of a ridge. The Dyfi Ridge stretches some 13 miles and takes in half a dozen peaks. Each high point is connected by a rocky crest offering panoramic views of the surrounding valleys, a stunning series of vistas that can be enjoyed in splendid isolation.
From Dinas Mawddwy you'll head through a forest, climbing up through a disused quarry, before contouring around the hillside of Foel Dinas to Bwlch Siglen. It is a steep climb up to Maesglase, but with plenty of distractions in the form of tumbling waterfalls and quite often RAF jets swooping down the valley and up into the skies on one of their frequent low-level test flights. Follow the ridge to Maen Du and on to Craig Portas, before turning right to head to Cribin Fawr. From here you get great views of the ridge you are about to walk up to Waun-oer, and beyond to Cadair Idris. From Waun-oer, carry on along the path and head towards Mynydd Ceiswyn, eventually crossing a ladder stile on the right and heading downhill until you eventually reach the A487.
7. The Nantlle Ridge
Arguably the most enjoyable ridge walk in Snowdonia, the snaking Nantlle Ridge offers spectacular vistas without the crowds, making for a truly memorable mountain day.
Distance: 13.8km (8.6 miles)
Ascent: 830m (2,723ft)
Start/finish: Rhyd Ddu
The Nantlle Ridge might not be as famous as Snowdon's Crib Goch, but this works in its favour, as it is far less likely to get snarled up with other adventure-seekers. It's also a ridge that can be walked rather than requiring scrambling skills, without the exposure that often unsettles novice hillwalkers. As an end-to-end route, it can be logistically tricky to walk in its entirety, as it means having to arrange transport from the finish point. However, a little prior planning is well worth the effort. Once you're up on the lofty, undulating, snaking ridge, we can guarantee you won't want to cut it short.
From Rhyd-Ddu you'll take a path across a field and cross the river before starting the hard ascent up Y Garn. From the summit descend to a col before scrambling up Mynydd Drws-y-Coed. You'll then enjoy a spectacular section of the ridge along a path to Trum y Ddysgl and Mynydd Tal-y-mignedd before dripping down to Bwlch Dros-bern. From here you climb up to Craig Cwm Silyn and head south west up and over Garnedd Goch, dropping down before turning towards Mynydd Graig Goch, which marks the end of the Nantlle Ridge. From here head down to Nebo.
8. Cadair Idris
The titan of southern Snowdonia, Cadair idris is a peak steeped in legend that offers serene views of the stunning Mawddach estuary, as well as the pristine glacial lake of Llyn Cau.
Distance: 9.8km (6.1 miles)
Ascent: 830m (2,723ft)
Start/finish: Rhyd Ddu
As legend has it, this mountain is named after a giant called Idris. Translated, Cadair Idris means 'chair of Idris' and as you climb its flanks, you can quite imagine a giant using it as his throne. There are a few different routes up and down Cadair and none will disappoint. At 893 metres (2,930ft), this is the highest mountain in southern Snowdonia, and it is undeniably a strenuous climb. But once on the summit, Penygadair, the views out as far as the Llŷn Peninsula and over the nearby hills are truly spectacular. You may even be tempted to take a nap in the stone shelter at the summit, but be warned: it is said that if you sleep on the mountain you'll wake as either a madman or a poet.
Follow the Minfordd path, climbing through woodland and the Nant Cadair Gorge, heading up the never ending steps, stopping to admire the tumbling water in the gorge. You'll skirt around the south and west sides of the glacial lake of Llyn Cau, climbing higher to reach Craig Cau. Cross a stile before starting the final ascent up to the summit, Penygadair. To descend, continue eastwards to bag another summit, Mynydd Moel. Make sure you glance back here to take in the impressive ridge you have just walked and views of Penygadair. From here, you'll start the descent to Moelfryn, before picking up the Minfordd path once more to return to the start.
All the latest inspiration, tips and guides to help you plan your next Advnture!
An outdoors writer and editor, Matt Jones has been testing kit in the field for nearly a decade. Having worked for both the Ramblers and the Scouts, he knows one or two things about walking and camping, and loves all things adventure, particularly long-distance backpacking, wild camping and climbing mountains – especially in Wales. He's based in Snowdonia and last year thru-hiked the Cambrian Way, which runs for 298 miles from Cardiff to Conwy, with a total ascent of 73,700 feet – that's nearly 2½ times the height of Everest. Follow Matt on Instagram and Twitter.
All the latest inspiration, tips and guides to help you plan your next Advnture!
Thank you for signing up to Advnture. You will receive a verification email shortly.
There was a problem. Please refresh the page and try again.