Advertisement Feature
Seven tips for planning even better routes with komoot
Master komoot's user-friendly route planner and tailor your adventures with its comprehensive host of features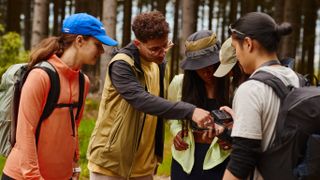 (Image credit: komoot)
Maybe you use komoot, or you have an adventure buddy who does. In either case, you probably know that the app is an easy way for just about anyone to tailor just about any route to their type of adventure. But beyond the basic discover-them-in-a-second route planning features, komoot has even more useful tricks to make your adventure planning even better. Here are seven insider tips to help you get even more from komoot.
If you're a new komoot user, claim a free region map bundle by clicking here and use the voucher code ADVNTURE. The code is valid until February 28, 2022.
Leave the beaten path and plan an off-grid adventure
There are thousands of square miles of access land in our national parks and wilderness regions, land that you are allowed to explore and roam freely across, away from roads, paths, byways and bridleways. This freedom to explore is liberating and allows us to discover startling natural sights where no paths go. From untamed summits in the Scottish Highlands to the vast uplands of Dartmoor, Britain is full of off-piste adventure.
However, when planning a Tour, komoot automatically routes you along known ways, basically always sticking to paths and roads. If you want to head off the beaten path, this is where komoot's off-grid planning feature comes in. Here's how it works.
1: Deselect 'Follow ways' on your chosen waypoint
First select the point on the map you want to navigate to, in this case the Hiking Highlight of Ysgafell North top is the waypoint. As you can see, there are no paths leading to this Highlight. So, to include it in your route on komoot.com, untick 'Follow ways' in the pop-up box above the Highlight icon; if you're using the app, tap the Highlight and hit 'More Options', which opens up a drop down where you can deselect 'Follow Ways'. Now hit 'Include on Route'.
2: Create your off-grid route
A straight dotted line will connect your previous waypoint to your new off-grid waypoint. From here you can continue to plan an off-grid section by adding more and more waypoints, keeping 'Follow ways' unticked. If your route then returns to a path, road, track or bridleway, tick 'Follow ways' once again and komoot will automatically plot the route between waypoints as usual, following known paths.
It's worth bearing in mind that, during your hike, turn-by-turn voice navigation will not work in off-grid sections, though it will warn you if you stray too far from your chosen line. When you venture off-grid, a small compass will become visible on your device, allowing you to confirm the direction in which you are moving.
Find ready-made Tours that include your favourite Highlight
Highlights are the komoot community's favourite places as recommended by those who know them best. From stunning viewpoints, awesome mountain summits and cascading waterfalls to vibrant cafes, remote bothies and cosy pubs, these places are often a major objective on hiking adventures. They're shown on the map as a circular red icon and you can find out more about them by simply clicking on them.
Let's say that you wanted to include the Highlight of Pensford Viaduct (pictured above) in your route. Rather than having to plot your own Tour from scratch or trawl the web to find recommended itineraries, you can quickly find the best Tours using komoot.
If you're on your mobile, simply scroll down on the Highlights page to find Tours that are popular with the komoot community. If you're using komoot.com, click 'More details' and scroll down to find the Tours. From here, you can view these Tours and save them to your own profile for future use.
Adjust waypoints on the map to get more control over your exact route
Komoot Tours consist of a start point, an endpoint and waypoints in between. You can adjust the order of your waypoints and get more control of the precise route by opening the green Tour menu, selecting 'Show all waypoints' and dragging the waypoints into position. This comes in useful for example, if you include a cafe on your route, and it's automatically added at the start of your walk. If you prefer to pass it near the end of your route, just reorder the waypoint.
Another useful feature, the twin arrow icon on the green Tour menu allows you to reverse the order of all your waypoints. This is handy for when you find a pre-made Tour but want to hike it in the opposite direction.
Find ready-made Tours and Collections at the tap of a button
When you're in need of inspiration or you've just arrived in an unfamiliar location and you want to find routes quickly, hit the 'Find your next adventure' button at the top of your app's Discover feed. From here, select your chosen sport and location and you'll be browsing exciting Tours in no time. On komoot.com, simply use the bar at the top of the Discover page to select your sport and your location, before clicking 'Search'.
Once you've selected your sport and your location, the search results will include individual Tours, nearby Highlights, as well as Collections of Tours for long-distance hiking routes or themed adventures in your area. Collections are created by the komoot community and often provide insights into a region from experts who know and love these trails.
Sync your komoot Tour with your device
From GPS units to smartwatches and wearables, komoot is useable on hundreds of devices – so you can track, navigate and experience adventures your way.
Plan your route on komoot, save it for offline use, and it'll automatically sync with your Garmin, Suunto, Polar, and more, so you can use komoot's planning capabilities combined with your navigation device of choice.
Once on the trail, you can record your route using your smartwatch and it will automatically upload to your komoot profile when you're done. From there, you can share it with the wider komoot community or share your stats and route map on social media.
Double-check komoot map details by using the map key
Komoot's maps are designed to be as user-friendly and easy to follow as possible. All maps have fairly standard features, such as blue areas for water, contour lines and different lines for roads and paths. However, komoot's maps also have some unique details, such as graded dotted lines for scrambling routes, red icons for Highlights and blue icons for your saved places. This is why there's a help page specifically for komoot's legend.
To fully understand every aspect of komoot's maps, you can get the full lowdown on all its icons by clicking the question mark icon in the bottom right corner of the planner on komoot.com. This opens up a whole menu of 'Route Planner Tips and Tricks'. From the menu on the left, choose 'Map key', which has all the info you'll need.
If you're on your mobile, tap the overlay icon (two stacked squares) in the white box on the right of the screen. From here you can choose 'Using the komoot map' for the Map key or 'Help guides', which opens up guides on all manner of komoot functions.
Check the route warnings before you commit to a route
Nothing is worse than getting excited about an adventure, only to have some unforeseen barrier mean you have to turn around just when it was getting started. Whether its stalking season around your chosen Munro, a river in spate blocking access to a Wainwright fell, a coastal path that's out of bounds because of military operations or just an off-grid section that took on much more challenging terrain than you were prepared for, there's plenty that can put a stop to your day.
Komoot's route warnings are designed to give you a heads up about issues that could put a dampener on your adventure. On komoot.com and in the app, the warnings appear with an icon, under 'Tips' towards the top of the main Tour page.
If you're a new komoot user, claim a free region map bundle by clicking here and use the voucher code ADVNTURE. The code is valid until 28th February 2022.
All the latest inspiration, tips and guides to help you plan your next Advnture!
Launched in July 2020, Advnture is the ideal destination for anyone who loves the great outdoors. Whether you're into epic hikes through the wilderness, camping trips with the family, climbing with your friends, or looking for a trail running personal best, our team of experts will point you in the right direction, with top buying advice and in-depth guides to help you get the most of your time in the backcountry.