How to catch barbel: 6 top tips everyone should try
Learn how to catch barbel this autumn with our 6 top tips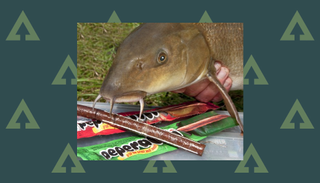 (Image credit: Angler's Mail)
Welcome to Advnture, the new home of AnglersMail.co.uk
Want to know how to catch barbel? We're here to help. Big barbel will be on many anglers' minds in the autumn, and our top tips will help you land them.
From the best time to fish (it may not be when you think), to a neat trick that will help you land your cast without scaring the fish, we've got all the information you need to know when it comes to knowing how to catch barbel.
Just read on and get catching!
1. How to catch barbel: Slice into barbel
Big barbel love areas that provide cover and shade, yet getting bait to them without making a disturbing noise can be tricky/almost impossible.
A neat solution is to place a baited rig on a slice of bread and push it out into the current, allowing it to float downstream before tightening up and pulling it off when in reaches the right spot.
No missed casts, and no fish scaring splash – perfect.
2. How to catch barbel: Bin PVA for the pellet lead
Some anglers believe if a PVA bag is tied onto the lead it will take time to dissolve, prolonging a take due to the free offerings settling below the hook bait.
To solve this problem and perfect how to catch barbel try using 'the pellet lead' which is great for massive barbel. All you need is varying sizes size scalded pellets dosed in loads of Corn Steep Liquor, then mould it around the lead. The pellets break up in the water, leaving irresistible scent trail.
3. How to catch barbel: Irresistible 'Ferrero Rocher'
Pressing paste around hook bait is a fantastic method of fishing that has been around for years, but some fish are wising up for this.
When this happens, make a secondary cast, but this time with no pellets around the lead, just a big ball of paste around the hook bait which has been made from the same scalded pellet mix.
Then press different sized pellets into this so it resembles a Ferrero Rocher chocolate, and mimics what they have been used to getting away with when feeding on pellet lead. That's how you'll learn how to catch barbel.
4. How to catch barbel: Move to find monsters
Sitting in one swim waiting for fish to arrive isn't the best strategy. If you can, try roving around a river dipping into swims for about 30 minutes before moving.
If you go home after a daylight session without catching, then at least you know that you will have passed, and placed a bait very close to a number of big fish, instead to being miles away from big fish.
5. How to catch barbel: The perfect match
When it comes to learning how to catch barbel, make sure you match hook baits with loose feed. If barbel and carp are feeding on pellets, then pellet needs to be on the hook.
Try not to use one size of pellet when barbel fishing as fish can get preoccupied on these, and getting the same size hook bait to act like the others is virtually impossible.
Use lots of sizes to confuse fish so they drop their guard and readily eat everything.
6. How to catch barbel: On your own
Just because most barbel are caught after dark, doesn't mean this is the best time to fish. It's not.
The time to catch a big clever barbel is when no-one else is around. Getting to a swim before others, a period when the fish have had time to settle, will give you the chances of a best result, so set the alarm early!
All the latest inspiration, tips and guides to help you plan your next Advnture!
Running from 1964 until 2020, Angler's Mail was the UK's leading weekly magazine devoted to coarse fishing, telling readers everything they needed to know about which fish to catch, where to catch them, and what kit they needed to do it. Now, loads of the magazine's expert advice can be found on Advnture.com, as a helpful resource for angling newcomers and experts alike.