No need to kill cormorants – Bellflask boss uses dummies instead!
A pro-active fishery owner says cormorant control can be achieved without killing them.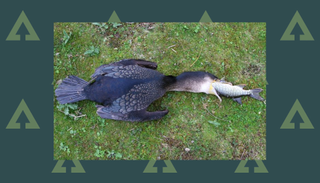 (Image credit: Angler's Mail)
Welcome to Advnture, the new home of AnglersMail.co.uk
Brian Morland says that he has had big success using mannequin dummies at his mixed trout waters.
His achievements have taken place at Bellflask Fishery, which also hold good stocks of huge pike and silver fish.
With UK fisheries in lockdown, the Ripon, North Yorkshire-based angler's ploy could help save silver fish stocks on waters that are now devoid of anglers.
Brian told us about his success at Bellflask, hoping that others may learn a trick or two…
"When I read letters in the angling press about cormorants, I can't help but wonder how much effort these anglers put in to protecting their fisheries.
"I have managed several miles of river and created several stillwater fisheries and nature reserves over the years.
"Until 2000, it was rare to see cormorants away from estuaries and coastal areas.
"We get cormorants returning inland in early September, and they stay until April, although a few of them remain all year.
"The problem is not just with what they eat, but also the number of fish that they damage.
"I am helping to create a reedbed on an area of restored gravel extraction, trying to establish a breeding population of bittern.
"I stocked it with 12,000 roach, bream and perch from Calverton Fish Farm.
"Bitterns eat fish, so I was providing a larder for them and creating a natural food chain.
"Cormorants tried to take advantage of this, so I applied for a shotgun licence and bought myself a 12-bore shotgun.
"I did not apply for a licence to kill cormorants, because I didn't want to do this.
Brian continued: "I made a number of scarecrows and set them up around the site.
"When cormorants came, I made the effort to go out and greet them with an 'ack-ack' shotgun barrage. The idea was to associate the shotgun fire with the scarecrows.
"It worked really well. I watched cormorants fly over the fishery, see the scarecrows and head for the horizon.
"I have now replaced the scarecrows with male mannequin dummies, which are frighteningly realistic. I obtained them from a 'Steptoe and Son-type dealer' for the cost of a couple of pints of beer.
"I've named two mannequins Sandy and Julian, who were characters in a 1970's radio show called Round the Horne, and they work brilliantly.
"If I see a cormorant flying over, I fire a barrage of rounds, and they quickly associate them with Sandy and Julian.
"I now have the lakes stuffed with several year-classes of roach to 2 lb 14 oz, perch to 3 lb, some massive chub, a lot of huge pike and rainbow trout.
"The reedbed area is full of roach, and last year supported 11 bittern, which included broods of three and four young, which is more than most nature reserves.
"The occasional cormorant will sneak in, but I can keep them away if I make the effort.
"The only cormorant to die was one that choked on a small pike from one of the larger lakes, but that was before the two mannequins arrived.
"The mannequins even fool the trout anglers when they arrive to fish in the morning. I have lost count of the number of anglers who walk round the lake to enquire if they have caught any fish," concluded Brian.
Brian's work with wildlife, not against it, has been praised by some anglers and conservationists for showing angling in a positive light.
That contrasts with the recent case of a fishery owner who was jailed after illegally shooting an otter in an angler's landing net which brought a wave of criticism.
All the latest inspiration, tips and guides to help you plan your next Advnture!
Running from 1964 until 2020, Angler's Mail was the UK's leading weekly magazine devoted to coarse fishing, telling readers everything they needed to know about which fish to catch, where to catch them, and what kit they needed to do it. Now, loads of the magazine's expert advice can be found on Advnture.com, as a helpful resource for angling newcomers and experts alike.