Biggest common carp ever caught in Britain
A 'record' common carp has been captured from the same water as the controversial mirror, Big Rig.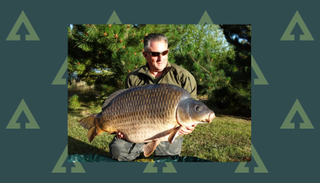 (Image credit: Angler's Mail)
Welcome to Advnture, the new home of AnglersMail.co.uk
This capture of the biggest common carp makes Chris Caddick the only man to have landed both a giant mirror and a common over 60 lb in the UK.
Financial adviser Chris completed the feat when he landed the common, Tarka, at 64 lb 6 oz from Rob Hales' Shropshire syndicate, The Avenue.
The previous biggest common carp record was jointly held at 64 lb. One was by Mike O'Neil – Tarka, again, in 2017 at 64 lb. Martin Hopkins caught Benson from Northamptonshire's Bluebell Lakes way back in 2005.
Baiting up for biggest common carp
Chris, from Kingswinford, West Midlands, said: "I'm very lucky that The Avenue, which I joined eight years ago when it first opened, is only a 20-minute drive from home.
"I fish there almost exclusively, trying for a two-nighter roughly every fortnight.
"I arrived Thursday afternoon and fished to the edge of a bar that goes through the middle of the lake.
"I baited up with 2 kilos of a boilie, maize and hemp mix over each rod which I topped up two or three times during the session.
"For bait, I used boilies made of the special paste that Rob Hales produces himself, popped up with cork."
Chris continued: "My only bite came at 7 pm on the Saturday night.
"It was a strange one, a bit like a liner that stopped when the indicator reached the top, but luckily I decided to strike it and the fish was on.
"Tarka gets its name from being ottered while young thereby losing some of its tail, so is not renowned for its fighting qualities.
"It came in fairly easily and after a bit of fight near the net was soon safely in."
Biggest common carp captor also caught mega mirror
"I was fortunate to catch Big Rig here twice, the first time only about a week after her first capture and because of all the controversy decided not to even weigh her.
"But I caught her again last February and this time I decided to weigh her and she went 69 lb 12 oz.
"I don't usually publicise my catches but I decided to make an exception with this one, as this is a new record for a common," added the 48-year-old.
The Avenue's huge mirror carp called Big Rig was initially caught at 69 lb 3 oz by Tom Doherty in September 2016.
The UK record fish committee rejected Tom's claim as they decided the fish had been artificially reared.
She was subsequently caught in October at just over 2 lb heavier by Robby Harrison at 71 lb 4 oz, but was found dead last year.
How this latest capture ranks
Carp historian Chris Ball said: "As well as Chris becoming the first to catch a 60 lb common and 60 lb mirror, this is the 98th reported capture of a 60 lb-plus carp in the UK."
At least three other anglers have caught two UK 60-pounders, led by Simon Bater who has landed three including Two Tone and The Black Mirror. Mike O'Neil has had Tarka twice over 60 too.
There is no official record for the biggest common carp. But the official British carp record is a mirror of 68 lb 1 oz from Berkshire's Wasing Estate to Dean Fletcher in 2016 . Sadly, that fish is now dead.
All the latest inspiration, tips and guides to help you plan your next Advnture!
Running from 1964 until 2020, Angler's Mail was the UK's leading weekly magazine devoted to coarse fishing, telling readers everything they needed to know about which fish to catch, where to catch them, and what kit they needed to do it. Now, loads of the magazine's expert advice can be found on Advnture.com, as a helpful resource for angling newcomers and experts alike.